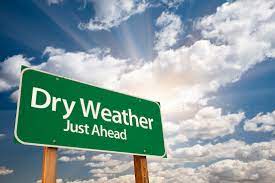 Friday Sept 29 Weather Update: Showers will stick around for the rest of today but will be on the decrease by this evening. After a few lingering showers possible Saturday morning, expect a dry weekend. Winds will stay light. A weak storm may clip the area on Monday, but high pressure building in will shove the system north of us so it's a coin toss right now as to whether or not the very tail end will throw a light shower or two at us (mainly Monday afternoon). In any case, no significant storms are seen through October 8 or 9 (at this time).
NOTE: I stated in my last couple of updates that it was looking like stormy weather would prevail into the first week of October. Of course that's not the case now, but it's a good example of what we've been seeing in the Pacific over the past 10-years with anomalous high pressure popping up and blocking storms that would otherwise bring us rain. I'm keeping my fingers crossed that this doesn't continue during our main rainy season (Nov-Mar) because we are going to be dealing with El Nino which may make it a struggle to get near normal precipitation.
BOTTOM LINE: Except for the aforementioned possible hiccup Monday afternoon, it will be dry from late Saturday morning through October 8 or 9. Next week will be warmer, with above normal temperatures. Could see some night and morning fog/low clouds since just over an inch of rain has fallen throughout this week.