A series of two seasonally strong back-to-back storm systems will bring 1"-1 1/2" of rainfall to the area Monday through Wednesday. Heaviest of the rainfall occurs on Monday and Tuesday with scattered showers on Wednesday. Looks dry Thur/Fri then possibly more rain next weekend Oct 14-15 (as it looks right now).

Winds can gust up to 25-30 mph at times. These wind speeds shouldn't cause any issues except to blow more leaves off the trees and cause some clogging of gutters and storm drains.

Snow levels will vary at 6000-8000', lowest Tuesday night through Wednesday.

What we'll notice the most is the much cooler temperatures. High temps between today (Sat) and early next week will be 20-25° cooler!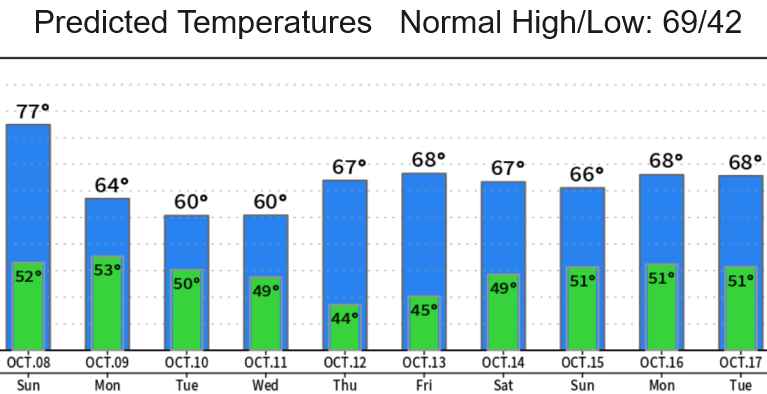 The Annular Eclipse is next Saturday Oct 14 (totality here starts at about 9:15am and lasts approx 4min 10sec). At this time it's looking like cloudy skies but stay tuned for more updates since this could change. Here's some good information of the eclipse times: