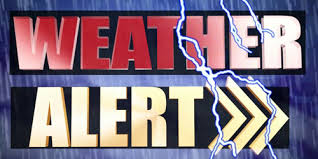 Weather Alert (Friday afternoon): Lots of rain heading towards us - by the end of the day on Monday it's looking like 3-4" will have fallen. Could see "some" lessening of the rain Saturday from 12-5pm, but the aggressiveness of the jet stream and strong low pressure systems could preclude that. Wind gusts to somewhere between 30-40 mph are expected - windiest period looks to be Saturday night through Sunday morning. MUCH colder later next week with lows possibly back into the mid/upper 20's.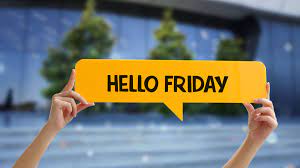 While the upcoming rain may not be welcomed by some with all the scheduled events this upcoming weekend, we're finally going to get some much needed rain. At least three storm systems will bring 2-3" of back-to-back rain (maybe a brief break or two) from late Thursday morning or afternoon through Sunday. Expect it to be breezy with wind gusts of 20-30 mph likely (especially Sat/Sun). Snow levels above 3000'. Yet another storm may move in on Monday or Tuesday. Looking MUCH colder later next week. More on the cold in a few days.
Scroll down and check out the informational charts. You'll quickly see that the snow pack isn't doing too well (but plenty of time to make it up). The KNND weather station downtown shows that we're BEHIND by 5.52" of precipitation - and that's just for the month of November! Normal rainfall for November is 6.92"; we've only recorded 1.40".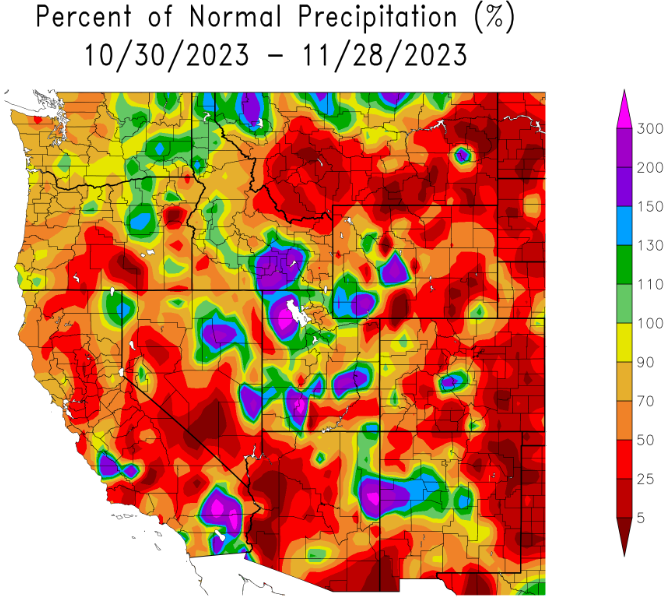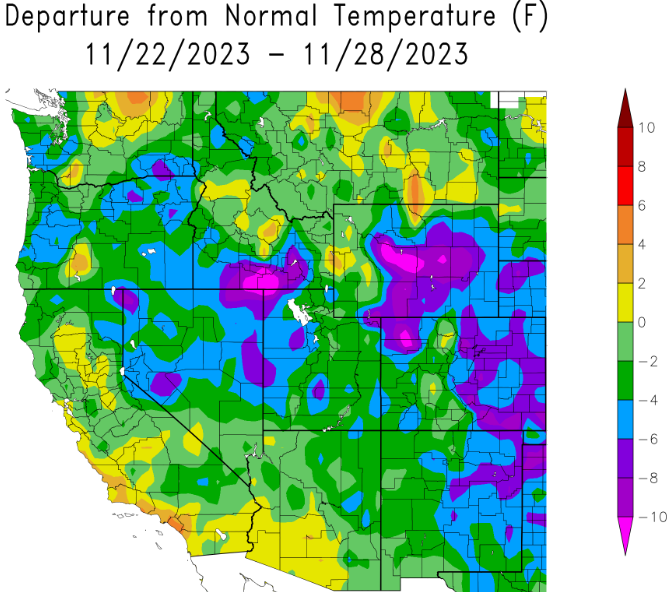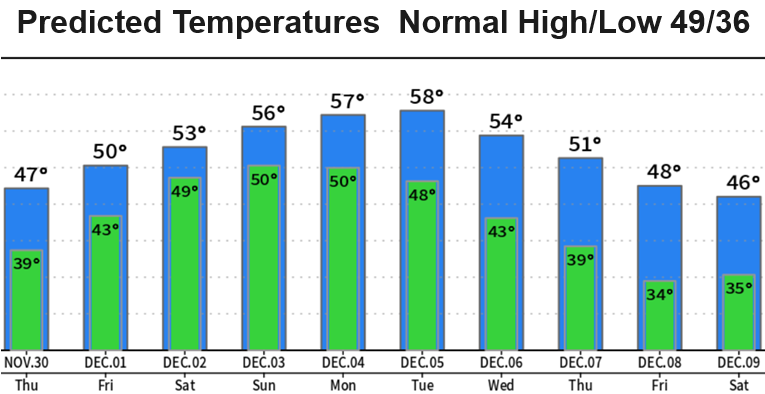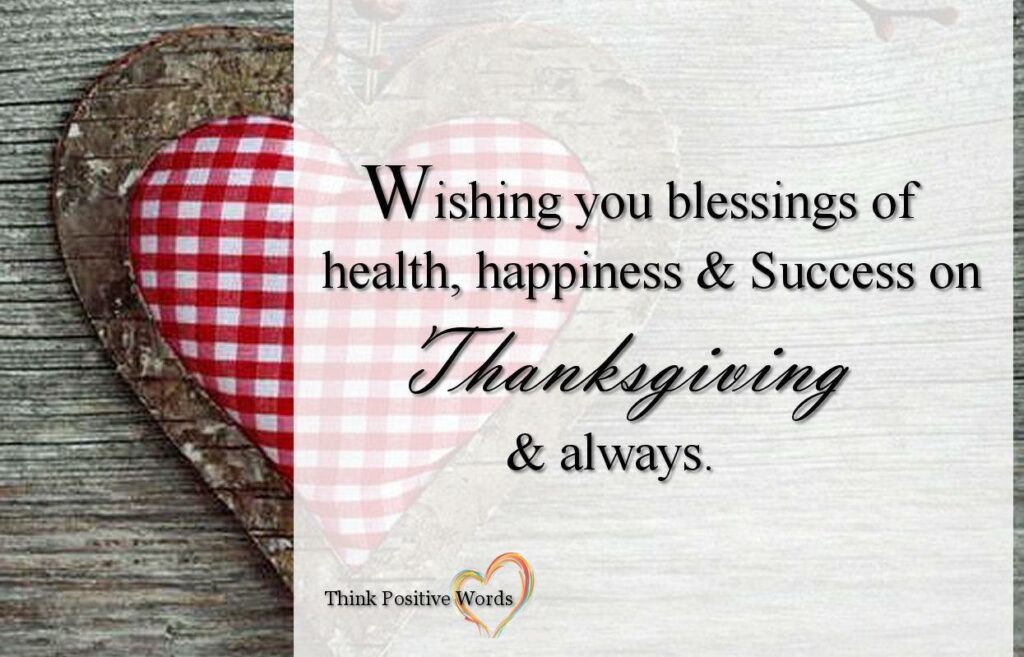 I'm thankful for all of you! I'm thankful that you each have a purpose in this world! COLD: Remember that pets are unable to maintain their body warmth in these cold temps, so a nice warm spot inside is best. Much below normal temps through early next week, then gradual warming. Rain as early as Thursday, but may hold off until Friday. Snow levels possibly down to 3000'. Stay tuned!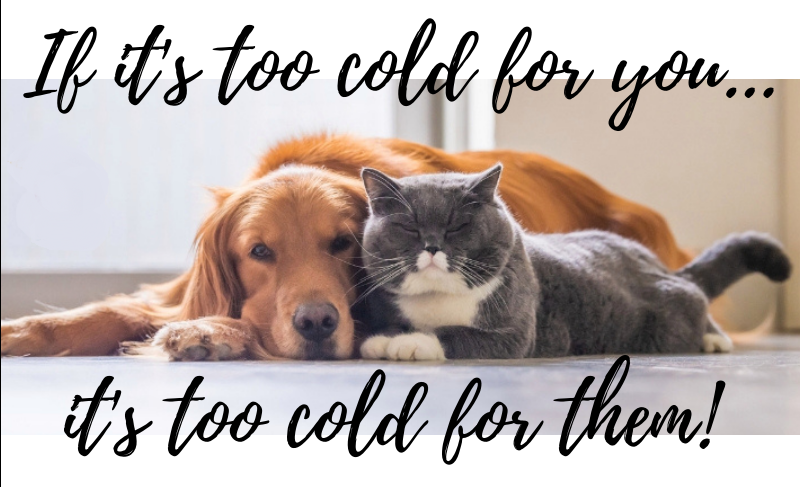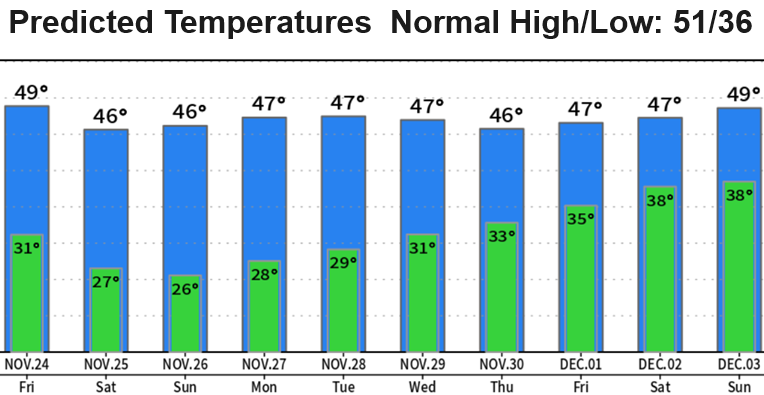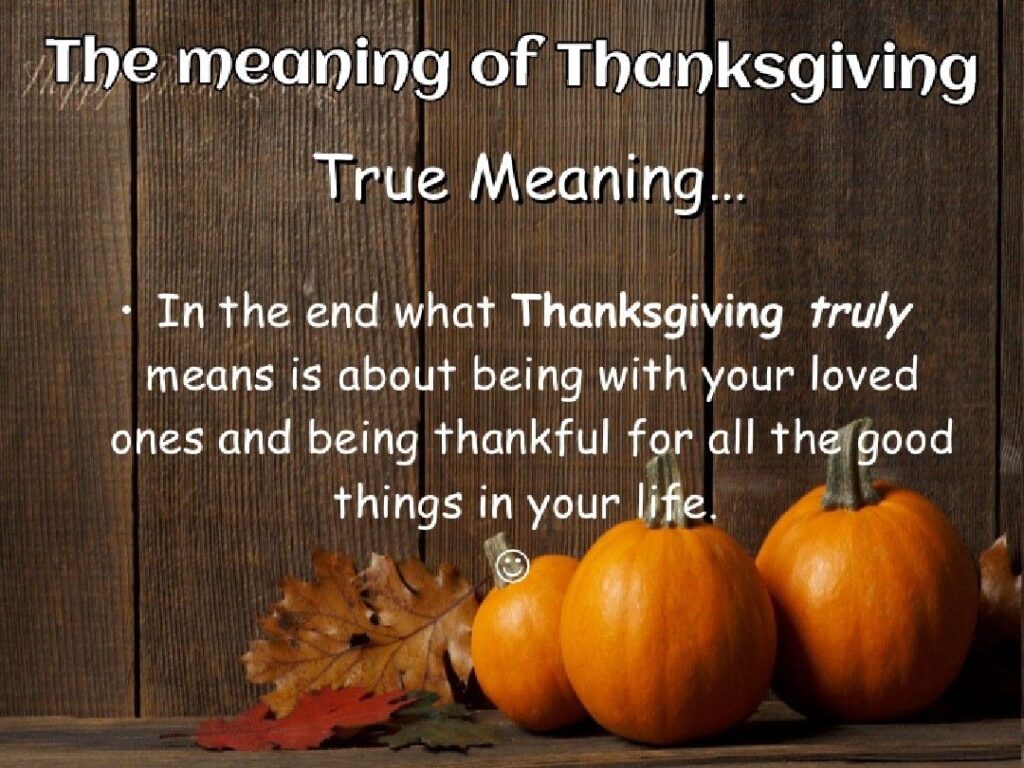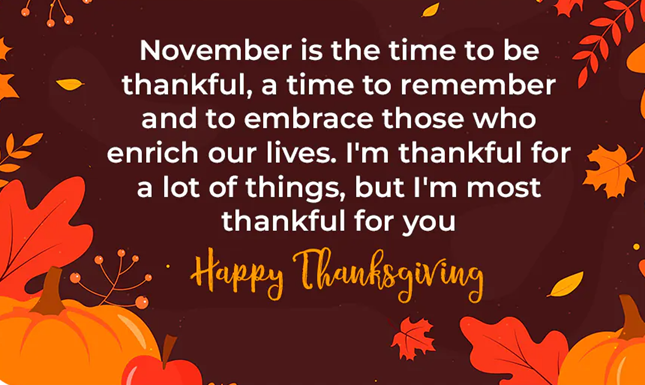 **No significant weather-related travel concerns through the Tuesday after Thanksgiving (Nov 28) across the entire PacNW, Idaho, Nevada, and California.** All regional mountain passes will not have impactful snowfall (see next paragraph). Be mindful of ice on the roads in locations that have freezing temps and there may be areas of dense fog. High pressure will be in control of the west over the next 10-14 days, except for a minor "hiccup" on Wednesday (next paragraph).
A little "blip" on Wednesday into Thursday morning from a very weak storm system bringing a few light showers to the region. No snow on I-5 south through California. On the mountain passes north of Cottage Grove, snow is not expected to accumulate or stick.
Colder this week, below freezing lows later in the week through next weekend (lows 27-31°). Remember to keep pets inside since they won't be able to maintain their body warmth.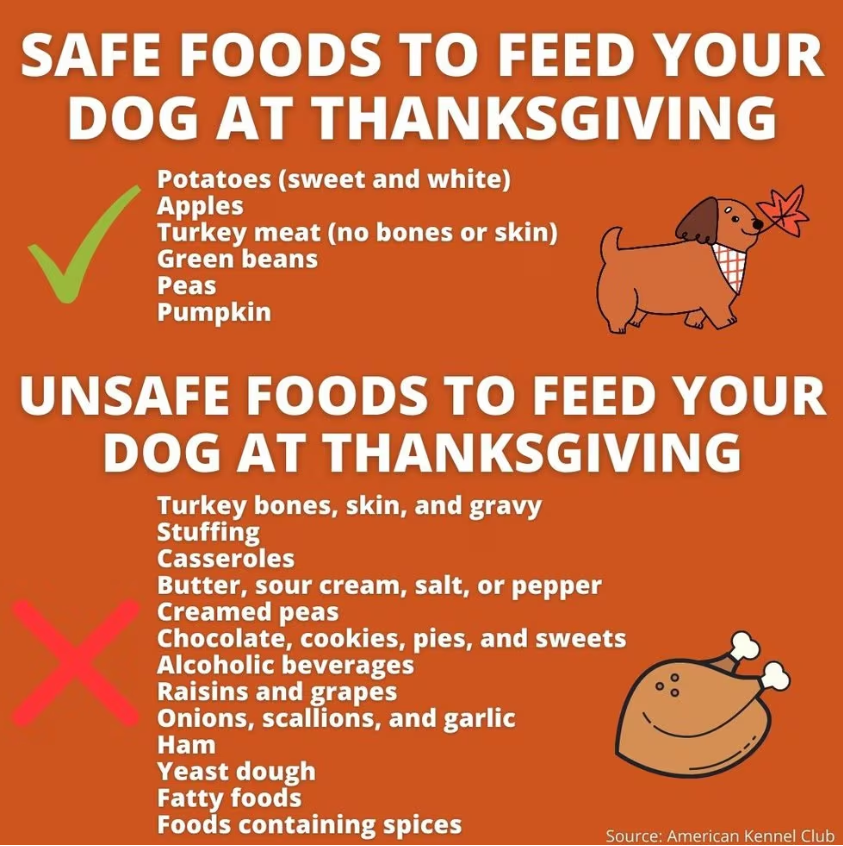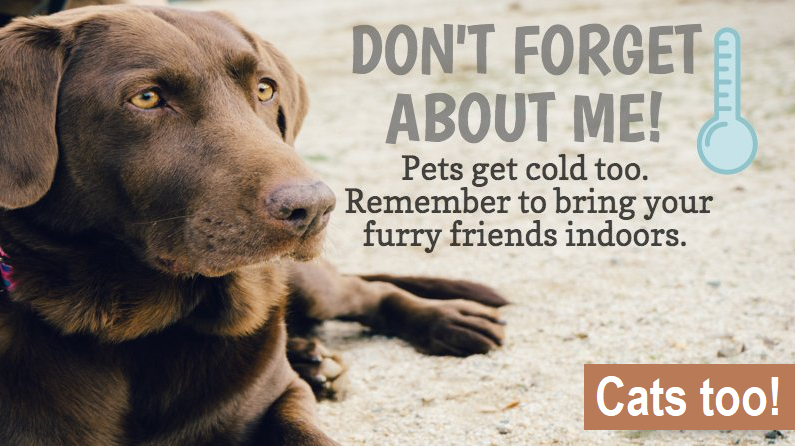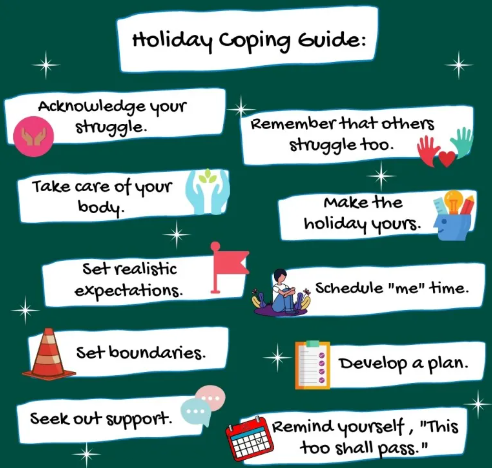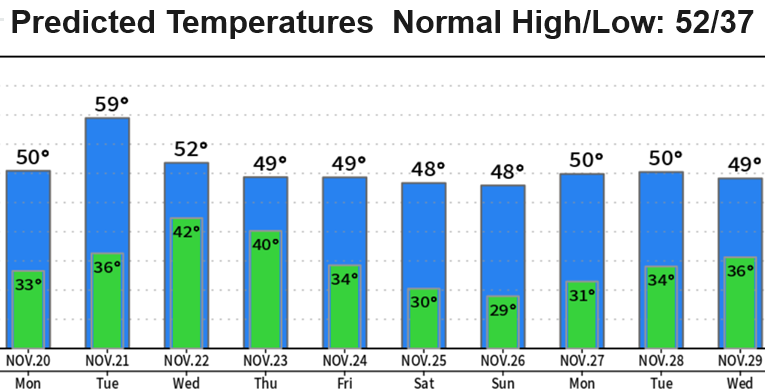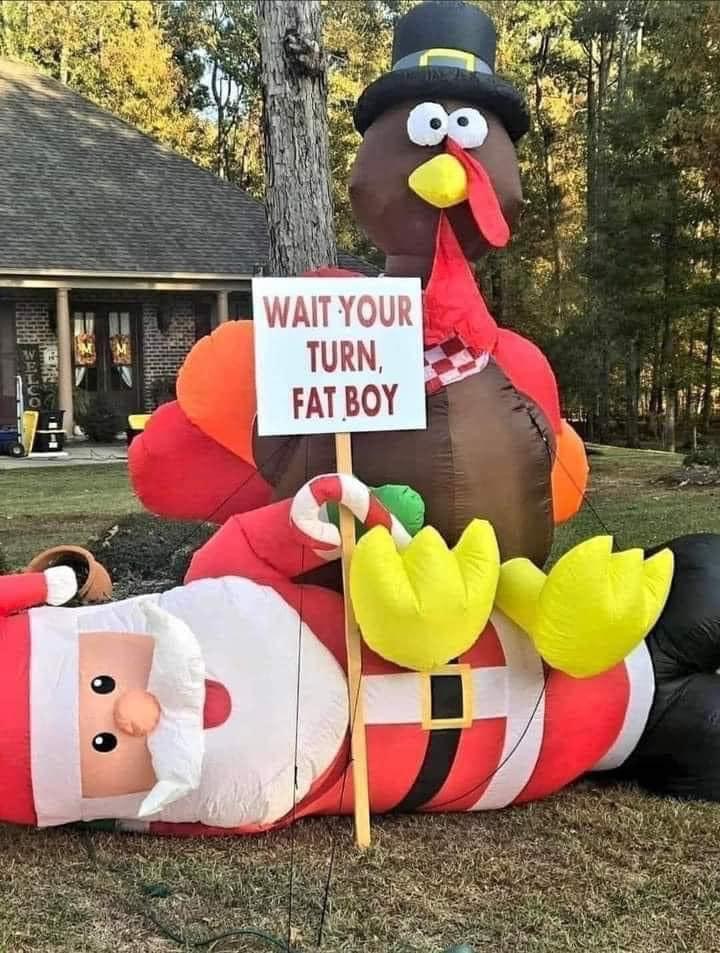 No major storms seen (at this time) through the Thanksgiving holiday weekend. That said:
A low pressure system off the coast will spin clouds/moisture our way as it slides south and moves into California on Saturday. For us, just some rain/showers at times through Wednesday (less than 1/4"), light winds under 15 mph, and snow levels way above the passes.
A second low pressure system from the northwest will bring another round of rain on Saturday with showers lingering into Sunday morning or afternoon. Expect less than 1/2" of rain, breezes under 20 mph, and snow levels above the passes.
Dry (right now) Sunday evening through Tuesday. Then a system may clip our area with just a few light showers next Tuesday night into the following Wednesday morning. Snow levels way above the passes, no wind concerns.
Thanksgiving Day looks dry early, then a weak system may cause a few light showers Thanksgiving afternoon, evening, or night into Friday morning Nov 24. Still some uncertainty with this storm since some data is hinting that there could be some snow possibly affecting some of the passes in central and southern Oregon. No wind concerns. AT THIS TIME, significant travel impacts are not expected (ie chains needed on the passes, road closures, etc).
Sunday Nov 26 a moderate to strong strength storm may affect the PacNW. This could impact return travelers during the Thanksgiving holiday weekend. Lots of uncertainties this far in advance and some data is hinting the system may arrive during the overnight of Sun Nov 26 to Mon Nov 27.
More details in the coming days. High temperatures will cool later next week with highs within a couple of degrees of the normal of 51°. Lows will also be +/- 1-3° of the normal of 36°.
As it looks now, November will likely end up at below normal precipitation unless major changes of the jet stream and position of high pressure occurs.
El Nino has been having an effect on our fall weather pattern. El Nino is currently "strong" and is expected to remain "strong" or possibly increase into the "very strong" category, which is extremely rare. Different strengths of El Nino have differing impacts on the weather, globally. The west coast weather pattern that we've been seeing over the past 2-3 weeks has clearly been affected by El Nino. Our regional precipitation will probably end up at between 70-110% of normal by the time April 1 rolls around. Yes, that's a big spread but a strong/very strong El Nino typically have different effects on the PacNW (strong = usually below normal precip; very strong = usually above normal precip). Key word is usually so it's not 100% this will happen.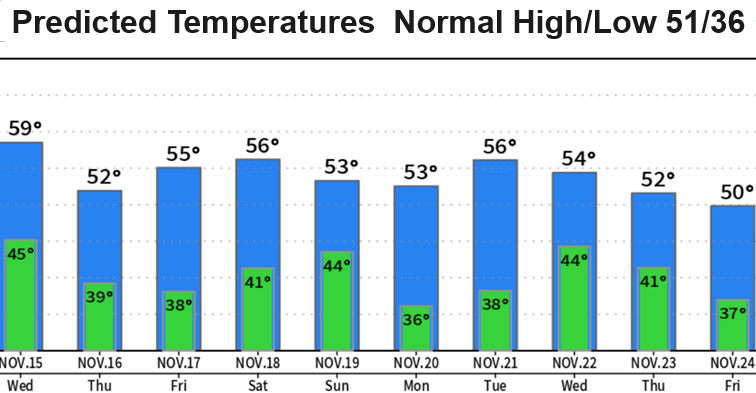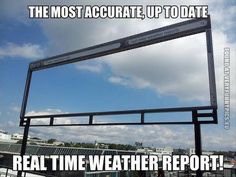 Fri Nov 10: Light rain/showers tonight through Saturday (1/10" or less). Dry most of Sunday then light rain Sunday night-Monday (around 1/4"). Snow levels 5000' or higher. No wind concerns. Looks dry (right now) Tuesday-Friday, then rainy the following weekend (Sat Nov 18). Strong storm "possible" Mon Nov 20 (more details about this in the coming days). Thanksgiving may be dry (60% chance as it looks now but could change since it's still almost two weeks out).
Precipitation: Normal precipitation for all of November is 6.92". So far 1.37" has been recorded at KNND, 3.79" on Pitcher Lane, 3.70" near Cottage Grove Lake, and 1.52" near Creswell. The large differences in rain totals is mainly due to the storm on Sat Nov 4 that caused scattered heavy showers and thunderstorms. The heaviest portion of these showers/thunderstorms passed over certain weather stations. For example, the large difference between KNND and other area weather stations is because the thunderstorm that formed had the more intense rain on the east side of Cottage Grove and not the west side.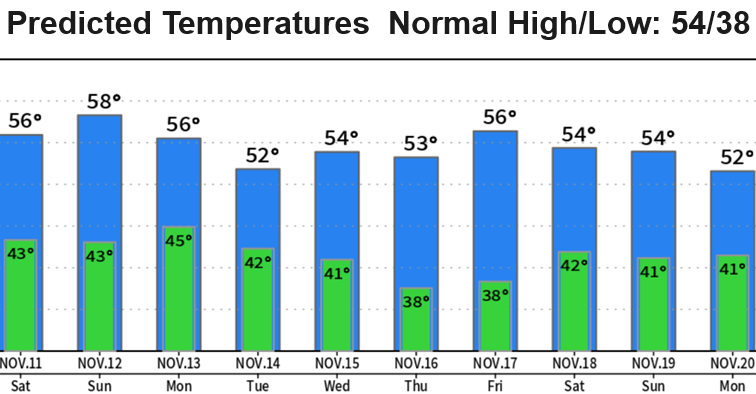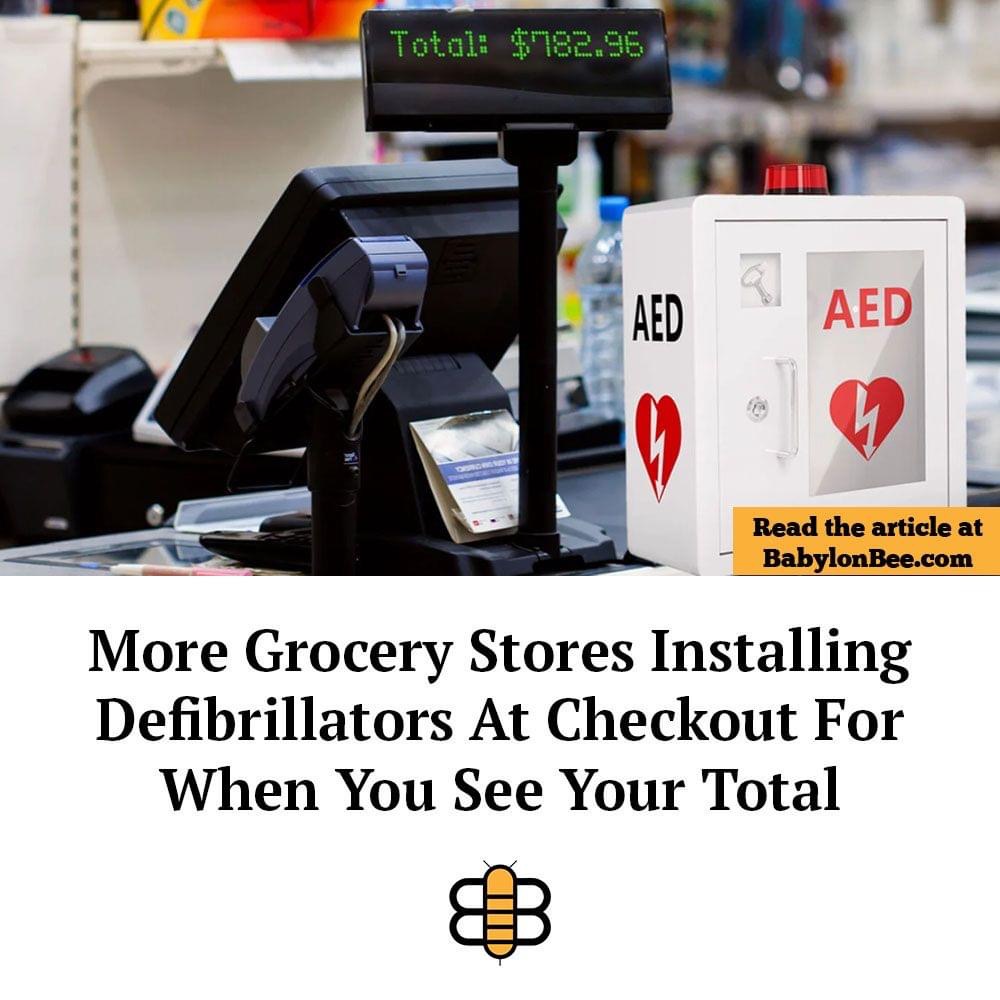 Sunday: What's up with the street flooding yesterday (Saturday)? First, let me update you on the weather real quick. Periods of rain and showers through Tuesday with an isolated thunderstorm possible. Winds can gust to around 25 mph at times. Total rainfall 3/4"-1.25", most of this occurring later this evening through Monday (doesn't it feel humid out?). Dry Wednesday and most of Thursday. Rain returns Thursday evening or night (looks like less than 1/2"). Saturday might be dry then more rain Sunday into the following week. Around Wed Nov 15 we might start getting colder storms with lower snow levels than what we've been having.
OK, so here's what happened with yesterday's street flooding:
Things aligned just right: plenty of moisture available, heavy showers / thunderstorm forming over Cottage Grove, time of year when leaves clogging storm drains, everyone doing the rain dance at the same time.
Moisture: Scroll down and check out the satellite image showing the moisture being pumped into the region as whites and greens.
Heavy showers/thunderstorm: Play the radar GIF below, notice the little blips of yellow suddenly pop up over CG. These were heavy showers and a thunderstorm that caused heavy rain to fall in a short period of time due to plenty of available moisture.
Note about Radar: The radar that best covers our area is in Medford, up on Mt Ashland at about 7500'. Unfortunately, Cottage Grove is in a blind spot in that the radar has difficulty seeing anything below about 10,000 feet by the time the radar beam reaches here (due to the curvature of the earth). If you're a radar watcher, you've probably noticed that your radar app shows no rain falling when it is actually raining.
Rainfall 3pm-6pm Saturday in and immediately around Cottage Grove ranged from 1/2" to 1.28". Heaviest occurring on the east side and southeast side, which is where the heavier showers peaked in intensity. This overwhelmed storm drains that were already having difficulty with all the leaves; everything aligned just right for water having nowhere to drain without obstructions.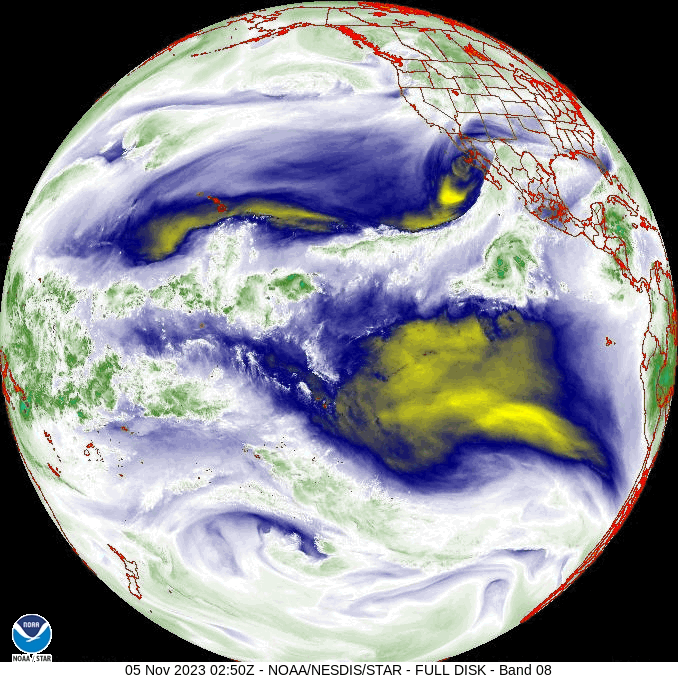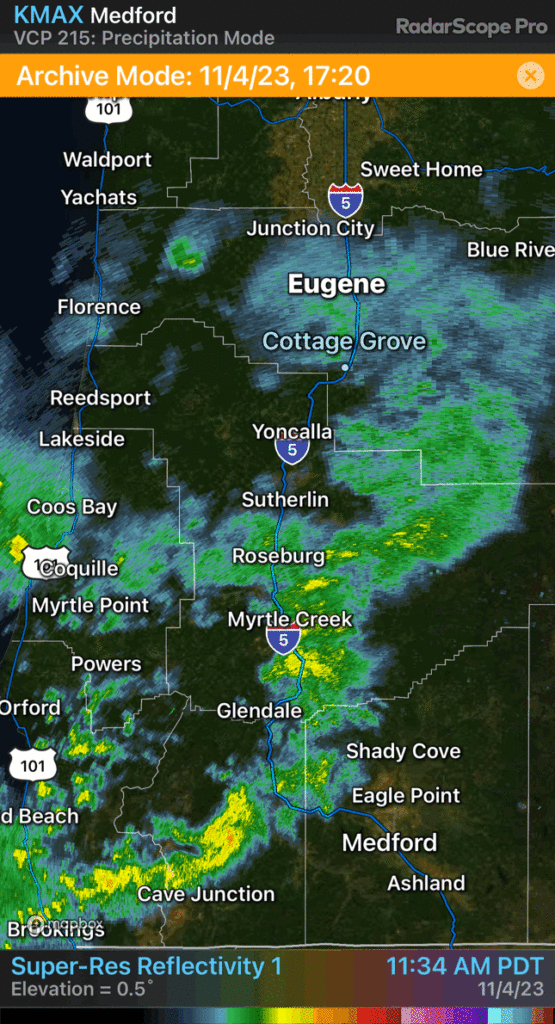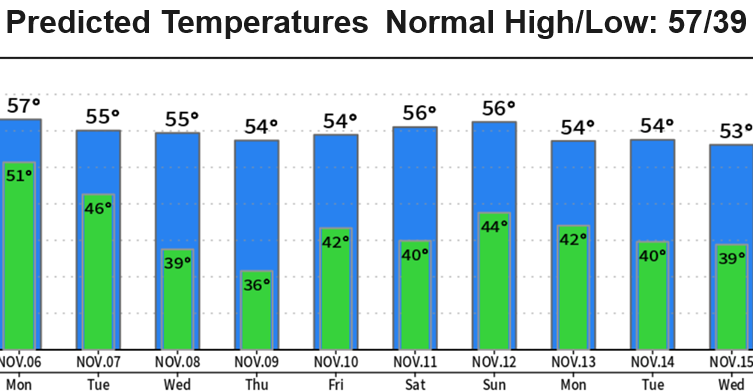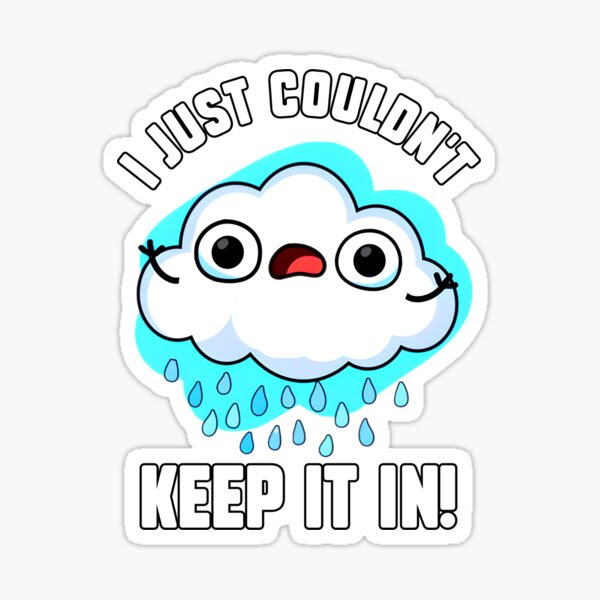 SATURDAY: Turn clocks BACK one hour tonight before bed (DST officially ends 2:00am Sunday). Sunset tonight 6:00pm, sunrise Sunday 6:53am, sunset Sunday 4:59pm. Periods of rain/showers and isolated thunderstorms will continue through Tuesday with a brief break in the rainfall tonight. Total combined rainfall through Tuesday 1-1.50". Snow levels above 6000' through Sunday, then 5000' Monday, then 4000' Tuesday. Becoming cooler on Monday.
Drying out Tuesday evening through Thursday morning then more storms may pass through Thursday night into next weekend.
As of 5:00pm today (Sat) and since Nov 1, we've recorded 1.35" of rain at the KNND weather station in downtown Cottage Grove. Normal for all of November is 6.92" so we're off to a good start!
Good idea to test smoke detectors and change the batteries. Pick a routine that works best for you - when clocks change, your birthday, New Year's Day, etc. But keep the schedule you pick because smoke detectors save lives, thus the importance of having fresh batteries in them.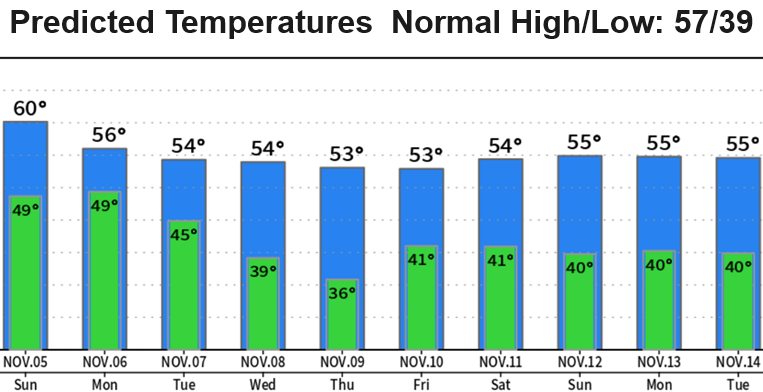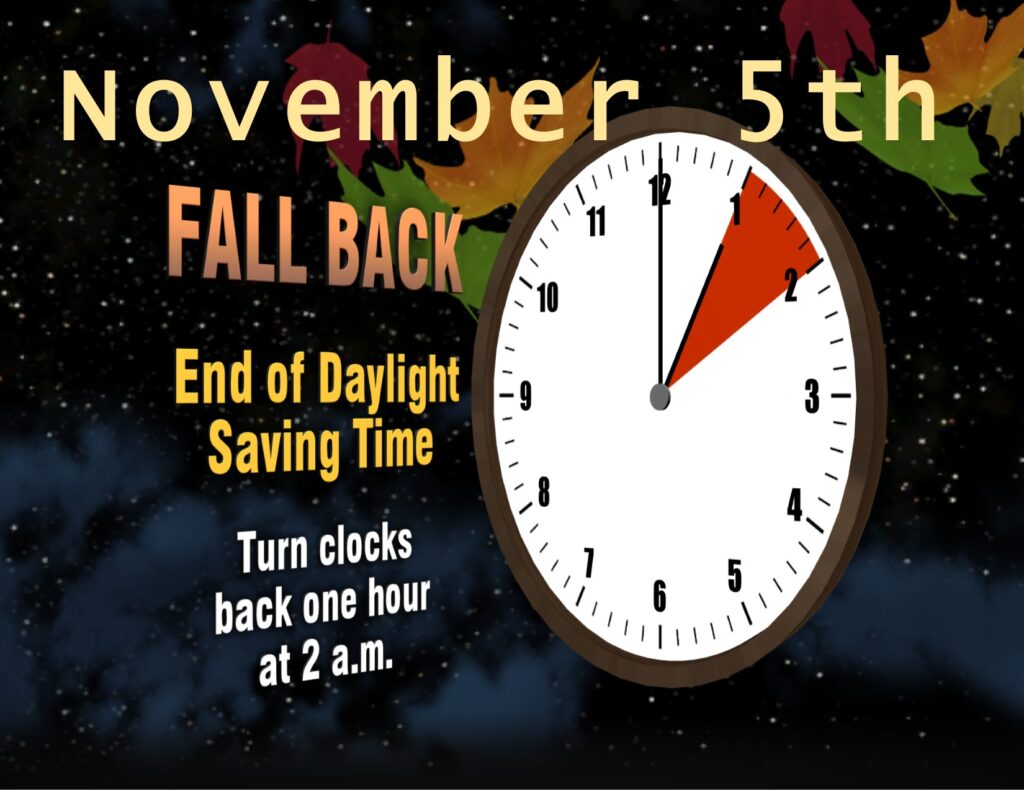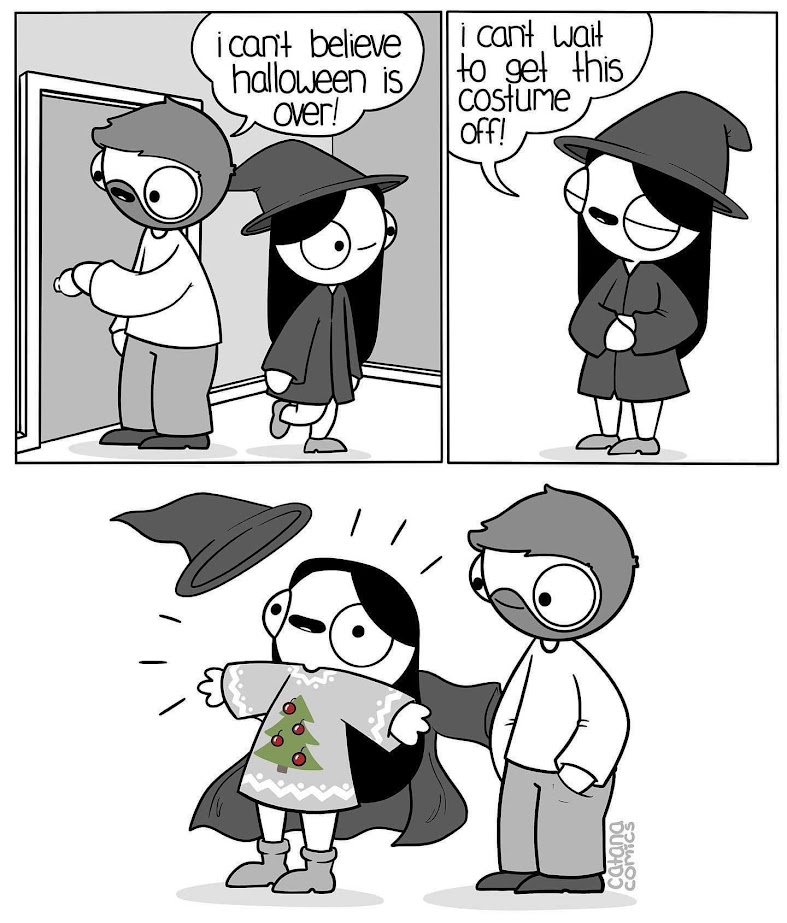 A series of four moderate strength low pressure systems will affect the region through Monday. Click here to see current weather conditions at KNND's weather station downtown
Light shower chances will stick around today (possibly remain mostly dry). Breezes 15 mph or less. Expect a break between today's system and Friday's system tonight through Friday morning or early afternoon.
Rain will increase again Friday afternoon sometime after 4pm ("could" be closer to 5/6/7pm). Looks like 3/4-1.25" from this system alone through Saturday. Just some lingering showers Saturday night. Wind gusts under 25 mph (no concerns). Snow levels above 7000'.
Next pair of storm systems moves through on Sunday and Monday. Looks like up to about another 1" of rainfall Sun/Mon. Wind gusts up to 25 mph. Just a few light showers on Tuesday. Snow levels above 5000'.
Looks dry (right now) Wed/Thur. Another storm will probably affect the region at the end of next week. Snow levels will "probably" stay at or above 5000'.
Daylight Saving Time ends Sunday at 2:00am, turn clocks BACK one hour before bed Saturday night. Yay! An extra hour of sleep! Good idea to test smoke detectors and change the batteries!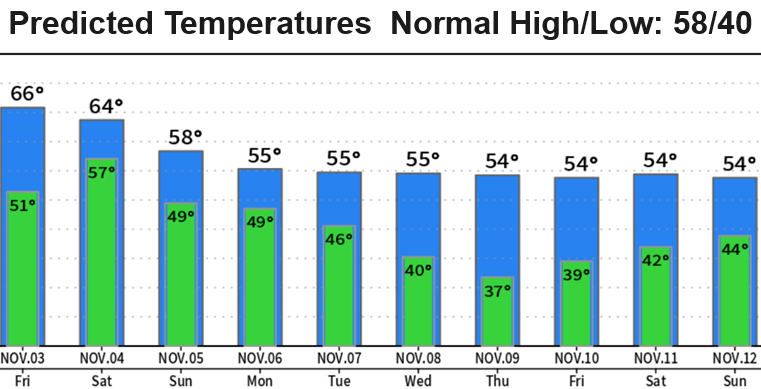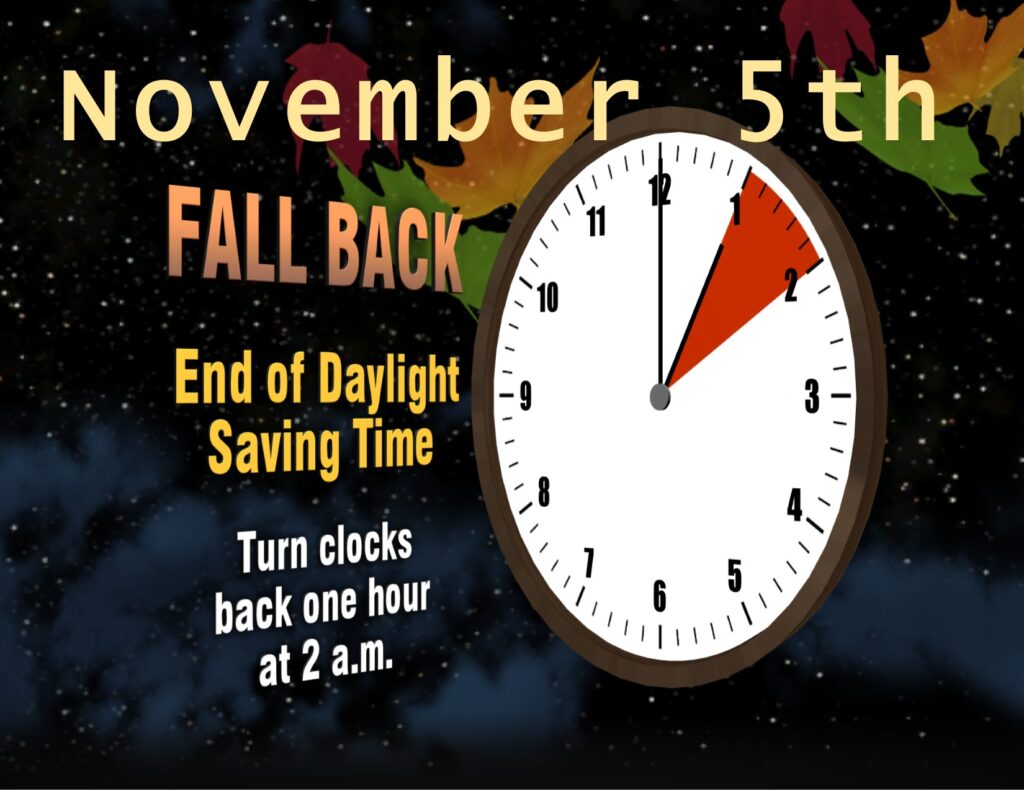 Tonight's the last night of freezing/near freezing low temps. It will stay dry through Halloween! In fact, a little warmer in the evening than what we've been seeing thanks to some cloud cover. Temperatures at sunset on Tuesday will be in the middle 50's and somewhere around 47-49 at 9:00pm. Very light breezes. Since 1892, 54% of Halloweens here have been wet.
Rain chances increase just before noon on Wednesday with solid rain moving in after 8:00pm (Wednesday). Looks like 1/2-2/3" Wed night through Thursday morning. Wind gusts 20 mph or less (no concerns). Additional storm systems will pass through Friday through Sunday, bringing 1"+ of additional rainfall and some wind gusts up to 25 mph at times (no worries). Typical fall storm systems. These will be "warm" storms so snow levels will be above 6000'.
At this time, more storms are possible next week but there's a small chance that high pressure may become re-established across the west and block storms for 3-5 days. Right now the pendulum leans towards more storms than dry weather. We desperately need the rain, so keep your fingers crossed.
EXTRA HOUR OF SLEEP SUNDAY MORNING! Clocks go BACK one hour at 2:00am Sunday!