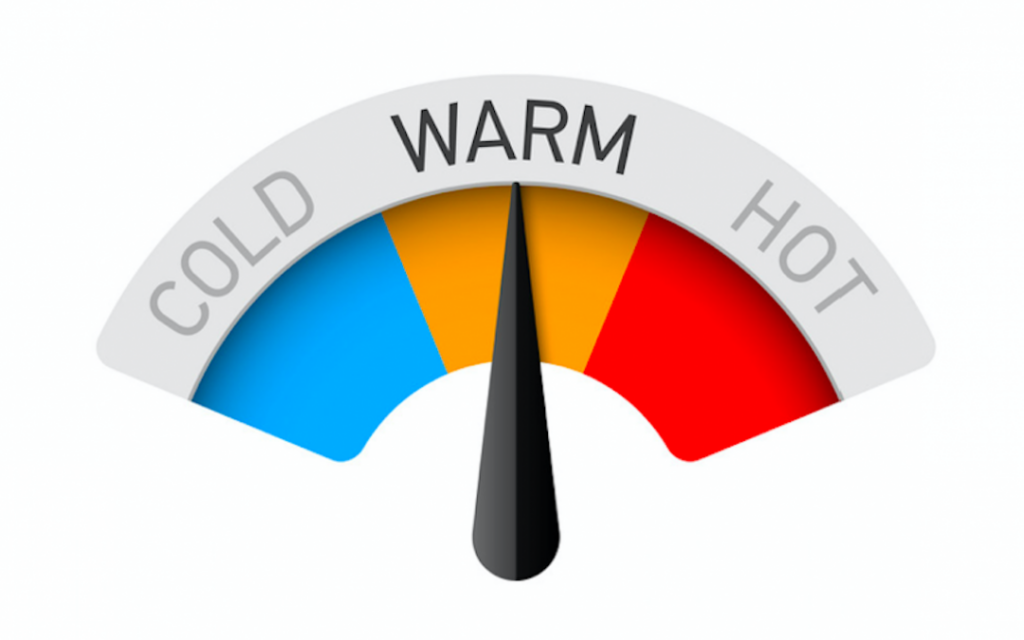 We hit 89° yesterday, and I'm sure you noticed it was muggy too! I wish I could say it was the hottest day of the year so far, but it wasn't (we hit 94° back on May 14 and 90° on May 15). A little cooler today; temperatures will roller coaster over the next 10-days. At this time, I don't see outrageously hot heat through the end of June. In fact, after June 15 temperatures look to be more cooler and hover right around normal (highs low 70's, lows upper 40's).
What's with all the humidity? An unusual pattern is in place with a low pressure system spinning over central/southern California and mini low pressure systems across the region. High pressure is just to our west. The "flow" pattern is from east to west, which is what's been bringing us hot temps, increased humidity, and mountain thunderstorms. This same pattern will generally continue through Friday or Saturday.
Today will be mostly cloudy to perhaps partly cloudy with a small chance of a shower or thunderstorm. Pretty similar on Thursday with probably a bit more sunshine; partly cloudy on Friday. We then get back to a more typical June pattern on Saturday as high pressure regains control of the region.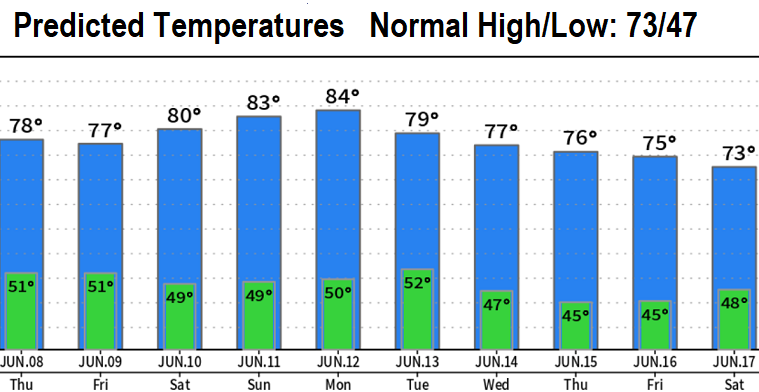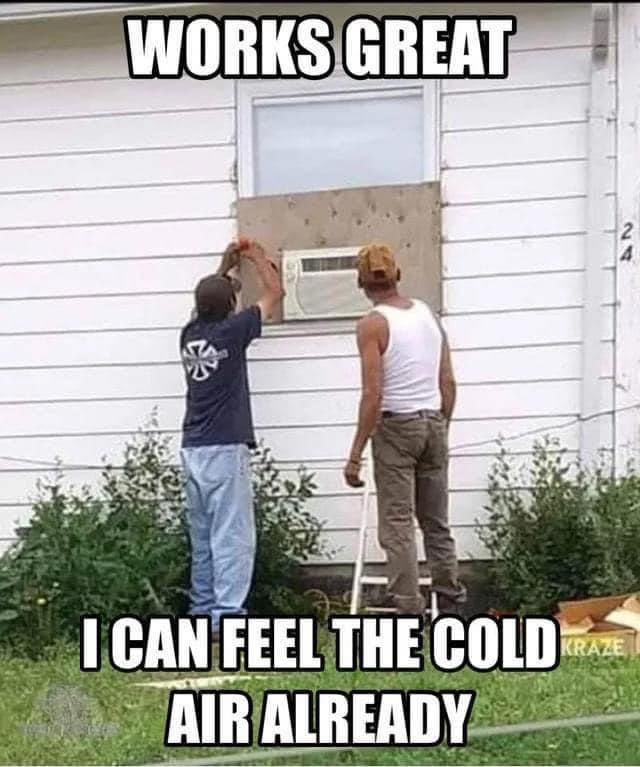 We're in a warming trend through Tuesday but we'll slightly cool starting on Wednesday. A small chance of mainly isolated showers and thunderstorms will exist Thursday through Sunday; it will also be a bit humid with varying amounts of cloudiness. Otherwise, at this time, I don't see any signs of a significant heatwave over the next 14-21 days. A weak Pacific storm system "may" bring some light rain to the area sometime between June 16 and June 20. Will keep an eye on this -- you'll certainly be the first to know whether or not this comes to fruition. Keep your fingers crossed because this would help suppress (a little) the fire danger.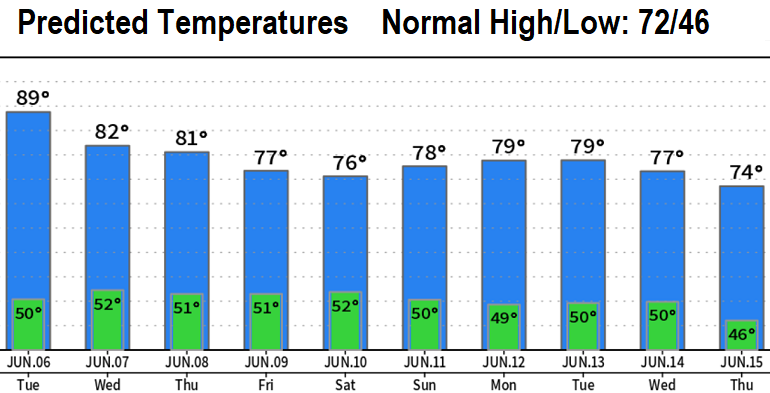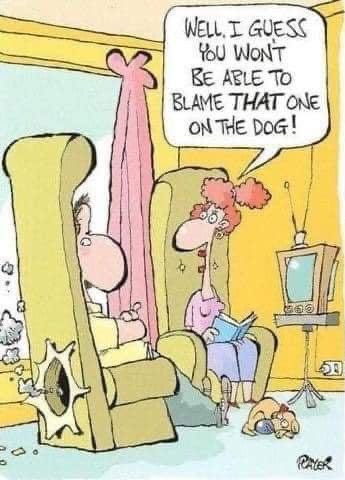 Happy Friday! We're in a warming trend until Wednesday, then we'll cool down a little. No rain chances through Tuesday, but the pattern does get a little interesting towards the end of next week with perhaps some scattered showers and thunderstorms. Look for more detailed information about this on Monday since we'll then have better data. Scroll down and check out the past 30-days of temperatures and precipitation. Note that, as a whole for the period, highs were appreciably warmer than normal and lows were just a hair above normal.
Outlooks for June show better odds for near to slightly above normal temperatures (as a whole) and favor above normal rainfall. At this time, I don't see any signals that June will be excessively hot and filled with heatwaves. Same with at least the first half of July (preliminary).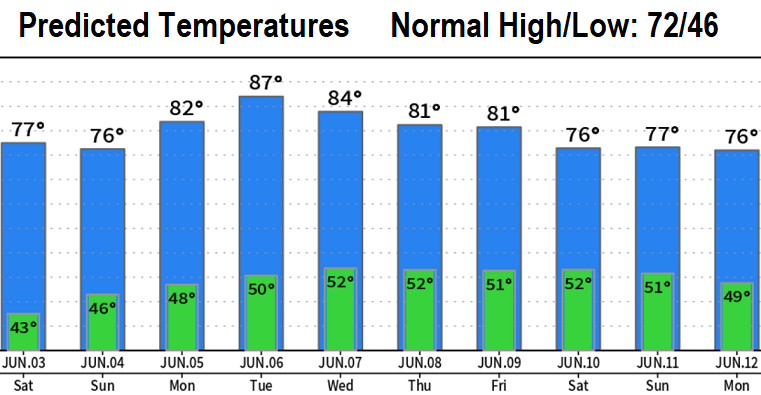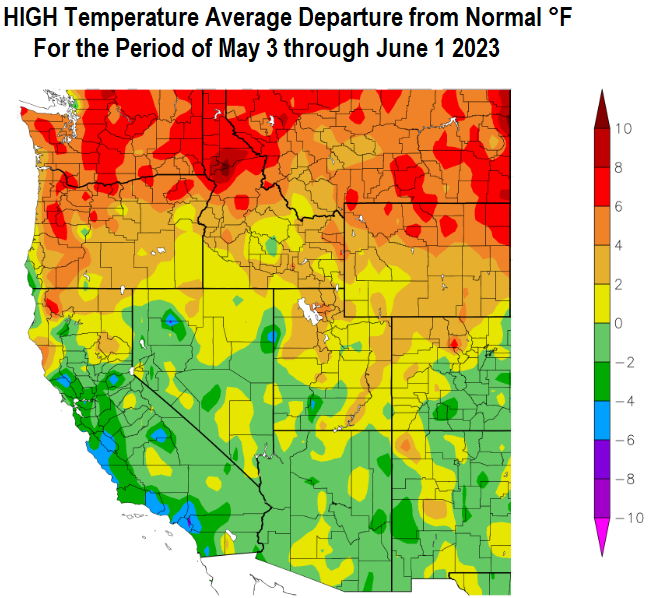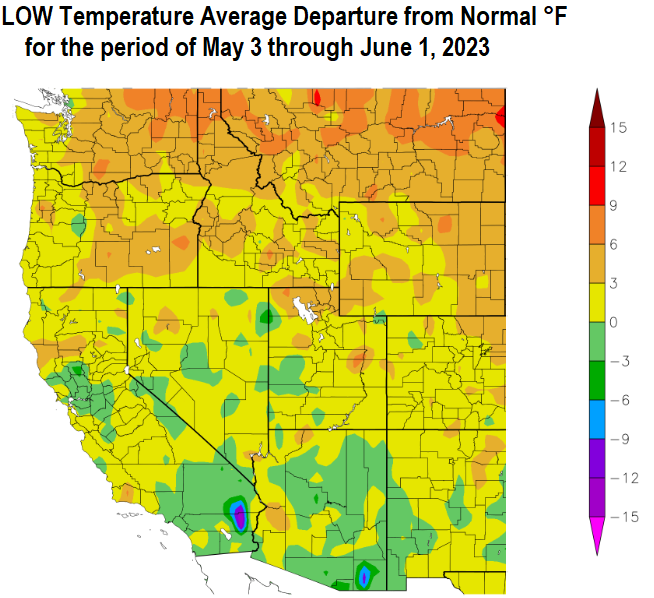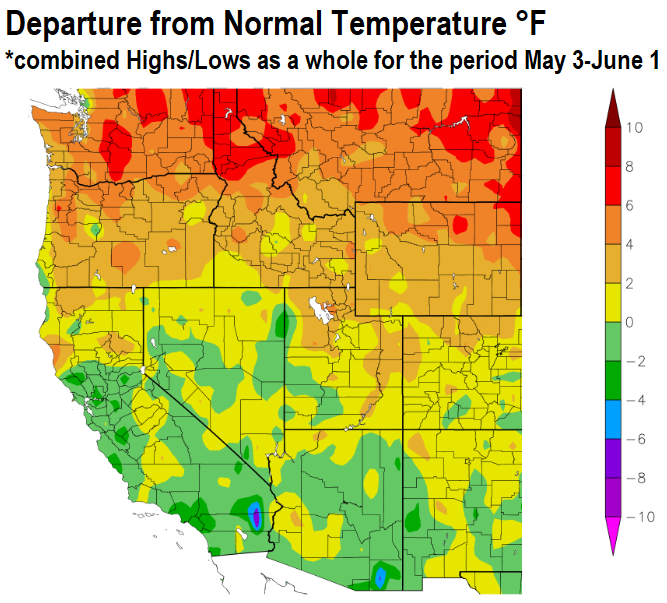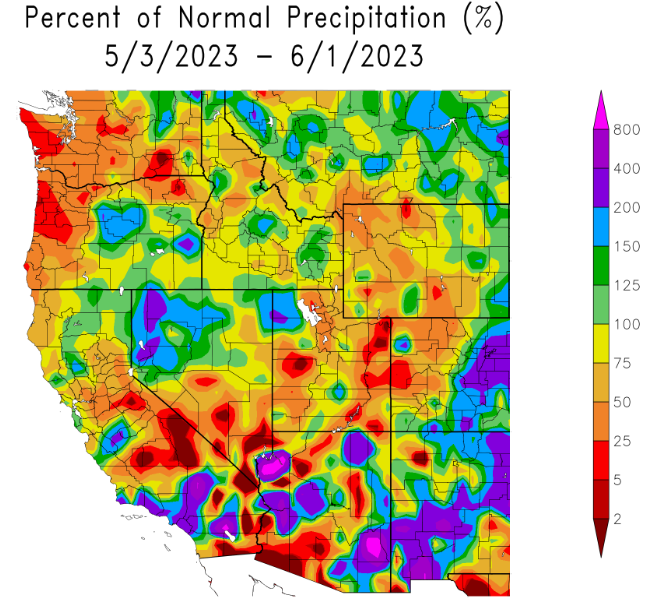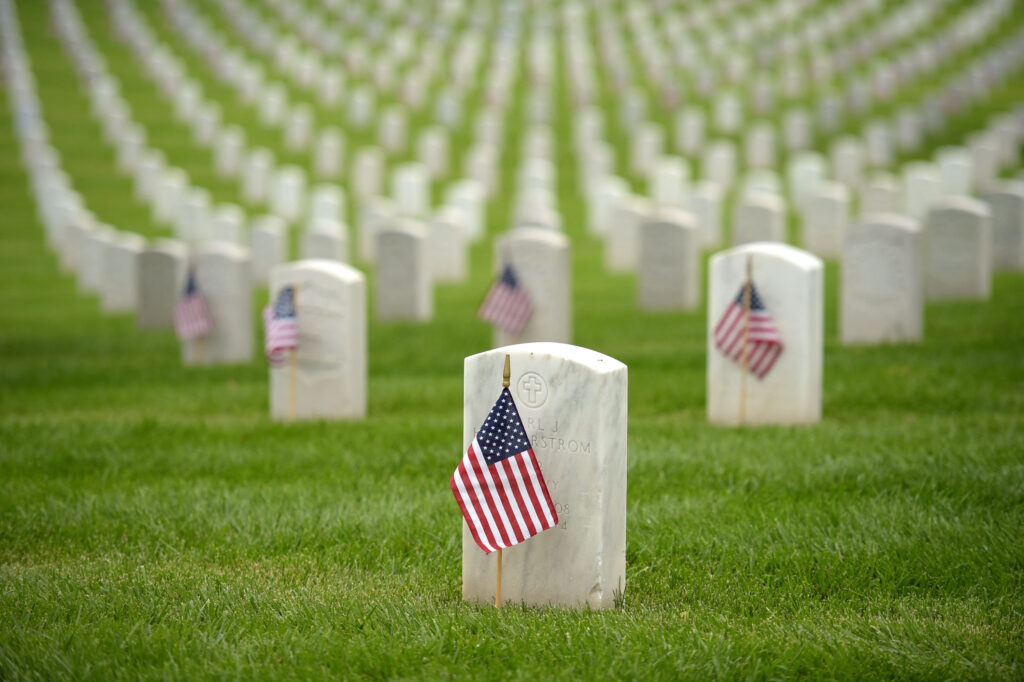 MEMORIAL DAY: Today we honor and never forget those who have sacrificed everything so that we can be free.
FIRE UPDATE: The "7k" fire, about 10 mi SW of Venita, is now 75% contained and remains at about 300 acres (per ODF, as of 8am). Contained means how much of a perimeter around the fire has been established. Smoke Sat/Sun was much less than what we saw on Friday and has mainly remained within the general proximity of the fire. Winds have also been shifting around from different directions, which has helped with not blowing smoke into our area. Winds will still shift around today but are expected to start blowing more consistently from north to south. This could bring a little smoke into the area, but not like what we saw Friday.
NEXT 10-DAYS: Nice week ahead, then warm/hot next weekend. Check out the temperature chart. High pressure will remain in control of our weather patten and keep us dry throughout the week. Next weekend, an interesting pattern sets up with some showers / thunderstorms possible in the Cascades. Since the flow at that time will be moving from east to west, will have to keep an eye for any thunderstorms drifting off the Cascades and into our area.
JUNE OUTLOOK: Not seeing any signals for a significant heatwave or a storm. Remember June 27, 2021 when we hit 108° here? At this time, I don't see any hints of an excessively hot June. That's not to say there might be an occasional day or two in the upper 80's to around 90, however.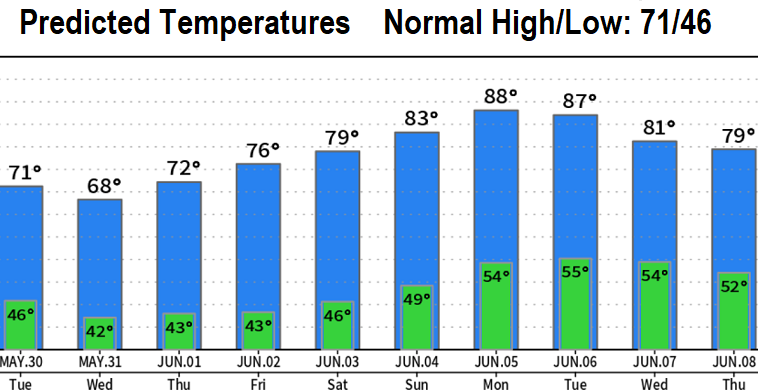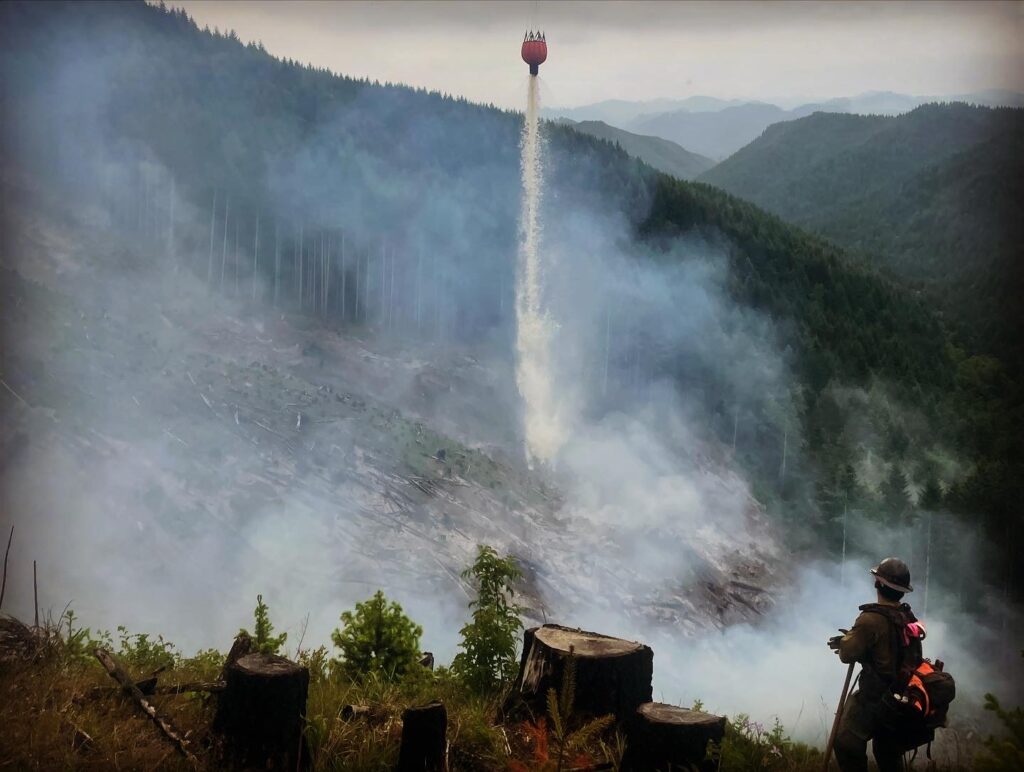 SUNDAY 12-NOON UPDATE - *THIS FIRE NOT A THREAT TO COTTAGE GROVE*
Scroll down to see photos of the fire. The "7K" fire is 10 miles southwest of Venita and is at just over 300 acres. Per ODF, at 7:00am Sunday, the fire was 40% contained. Contained means how much of a line around the fire has been completed so that it cannot further spread. This does not mean how much of the fire is put out.
SMOKE: In Cottage Grove, we got lucky on Saturday since the winds blew mainly from a southerly and easterly direction. This pushed the smoke away from us (the northerly wind direction that was expected didn't materialize). Today (Sunday), winds are expected to shift this afternoon or evening and blow from the north/northwest. Therefore, smoke has a better chance of being transported into Cottage Grove today (especially if winds shift and blow from the NW). IF winds shift as currently expected and we do end up getting a good push of smoke into Cottage Grove, you can see the Air Quality at grove411.com.
RAIN? Looking dry over the next 10-days. Some hints that the pattern may start to change around June 7 so we "may" be talking about light shower chances at some point.
Scroll below through the photos. Check out the "firenadoes" (think of it as a dust devil but with fire and/or smoke). Fascinating?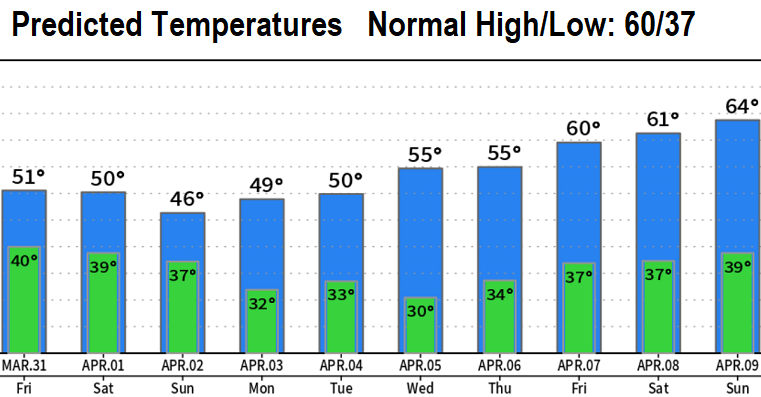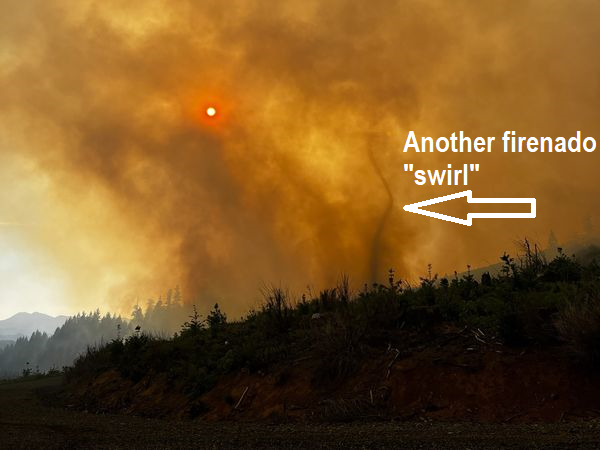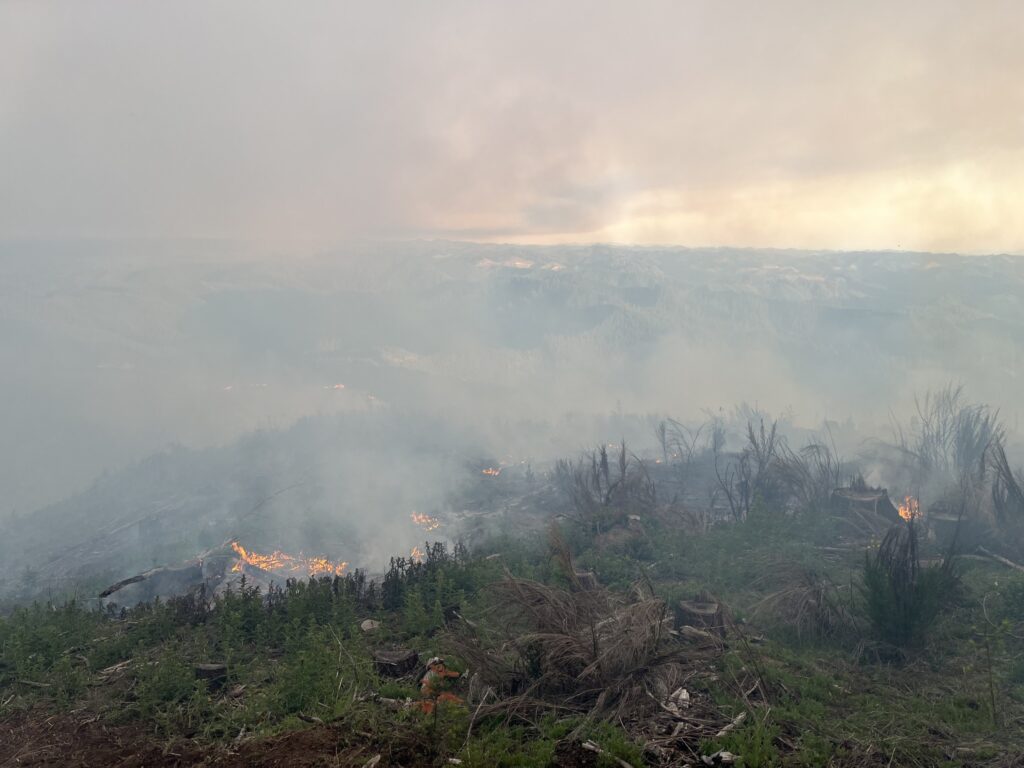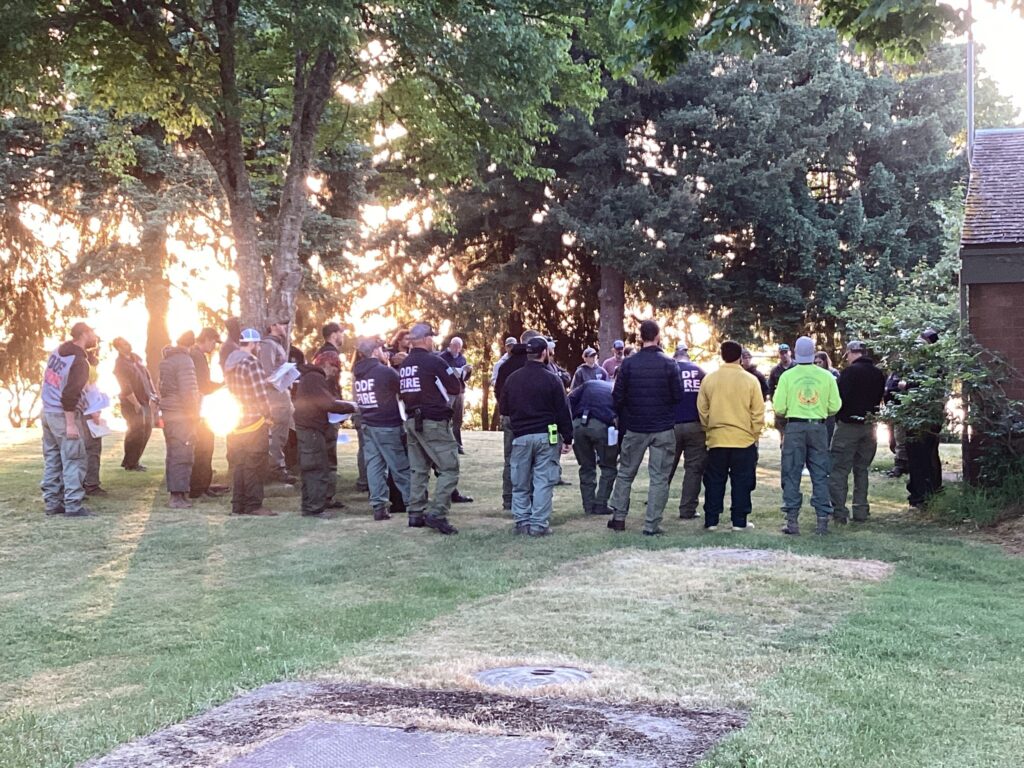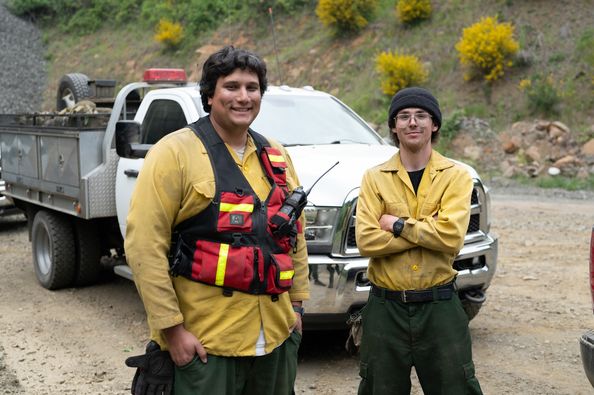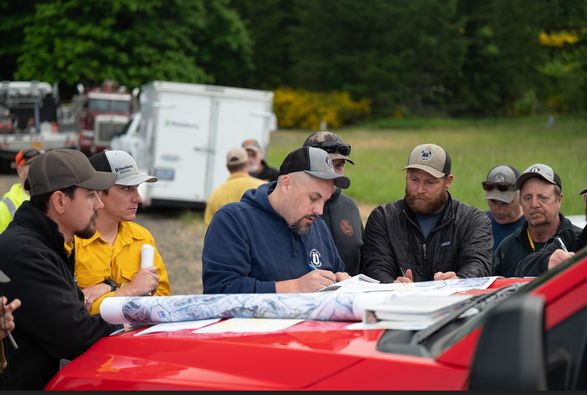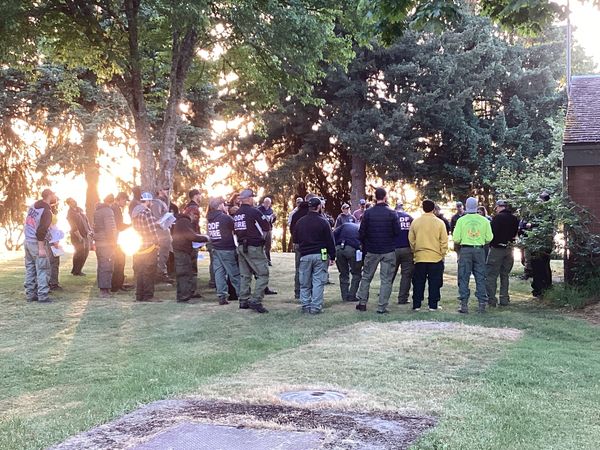 SATURDAY 10:00am:
*THIS FIRE IS NOT A THREAT TO COTTAGE GROVE* Per this morning's ODF update, the "7k" fire (13 miles east of Eugene) has grown and is now at 300-350 acres.
I expect winds to shift around today and blow more consistently from the north (albeit light). This will probably transport smoke into our local area and worsen air quality. As of 10:00am today (Saturday), air quality in Cottage Grove (per real-time data at grove411.com) was in the "good" category, but may worsen this afternoon. Otherwise, dry weather and mild temperatures will be the case over the next 5-7 days. In fact, at this time, I don't see any rain over the next 10-days.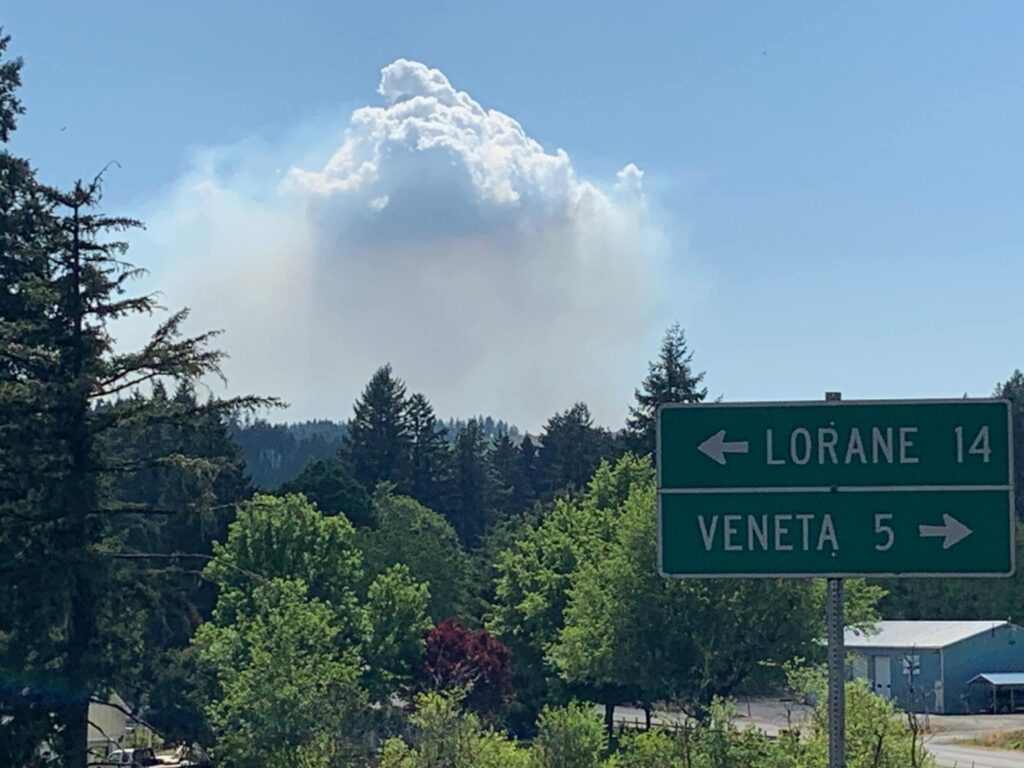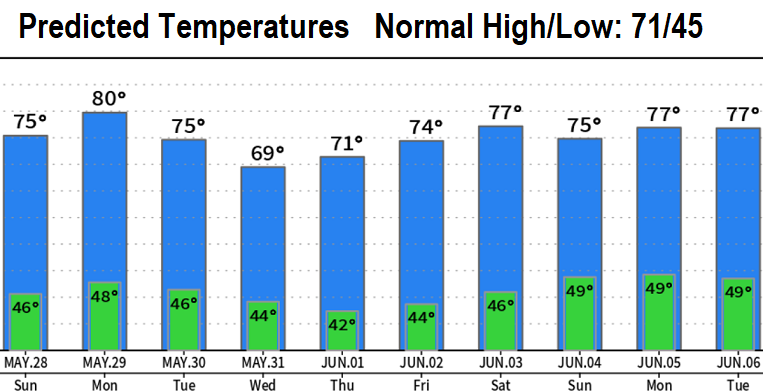 *DISREGARD 8:00pm FIRE/SMOKE UPDATE - INFO BELOW IS CORRECT*
Friday 8:15pm: In looking at the fire heat signature on the weather satellite, it's clear that the fire is to our NORTHWEST. Winds just north of Cottage Grove are blowing FROM the northwest and transporting smoke into Cottage Grove. Winds in Cottage Grove are now blowing from the WEST, bringing smoke into the area. Air Quality is now in the "Unhealthy for Sensitive Groups" category. Real time air quality and weather info at grove411.com.
Winds on Saturday are expected to blow from the North, Northwest, and possibly West. This MAY continue to bring smoke into the area. Otherwise, dry weather will be the case through the Memorial Day Holiday Weekend.
*THIS FIRE POSES NO THREAT TO COTTAGE GROVE*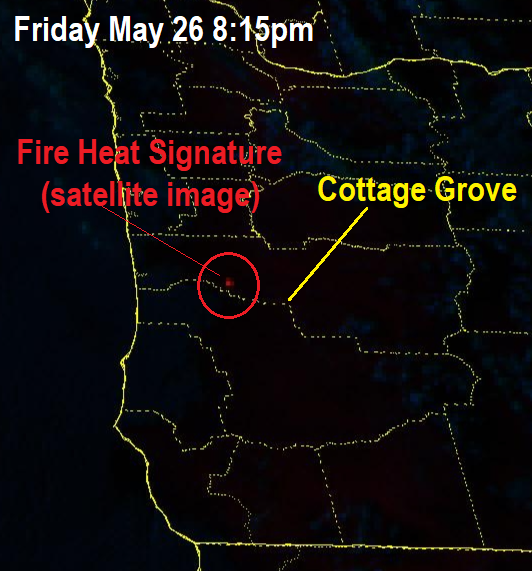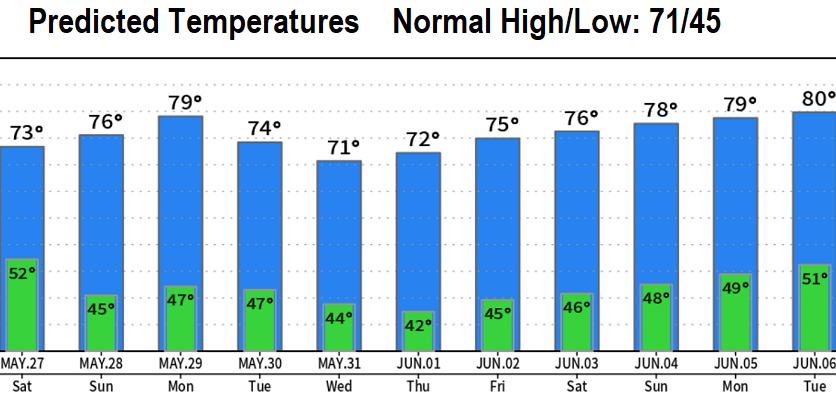 SMOKE/FIRE UPDATE - *NO THREAT TO COTTAGE GROVE*
Friday 8:00pm: Smoke from a fire just to the south, southwest of Cottage Grove is being blown into our area because the wind direction is coming from the south. Air Quality has decreased and is in the "Unhealthy for Sensitive Groups" category (as of time of this post). On Saturday, the winds are expected to shift and blow from a northerly direction. This will keep the smoke mostly away from us and just to our south. Otherwise, dry weather will prevail locally through the Memorial Day Holiday Weekend. As of the time of this post (8:00pm Friday), there's no further information on the fire. Remember you can see the real-time air quality (and weather station data) at grove411.com.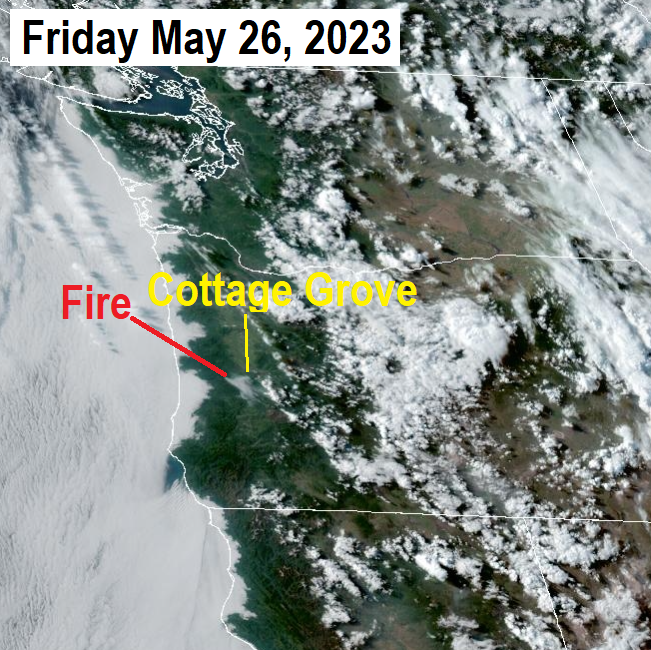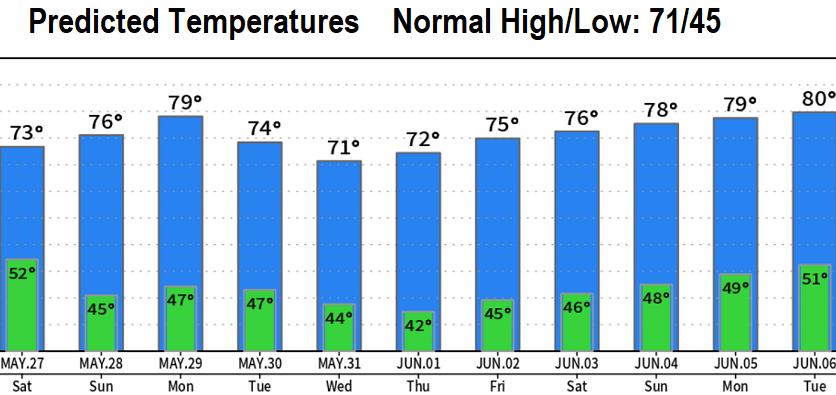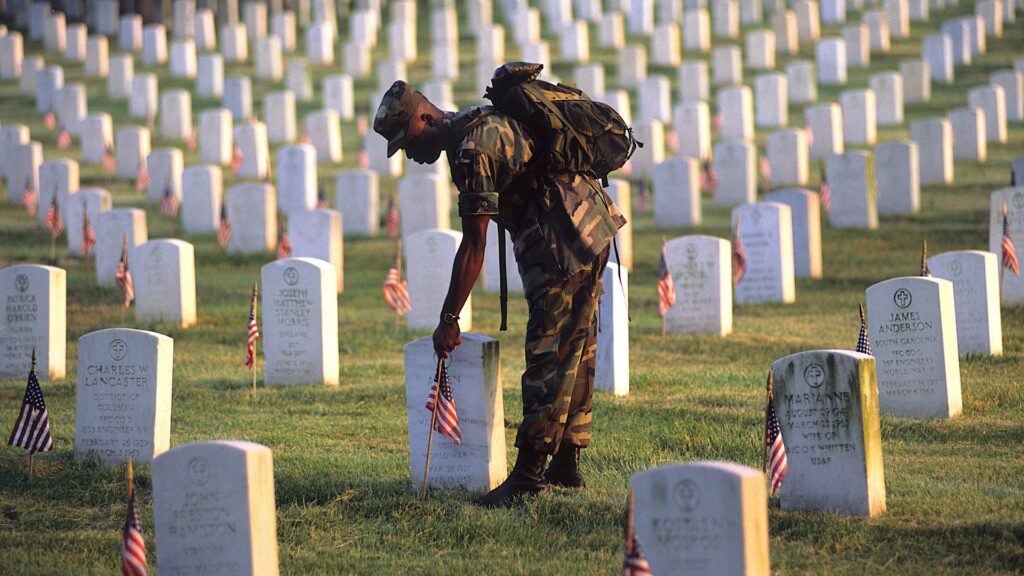 Nice upcoming Memorial Day holiday weekend with just a couple of minor bumps:
First bump is that it'll be warmer today + Friday (see chart) and humidity will be slightly elevated.
Second bump is that there's a SMALL chance of a shower or thunderstorm in Cottage Grove today/Friday due to a weak low pressure system across the area. Better chances in the mountains.
It will then be cooler (but nice) and dry here Saturday through Monday with some clouds at times. High temps will be near to slightly above normal; lows within a few degrees of normal.
No excessive heat seen (at this time) through the first week of June.
Cascades: If you're venturing into the Cascades, isolated to scattered showers and thunderstorms are expected through Sunday so keep this in mind.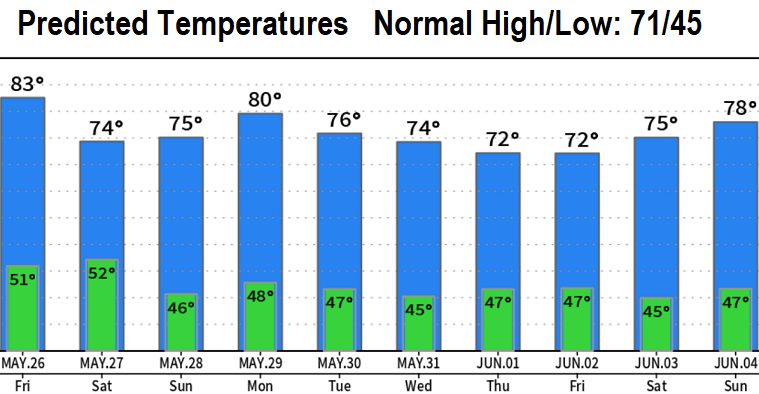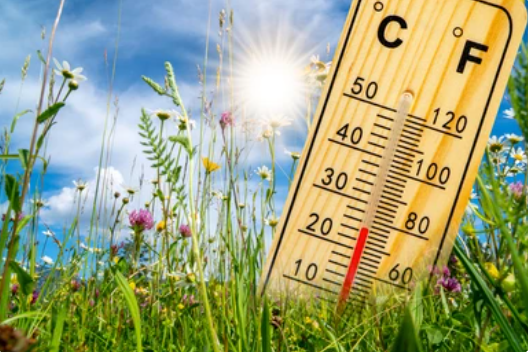 Saturday: No heatwave in sight, nice temperatures over the next 10 days, dry with a mix of sun and clouds at times through Friday, then a chance of a few light showers over the Memorial Day Holiday Weekend (best chances next Sat/Sun).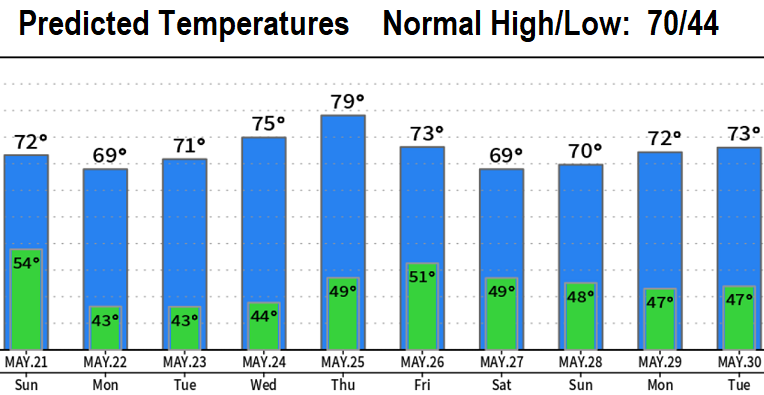 Signals for June, overall, is that there's better odds for near normal temperatures and rainfall. Odds then favor above normal temperatures (as a whole) for July/August (doesn't mean we'll be excessively hot, just that odds favor above normal temps - even if just by 2-3°).
Scroll through the data/charts below. No kidding that, overall, the past two weeks have had much above normal daytime high temperatures and rainfall has been below normal. Drought's not bad at all. If you take a look at the chart showing Oregon's drought history since 1895, you'll notice that drought is a natural part of our environment.