We didn't get any snow last night, but we knew that the chances were minimal due to little moisture with the system. By the time cold enough air to cause snow arrived, there was just too little moisture left to work with. Winds overnight were stronger than forecast and therefore evaporated the wet pavement (along with much drier air), so ice wasn't nearly as widespread this morning (a good thing!). Next chance of showers looks to be Thursday night and Friday with rain next Sunday. Storms don't look strong nor very wet; more details about this on Tuesday.
Lows tonight and Monday morning 15-19° with light breezes at times. Expect lows in the mid 20's Tuesday night, upper 20's Wednesday night, then probably above freezing Thursday night as the next much warmer storm system moves in. Daytime highs Monday will be in the low 40's, mid/upper 40's on Tuesday, then around 50 Wednesday and Thursday. These cold temperatures are due to modified Arctic Air being blown into the region from the north. If you haven't felt these brutal northerly winds, then you've probably heard it howling.
Animals are unable to maintain their body warmth in these cold temperatures, when left outside. Unless heated with the door closed, outside shelters don't keep animals warm enough because breezes (no matter how light) blow cold air inside. Pets are safe inside with you, because if you're cold, so are they.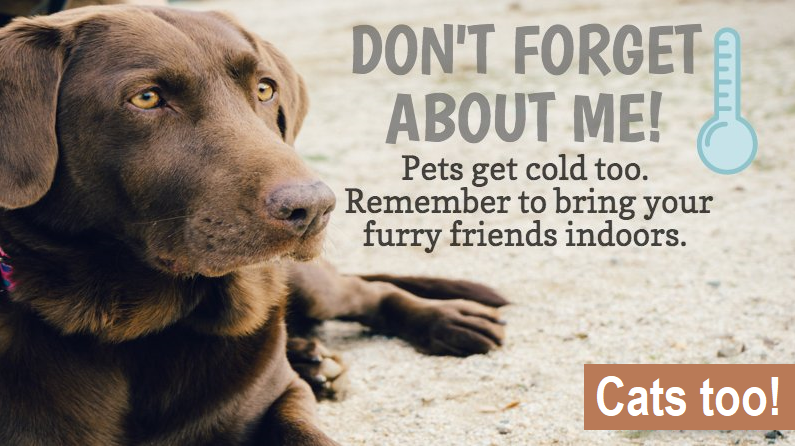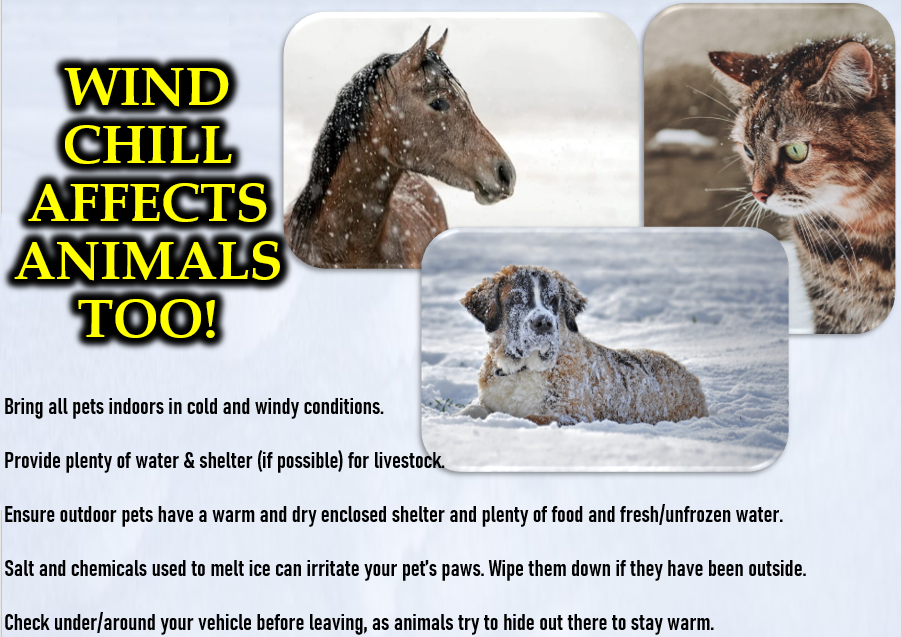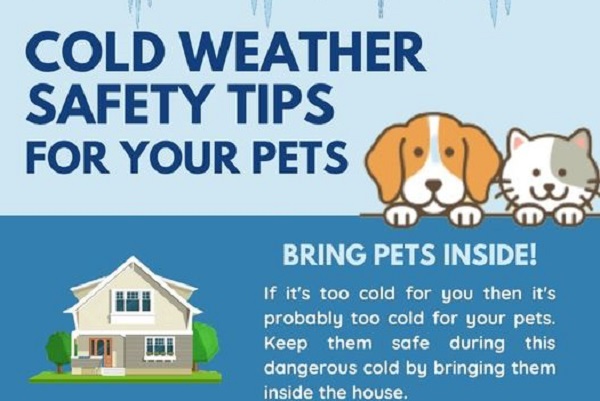 Snow levels through this evening will stay above 2000', then lower to near 500 feet after 11:00pm. This system has very little moisture, so showers today and this evening will total less than 1/10". Any snow between 11pm tonight and 6:00am Sunday will be either as just some flakes to possibly a light dusting of about an inch or less.
Temperatures will drop below freezing tonight so whatever precipitation occurs to 11:00pm will likely become frozen overnight. Therefore Sunday morning, expect the possibility of ice on roads, sidewalks, etc. It'll also be breezy on Sunday so the windchill effect will make it feel much colder on the body. Temperatures will climb to above freezing after 11:00am Sunday but then fall to 15-20° Sunday night / Monday morning. This means expect icy pavement again on Monday morning. Highs in the 30's Monday, but Monday night / Tuesday morning expect low/mid 20's so it will again be icy Tuesday morning. Probably icy Wednesday morning too. Next chance of rain: Friday.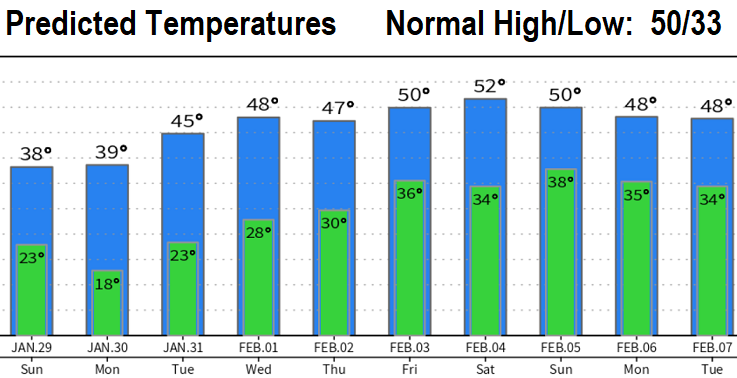 Please bring pets inside. Animals need to be able to maintain their body warmth, and will not be able to do so outside. Freezing temperatures and/or breezes will make it impossible to stay warm.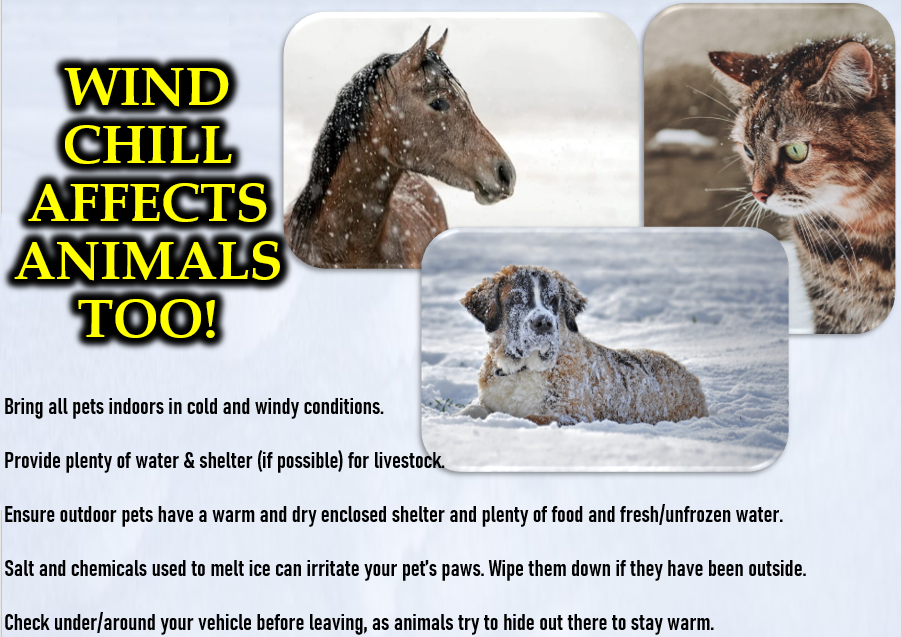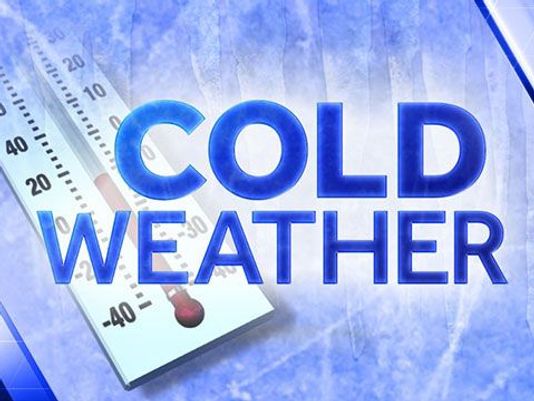 Best time for snow looks to be 11pm Saturday to sunrise Sunday. We could see just some flakes to up to an inch. That's about it since the system doesn't have a lot of moisture. Biggest impact will be the coldest temperatures of the season so far. Lows 15-20 likely Sunday night and Monday night. Possibly low 20's Tuesday night. Until then, maybe a few isolated light showers on Friday, then scattered light showers Saturday evening to sunrise Sunday. Some wind gusts to 20 mph on Sunday. Thereafter, next chance of rain looks to be Thursday of next week.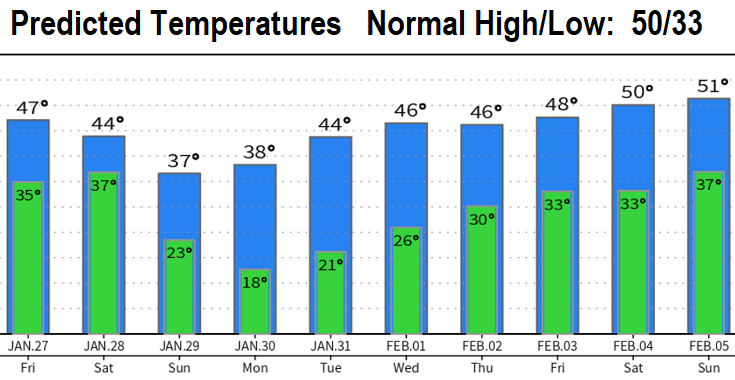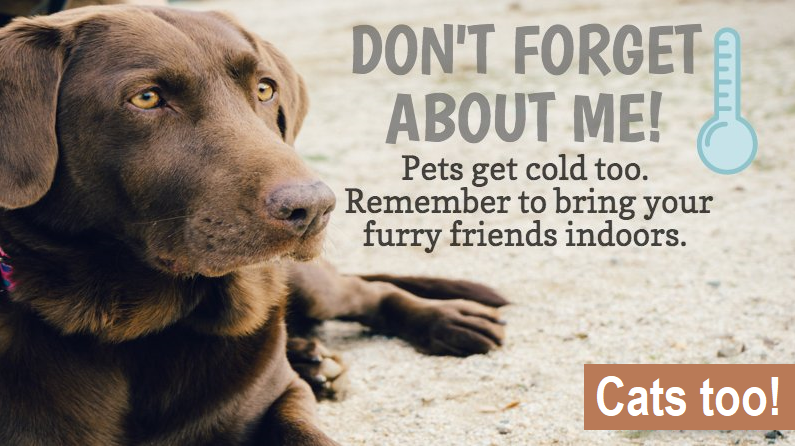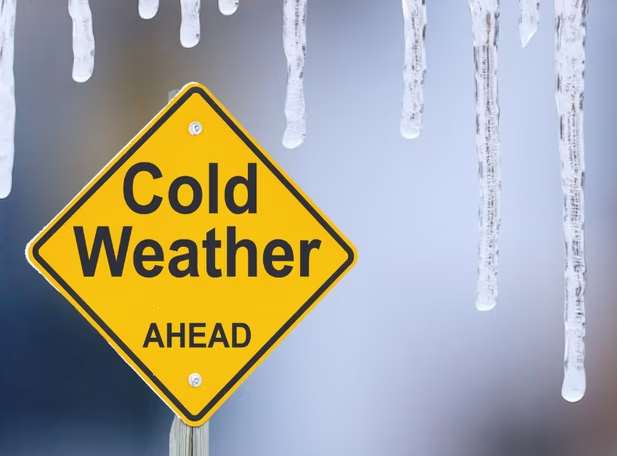 A dusting of snow is possible sometime between Saturday night and about 10am Sunday. This system will be fast moving and doesn't have a lot of moisture, so no snowmageddon. Biggest impact will be very cold temperatures. Breezy Sunday/Monday, so it will feel much colder than actual temperature.
Details: On Friday, cold system #1 comes through with just some light showers and snow levels above 2500'. No wind concerns. Saturday night into Sunday morning, much colder system #2 with modified Arctic Air passes through. Snow levels possibly down to valley floor, but mostly above 800' (4-6" possible in the Cascades). Precipitation threat looks to be completely done with by about noon Sunday. Winds Sunday and Monday can gust up to 15-25 mph at times, making it feel much colder than it actually is. Take a look at the icy cold predicted temperatures. Main hazards from all this will be the icy roads and sidewalks. These temperatures will be deadly for pets left outside.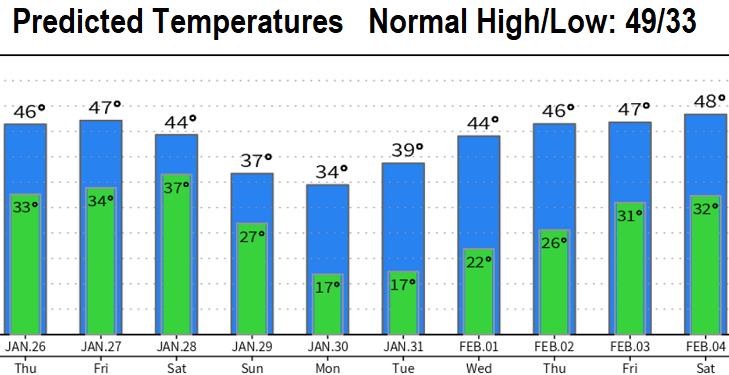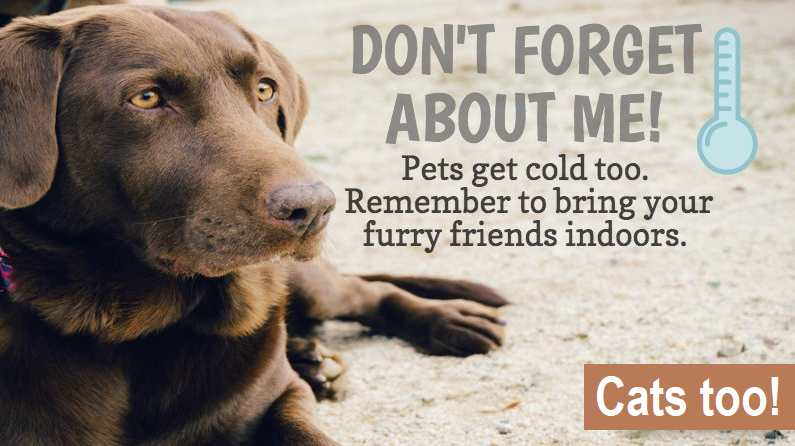 Snow possibilities increase Sat/Sun. Otherwise, uneventful through Thursday: Night/morning fog and/or low clouds with possible slow burn off and very light to calm winds.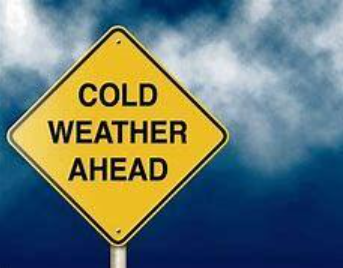 Arctic Air may then be dragged into our area by two low pressure systems - the first on Friday and the second on later Saturday or Sunday. I should note that there's some discrepancies with the computer models. However, if this occurs as expected, temperatures will plummet and there would be the possibility of some light snow on or around Sunday. Still lots of time for things to change between now and then, so treat this as a heads up possibility.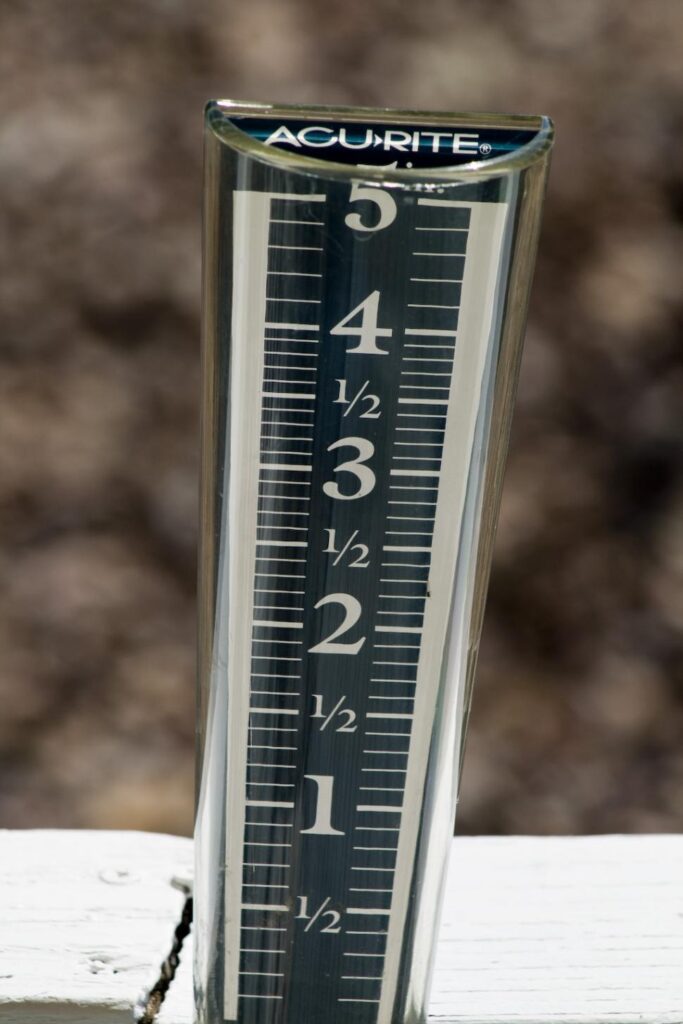 Regarding precipitation, we've recorded 16.30" of precipitation since the start of the water on October 1st. Normal to date is 23.27", which puts us at 70% of where we should be. Snow pack is at 87% for our area. Preliminary outlooks for February suggest above normal precipitation and below normal temperatures. La Nina should completely fizzle out over the next 30-45 days, but there's then a strong chance of an El Nino forming during the summer and continuing through winter 2023-24.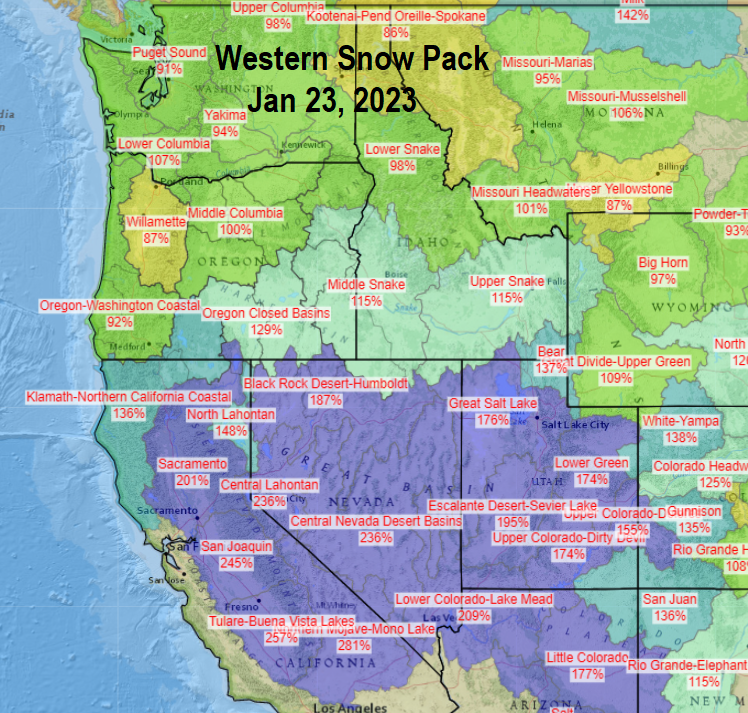 Dry weather and cold temperatures today and Friday, then some light showers later Saturday morning through the evening (less than 1/4"). An extended period of dry weather is likely Sunday through all of next week and probably to the end of the month, which means much below normal precipitation will continue. Expect night and morning fog and/or low clouds with possible slow clearing, especially Sunday onward. Overnight lows mostly in the mid/upper 20's. Check out the predicted temperatures chart and all the other information.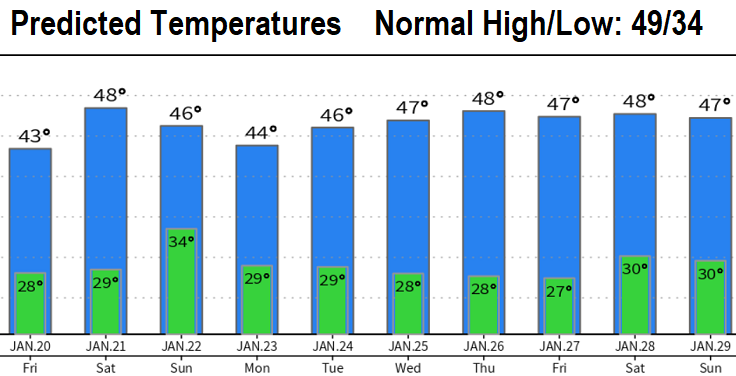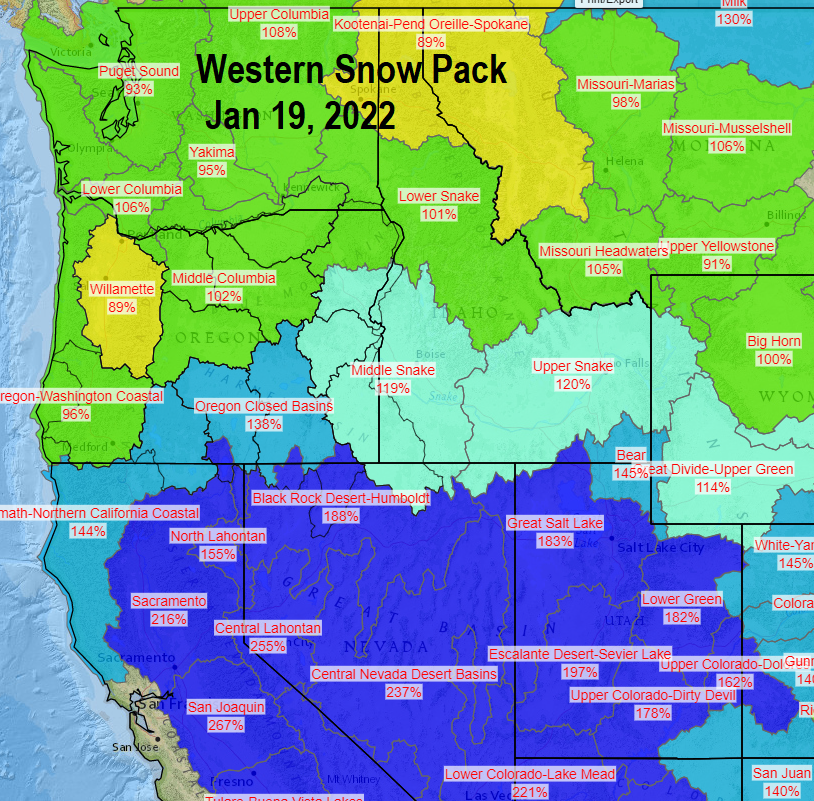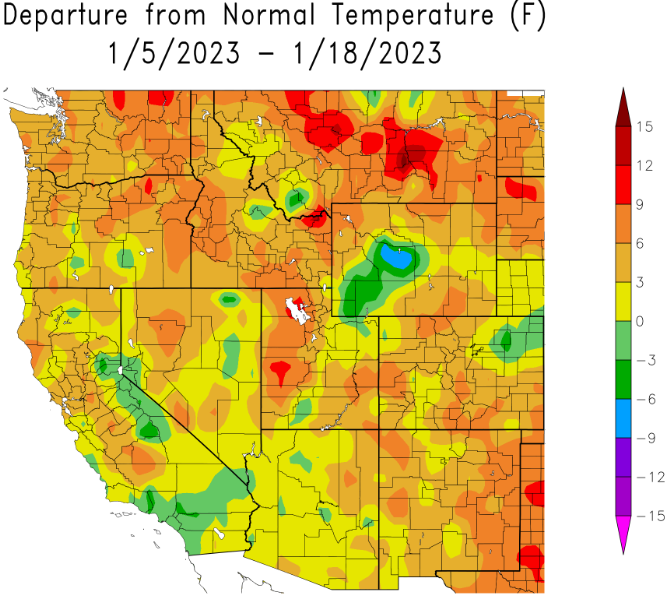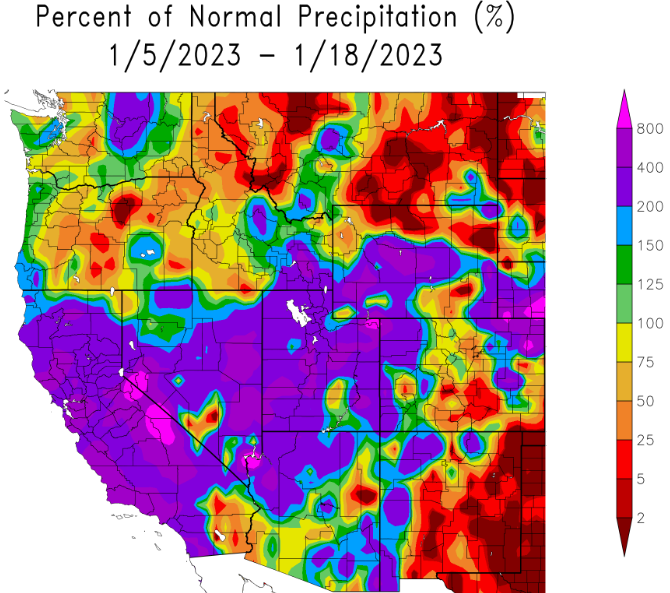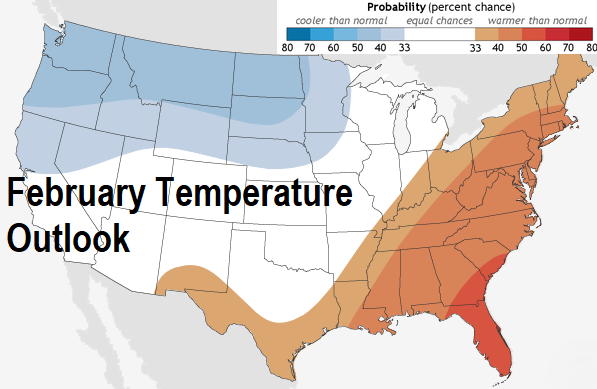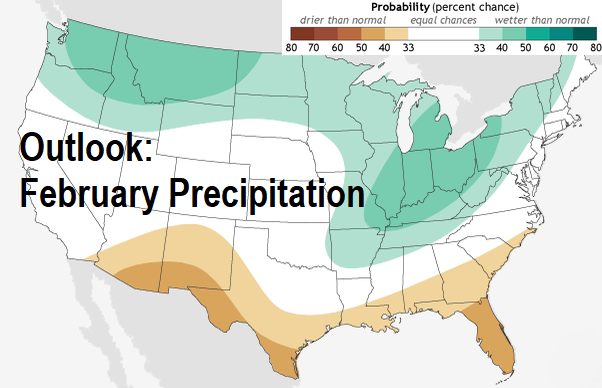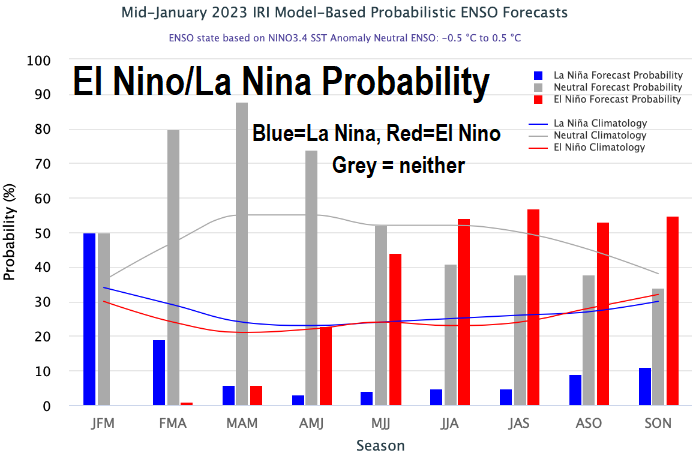 WINDS this afternoon through Sunday afternoon can gust to between 20 and 30 mph at times. Colder Sunday through the end of next week, but nothing unusual (just your typical Oregon weather for this time of year). Three storm systems will affect the region through Friday. Periods of rain/showers, looks like 2-3" through Friday, most of that falling today through Sunday morning and on Wednesday. Snow levels today (Sat) 4500' then 3000' Sunday through next week (Sun night through Mon night could dip to 2000-2500'). Snow potential for Cottage Grove: UNLIKELY
High pressure is expected to build in next Saturday through the end of the month so we'll likely be drier than normal Jan 21-31 with maybe a weak system or two sneaking in (light rain). As of 11am Jan 14, we've recorded 15.61" of precipitation in Cottage Grove since the start of the water year on Oct 1. Normal to date is 21.29" which puts us at 73% of normal. Seeing strong signals that February may have above normal precipitation.
Scroll down and check out all the data and charts: U.S. temperature and precipitation averages 1895-2022, the latest Oregon and California drought status, Oregon's drought history timeline since 1895, Arctic temperatures for 2022, etc.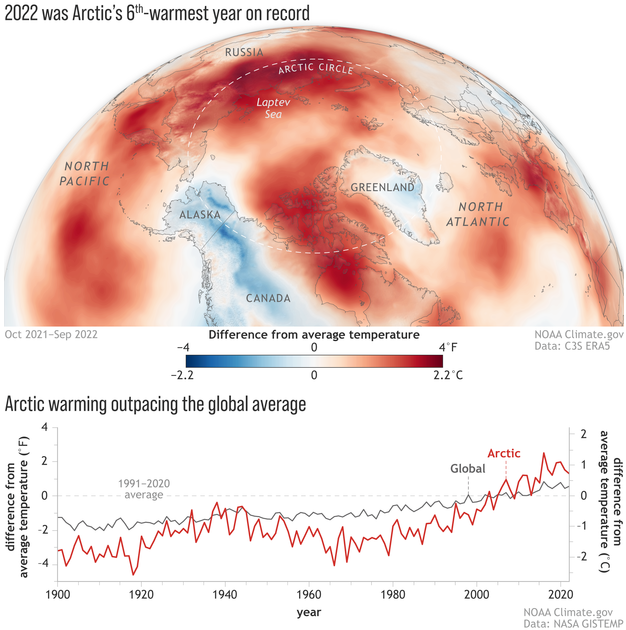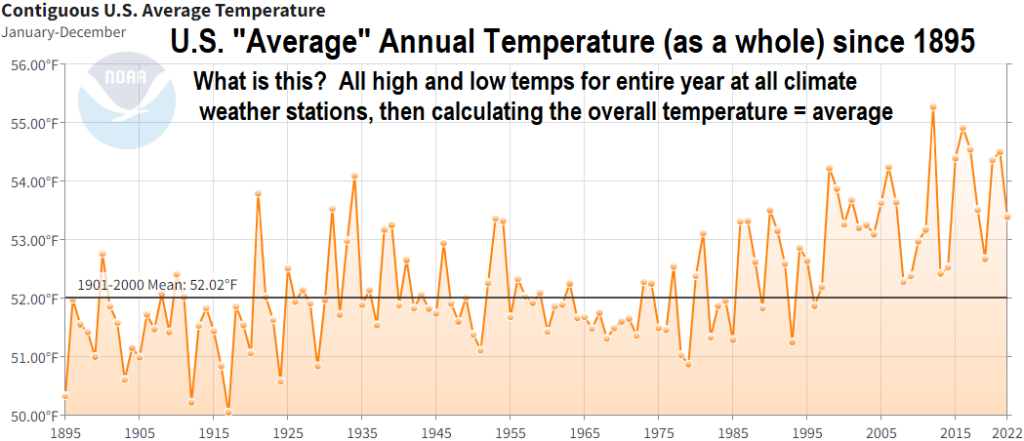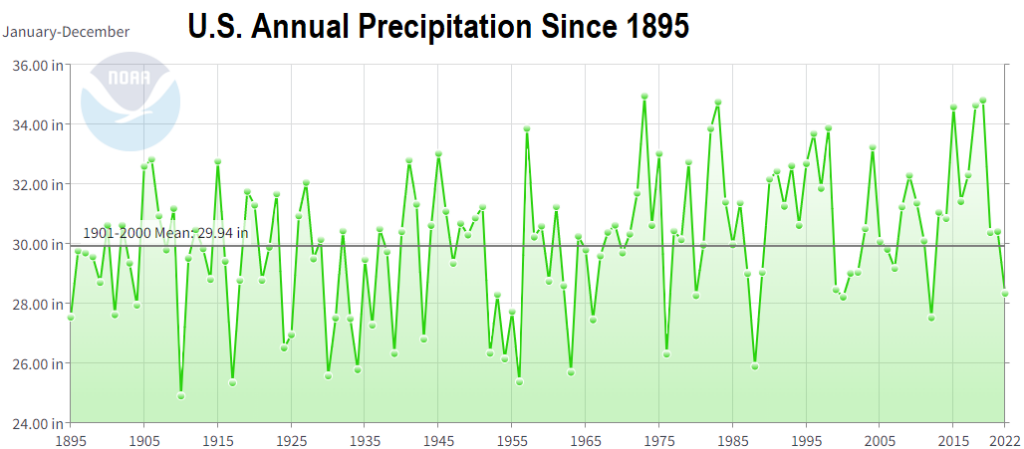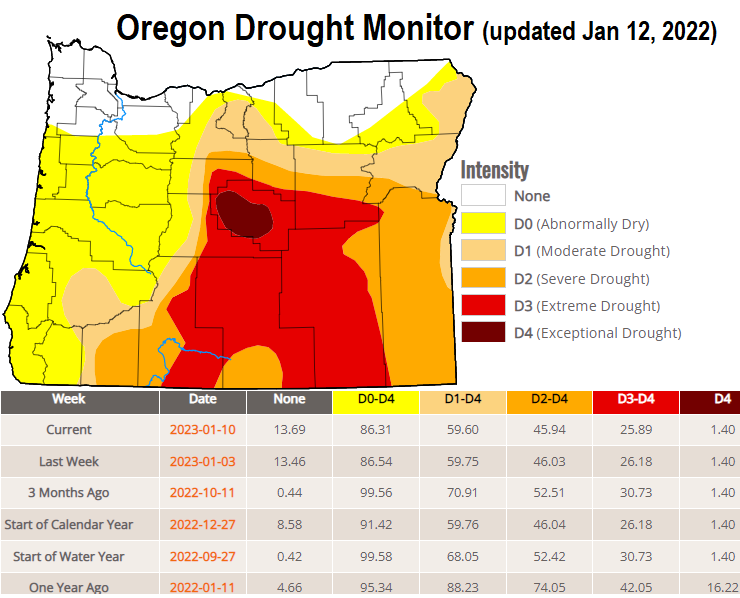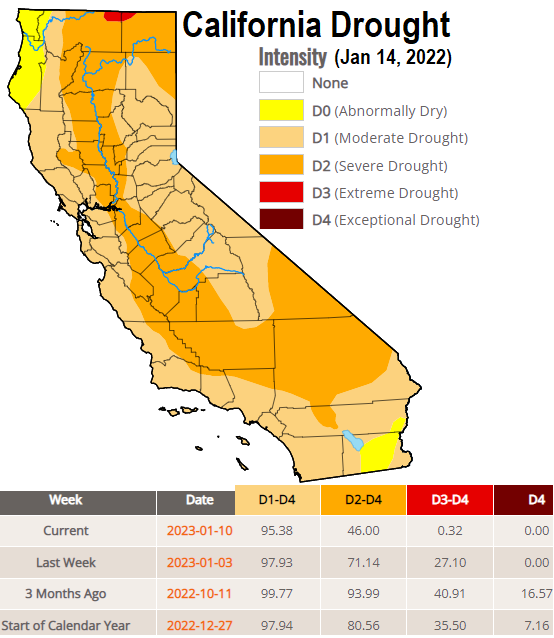 Four to five storm systems will bring up to 2-3" of rainfall over the next 10-days (through Jan 19). We're currently behind by almost 5" (as of the start of the water year on Oct 1, we've recorded 15.07" of precipitation; normal to date is 19.93"). No chances for lowland snow through Jan 17. Strong winds are not expected over the next 7-days, but we'll see gusts of 15-25 mph at times as each system passes through (no biggie).
Lots of informational charts/maps as you scroll below. La Nina is weakening (currently at weak strength) and is expected to dissipate over the next 30-45 days. This weaking will likely continue to throw some curve balls our way through the rest of winter and right on through spring. After La Nina dissipates, I expect El Nino (anomalously warm Sea Surface Temperatures) to quickly develop since oceanic data indicates warm water moving into key parts of the Equatorial Pacific where El Nino and La Nina occur. Most data hint at El Nino peaking at moderate strength next Winter, which, historically, give us better odds for above normal precipitation (conversely, weak and strong El Nino's favor below normal precip).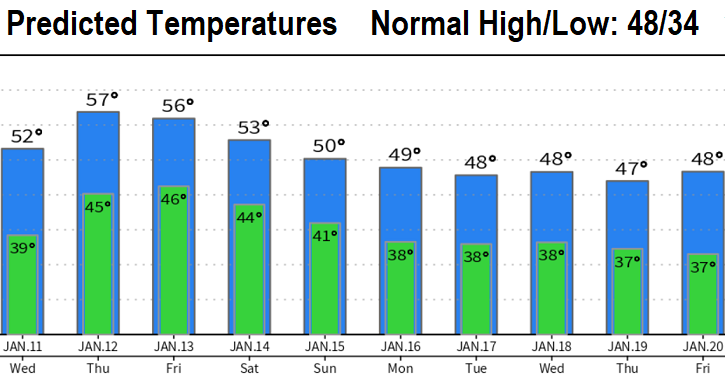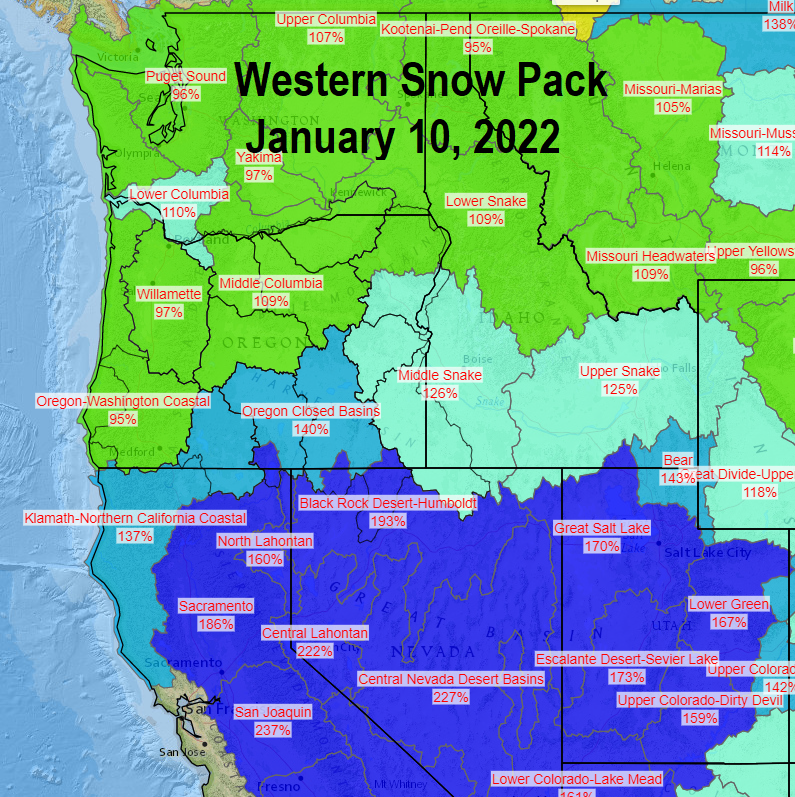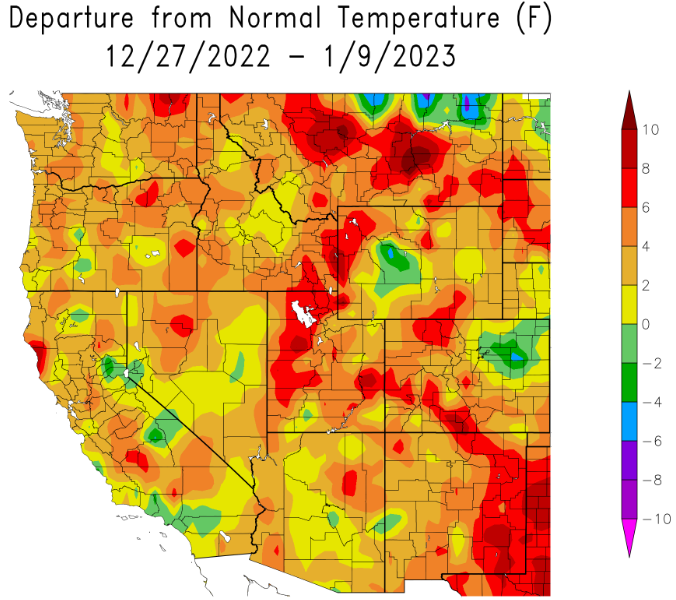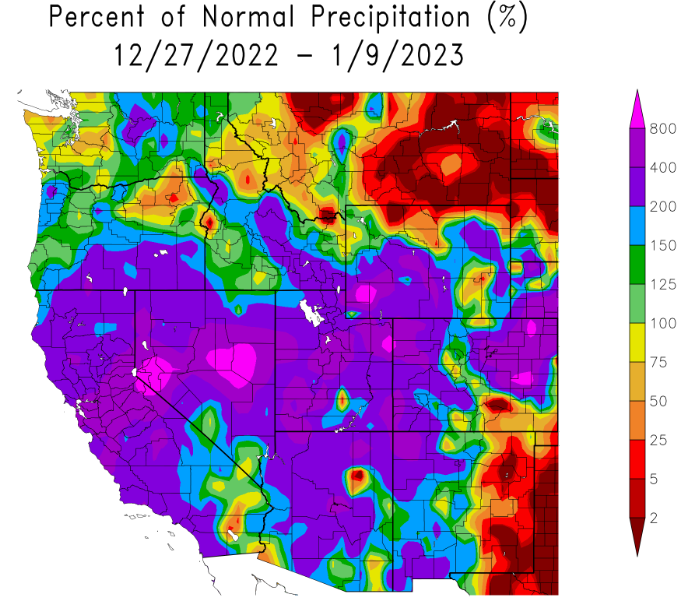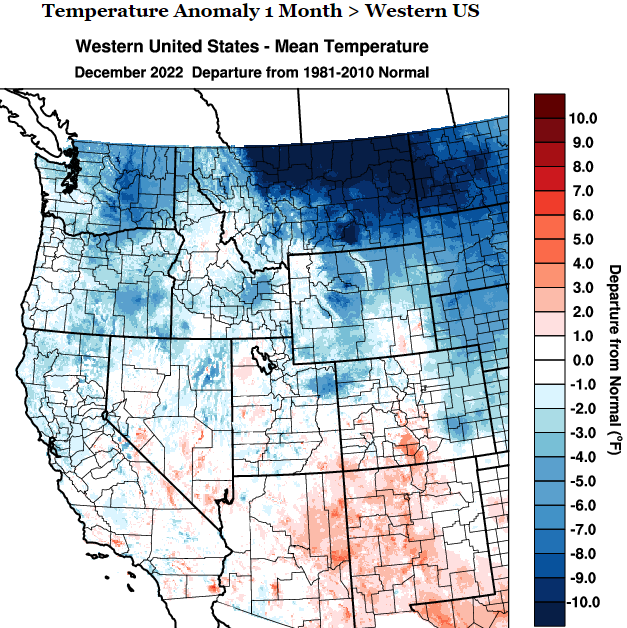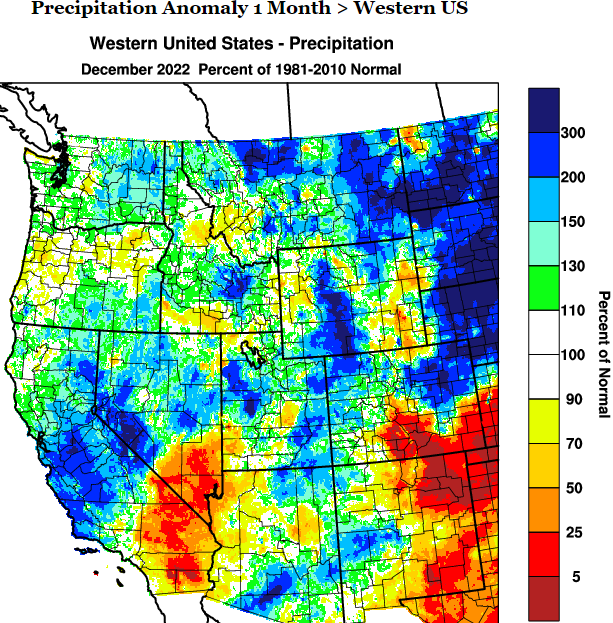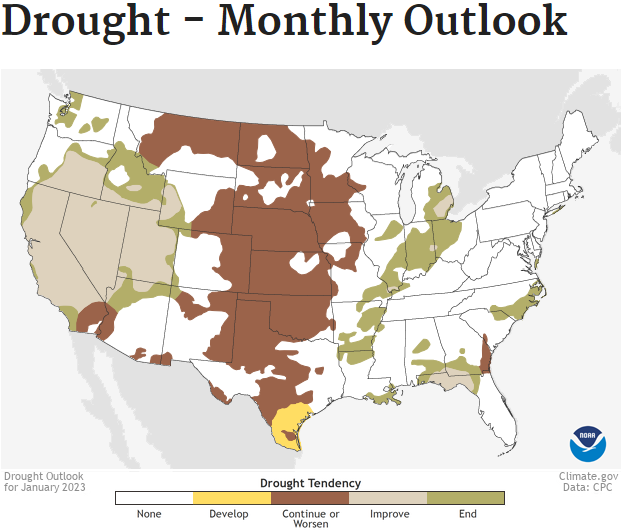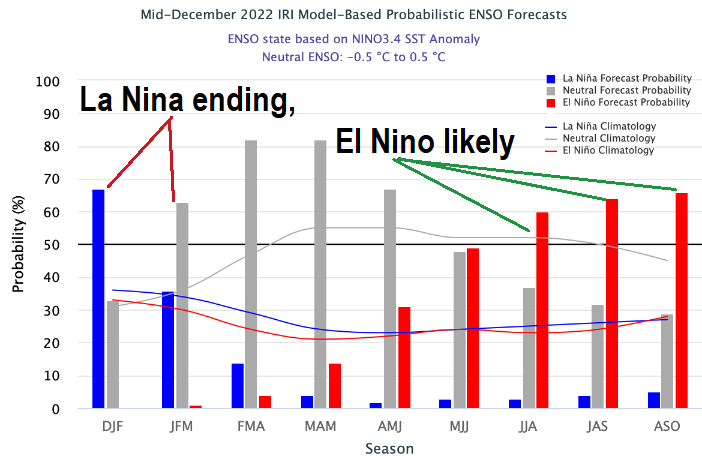 Although periods of rain and showers will occur through next weekend (Jan 15), the wettest parts of the storms will be aimed into California. Total rainfall for us through next weekend looks to be around 1.5-2". But parts of California can see a foot or more of rain (see rainfall map below), which means that over the next 7-days you'll be hearing a lot on the news about major / record flooding in California.
But up here, just typical Oregon weather with some wind gusts to about 25 mph at times as each storm passes through. Breeziest days look to be Sunday, Monday, and Thursday (gusts up to 25 mph or so). Snow levels through Tuesday 4000-5000', then 5000-6000' Wed-Fri. We'll likely see some night/morning fog in between systems. If all that rain would come in here instead of California, we'd certainly be very concerned about flooding possibilities here because these are warm systems and low level snow melt would aid to runoff. But, again, no flooding concerns at all here. I do wish we were getting a little more rain, as we're at 14.85" of precipitation since the start of the water year on October 1. Normal to date is 19.51", so we're running behind by a decent amount (currently at 76% of normal).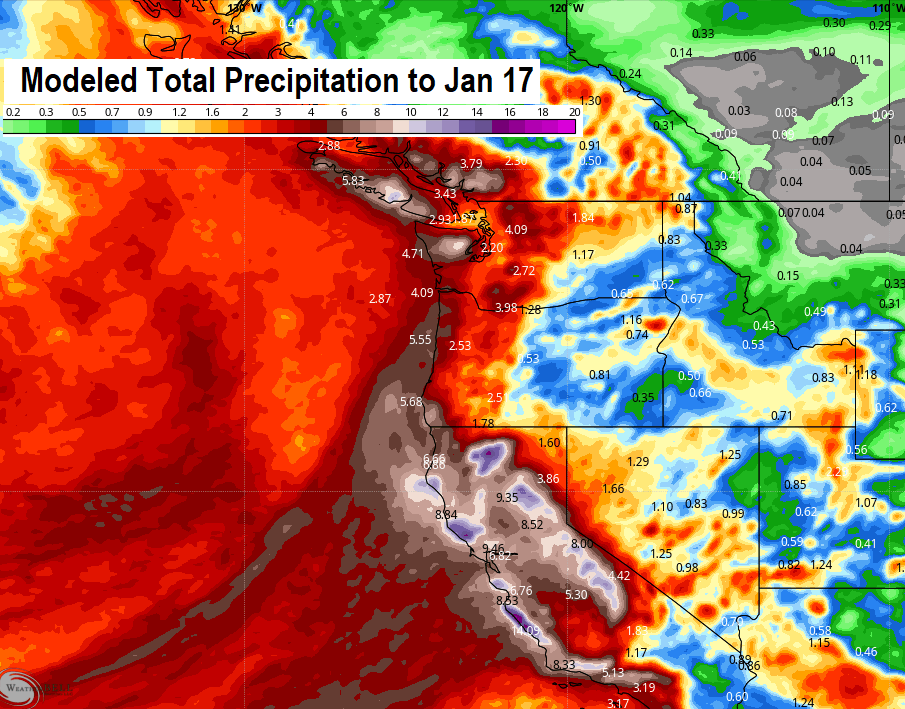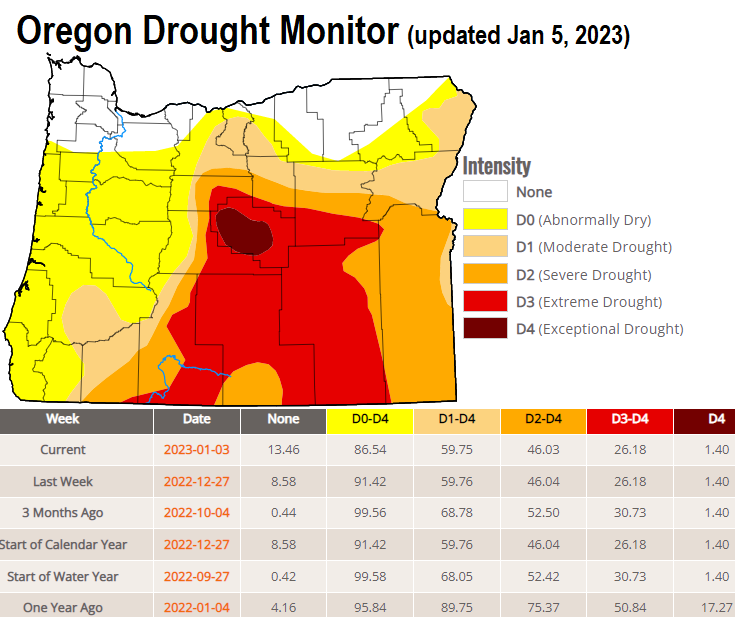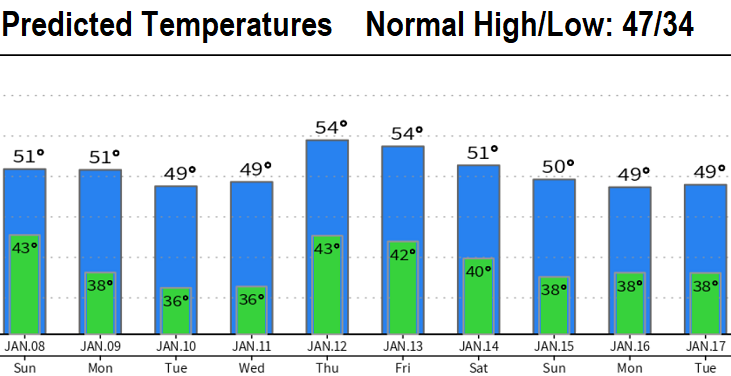 Afternoon data today (Wednesday) suggests it can get breezy tonight with some gusts to 20 mph (nothing to be concerned about). But on Thursday, stronger winds above us MAY mix down to the surface. Therefore, wind gusts on Thursday have the potential to be in the 30-35 mph range from the morning through the afternoon. It's not 100% that we will see 35 mph winds in Cottage Grove, but the possibility exists if the low pressure system aligns just right as latest data suggests. Regarding rain, 1/3" or less. Snow levels well above the passes.
Storm door stays wide open through at least Jan 14 with six storms passing through. Right now we're about 4" behind in rainfall, but the good news is that the snow pack is at over 100% of average.