Want rain? Other than isolated to possibly light scattered showers on Wednesday into Thursday morning, dry weather will prevail through next weekend. Warm/Hot today and Monday, then a nice cooling trend.
Winds will vary in direction through Tuesday which will allow smoke to get into our area from the Cedar Creek Fire. Air quality will likely stay in the "Moderate" category, but could push into "Unhealthy for Sensitive Groups" at times. The weak storm system on Wednesday should switch the wind direction to blow from the south and clear out much of the smoke - if all goes according to plan.
Things then get interesting, with an expected rainy pattern developing, starting Monday or Tuesday (Oct 3, 4). I should note that we'll have to watch what will soon be Hurricane Ian in the Gulf of Mexico. Ian will pound into the Florida panhandle on Thursday night or Friday morning. The reason to keep an eye on it is because it could backup the flow out west, depending on the track of the system and if it stalls anywhere after landfall.
Outlooks for October (and beyond) continue to indicate better odds for above normal precipitation as La Nina continues for a third year.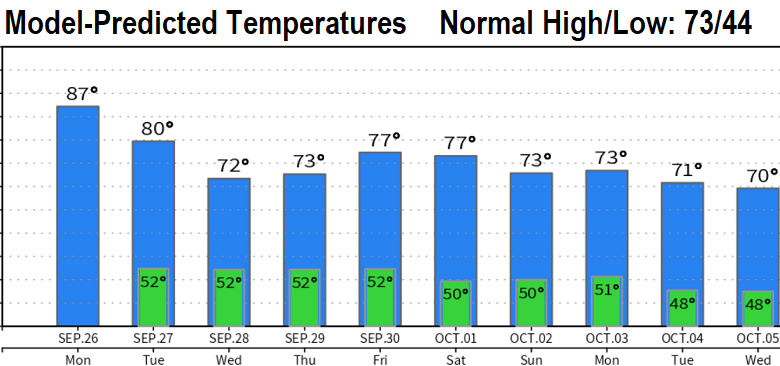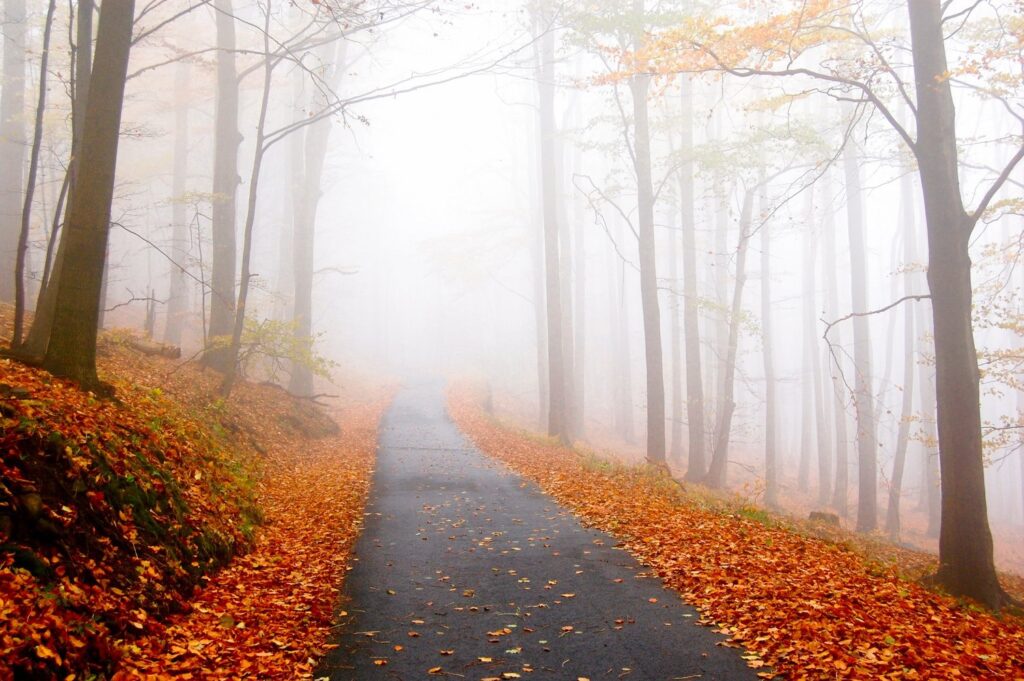 Autumnal Equinox occurs today (Thursday) at 6:04pm. Sunset today is at 7:13pm, sunrise tomorrow is at 7:00am. The storm system is now east of us and dry weather will be the case into early next week with night/morning fog or even some low clouds. This system's rainfall also reduced the fire danger to low-moderate across most of the state. We got 0.20" of rain.

Next chance of light showers may be next Wednesday and possibly Thursday, but don't hold your breath. Friday Sept 30 is expected to be dry. October 1st or 2nd, the storm door should then open wide for decent fall-like storms to possibly pass through with some regularity.

Scroll down and check out the current drought numbers and the high temperature departure over the past 30-days (it's been warmer than normal).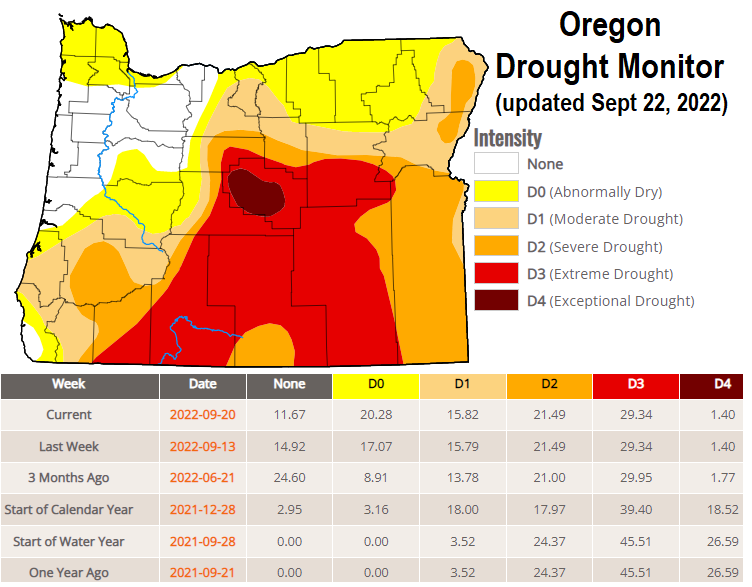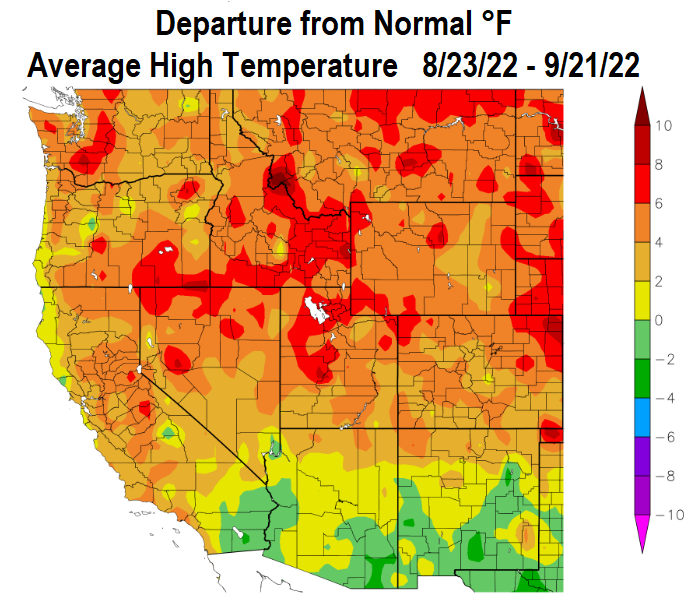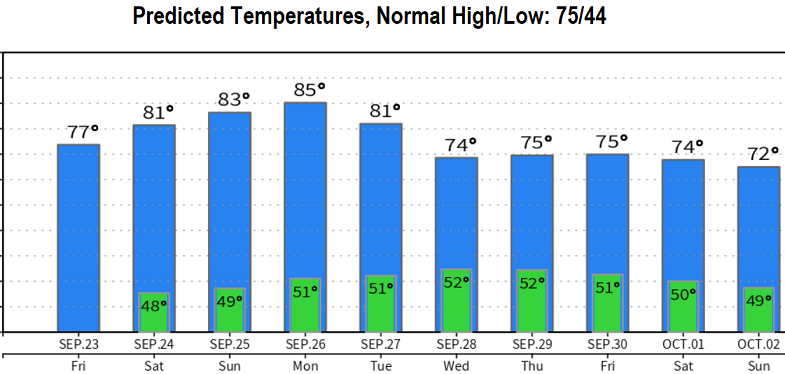 **AUTUMNAL EUINOX OCCURS THURSDAY AT 6:04pm***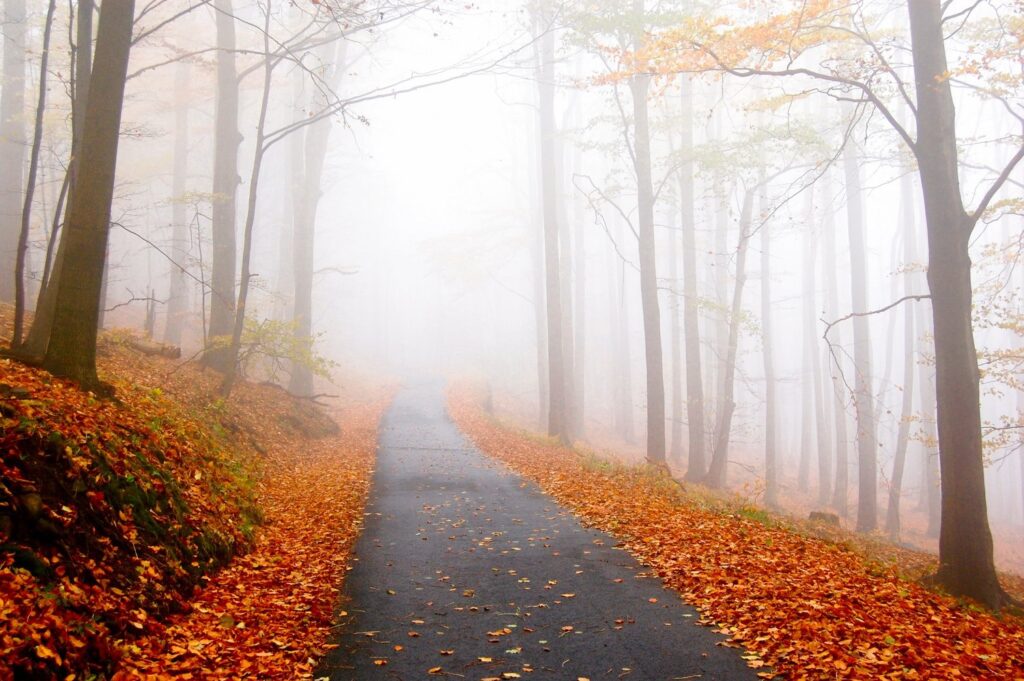 As of 9:00am today (Wednesday), 0.14" of rain has fallen in Cottage Grove. Up to another 1/10" of rainfall is possible through tonight. Check out the map, notice the impressive rainfall totals from about Roseburg south. North of Eugene has been dry so far.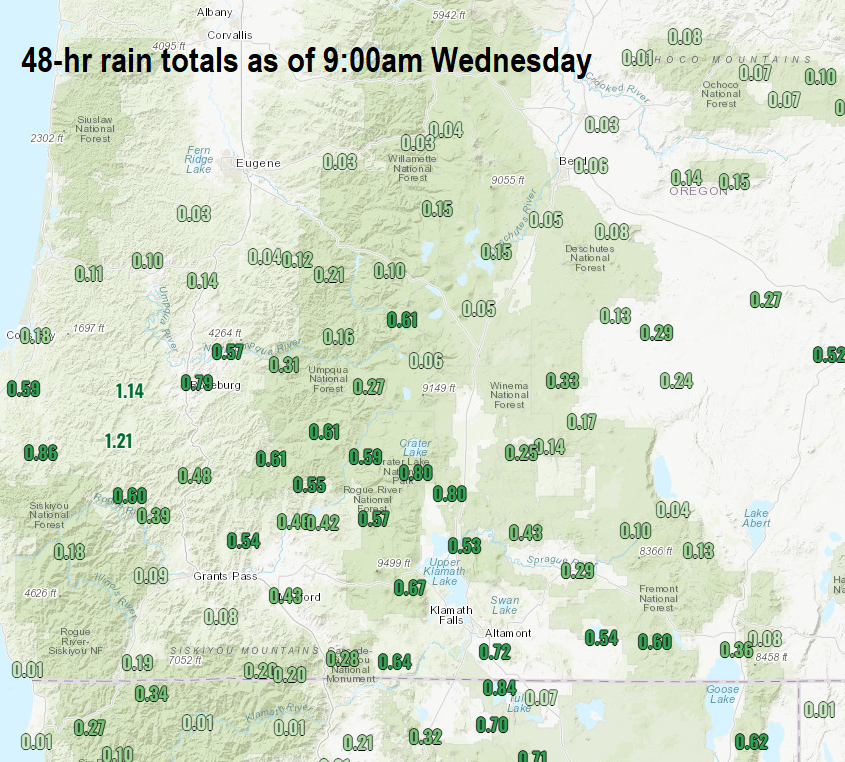 This storm system will be east of us tomorrow morning (Thursday) and the threat of showers will end around sunrise. Dry weather and a warming trend will then be the case through around Sept 28-30 (data isn't in agreement on when our next rain chances will be). Expect night and morning fog. It does look like storm systems will start passing through with regularity beginning around Oct 1-3.

Otherwise, over the weekend and into early next week, highs will probably be around 80 - low 80's but nights and mornings will be cool and crisp. Humidity will also be elevated due to the moisture from our current rainfall, so it could feel a little muggy Sat-Tue.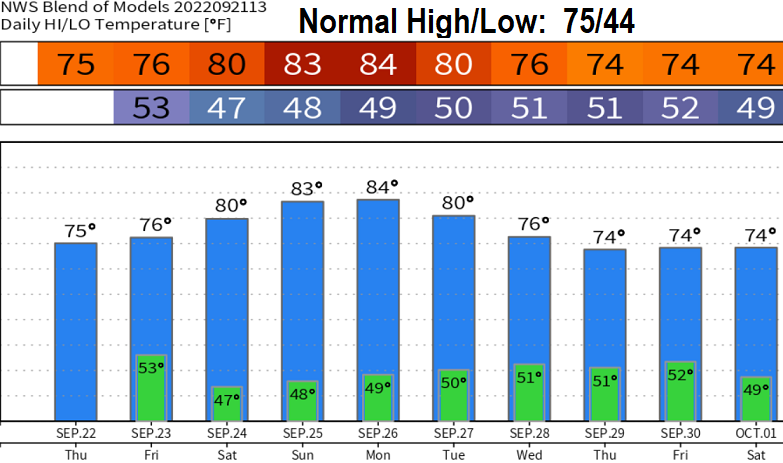 Winds/Smoke: Winds will mostly blow from a direction that will push smoke from the Cedar Creek Fire away from us. However, winds could shift around at times through Sunday which may bring some smoke into our area.

Tomorrow's post will have updates on the drought, where we stand with precipitation, and outlooks as we move forward (including what's going on with La Nina).
Monday Weather Update: Other than some sprinkles, no rain fell in Cottage Grove over the weekend. However, rain did fall over the Cascades. Scroll down and check out the map of rain totals - about 1/2" of rainfall was observed near the Cedar Creek Fire (east of Oakridge). While not nearly enough to put out the fire, it does help.
That "cut-off" low pressure system we talked about on Saturday is still sort of stationary currently (about 150 miles southwest of Eureka, CA) and spinning bands of moisture into California and mainly southern Oregon.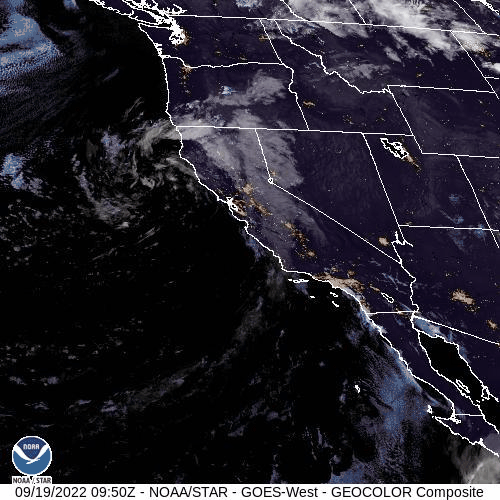 WINDS + Smoke + Air Quality: Winds over the next several days will likely change direction and times which could blow additional smoke into our area. A large amount of smoke is not expected (winds won't be strong enough), but air quality will likely bounce around and venture into the "moderate" or possibly "unhealthy for sensitive groups" categories. Air quality in Cottage Grove has generally been "moderate" over the past 24-hours.
Today (Monday) a chance of showers. No strong wind concerns.
Tuesday-Wednesday: The aforementioned low pressure system will finally start moving northeast into Oregon and weaken. This will allow for rain/shower chances here. Looks like we'll be on the northern edge of where the moisture will be from this system. It's not a slam dunk that we'll get more than a few light showers, but the possibility exists for up to 1/3" of total rainfall depending on exactly how far north into our area the moisture pushes. Can't rule out a rumble of thunder. No strong wind concerns.
Thursday-Sunday: The system moves east and out of our area with dry weather expected Friday into early next week. Winds Friday through the weekend are expected to blow from the west, which would push any smoke away from us.
Next Week: An unsettled pattern may kick in across the PacNW. More details about this on Wednesday.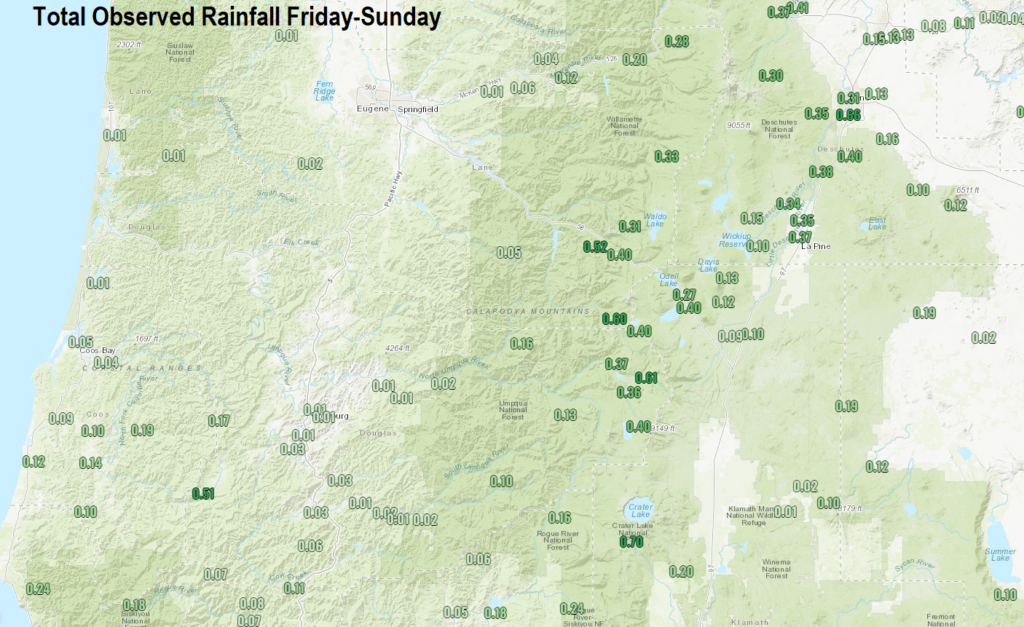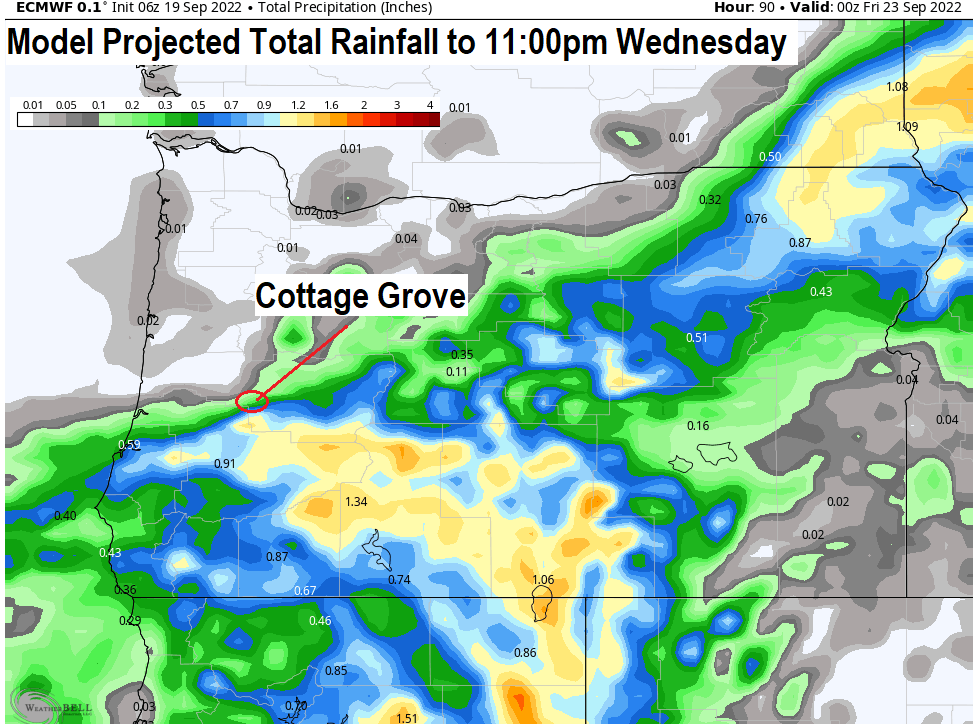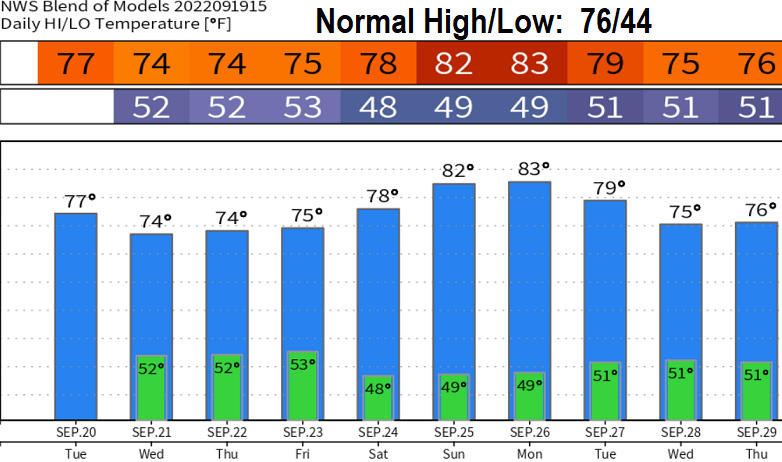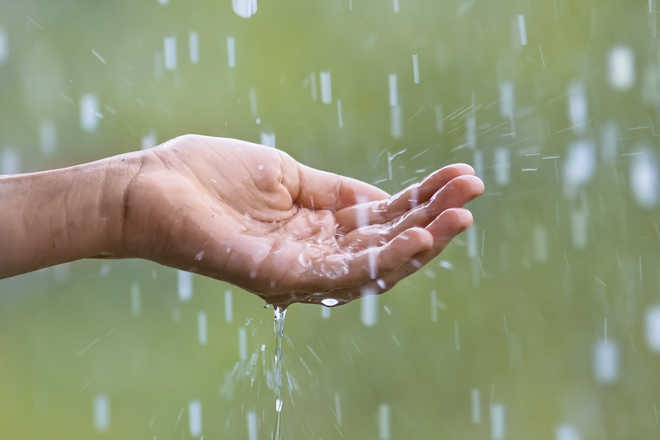 *UPDATED SATURDAY 11:00am* The "cut-off" low pressure system (cut-off from the jet stream) is trekking south offshore, as predicted, and will get stuck and hang around just offshore of northern California through Wednesday. Although unlikely, can't rule out sprinkles or a brief light shower through this evening before shower chances increase tonight.

Tonight-Sunday morning: A secondary "mini" low pressure system develops southwest of us. This will spin moisture and instability into our area, increasing shower chances. Best time for rainfall is 11pm tonight to about 8am Sunday (1/10" or less is expected). Can't rule out a rumble of thunder. No wind concerns. Increased humidity.

Monday-Wednesday: The center of this storm system will generally wobble around offshore of NorCal (several hundred miles west of San Francisco). Low pressure systems spin counter-clockwise, and will "spin" bands of rain into California.

For us, the system will spin additional moisture into our area Monday evening through Wednesday, causing light shower chances across our area. Total rainfall could be anywhere between 1/10" to 1/2" due to uncertainties of exactly where the bands of moisture will be. Temperatures will be tricky due to how much cloud cover we ultimately get.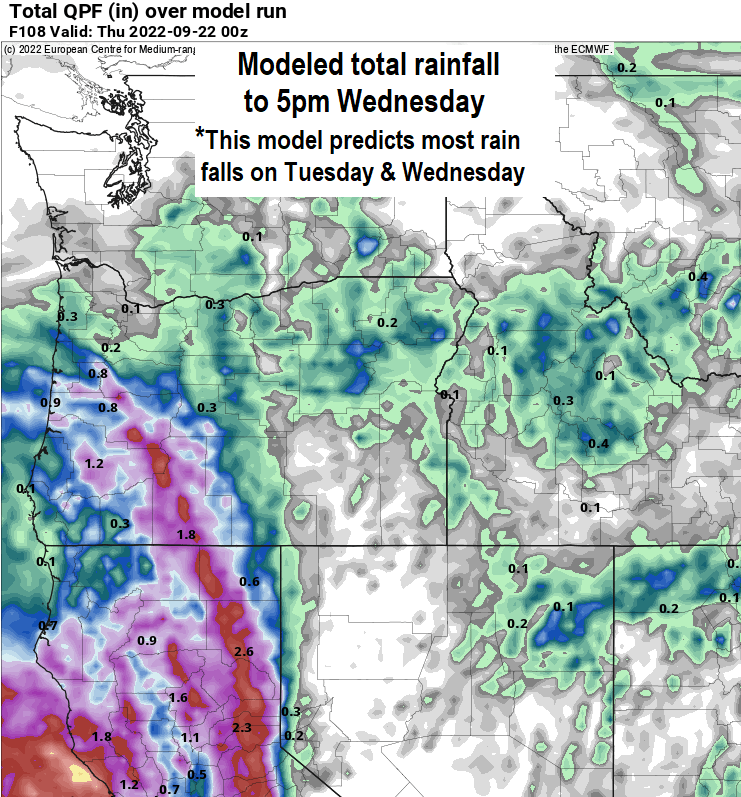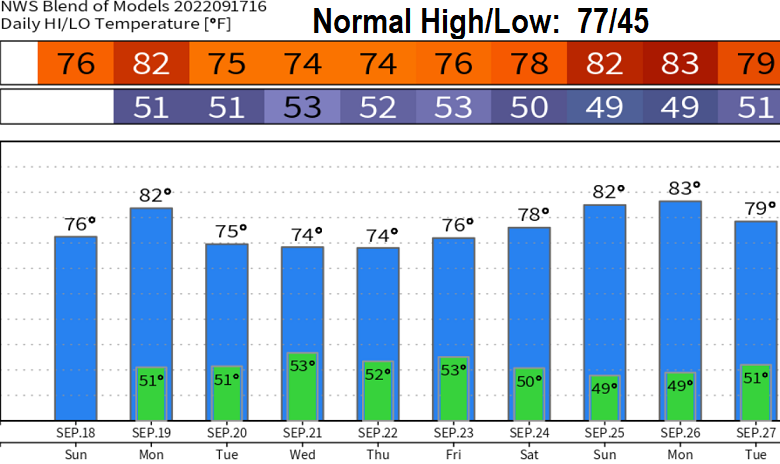 Check out the satellite image along the west coast. Look for the center of the low pressure system spinning offshore of the OR/CA border. By the way, that shadowed line moving across east to west is the sunrise.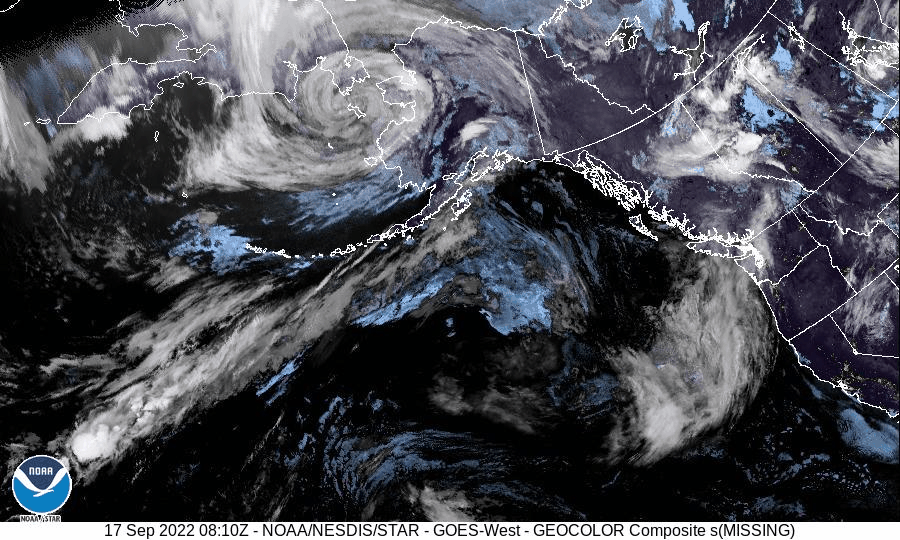 Lots of new people here in the group so I'll give a brief introduction of myself. I'm a Meteorologist with a Bachelor's Degree in Meteorology (2002) and Master's in Atmospheric Science (2005). I work out of my home office, here in Cottage Grove, and mostly do agricultural weather forecasting (which is very challenging). My wife and I love Cottage Grove and care about the community - that's why I do these posts and built the informational website grove411.com.
Dry through Friday with partly-mostly cloudy skies and light to calm winds. On Saturday, a low pressure system that's cut off from the jet stream will pass well to our west as it treks south then east into Northern California. For us, we'll likely just have clouds and "maybe" sprinkles or a few light showers (Sat+Sun). But don't bet on rain, since the chances here are pretty low due to the predicted offshore path of the system. Check out the GIF of the predicted track of the low pressure system: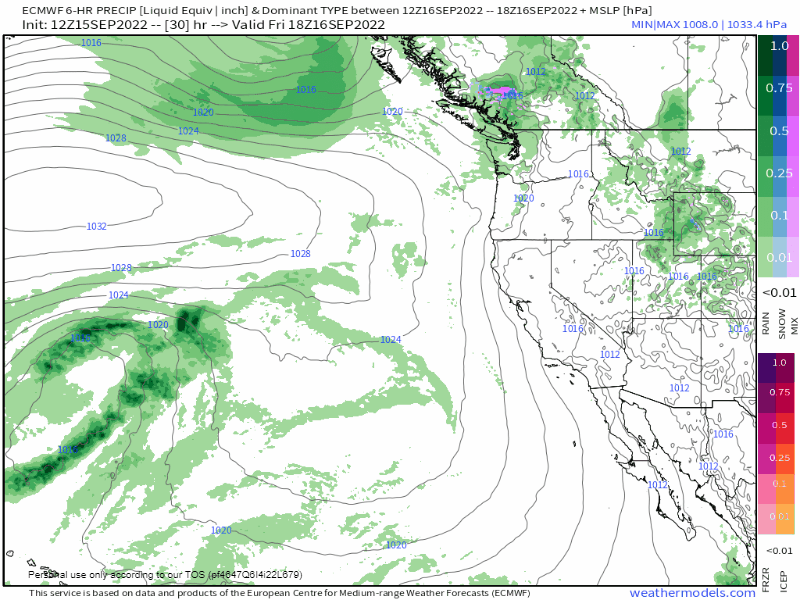 As this system slowly wobbles to the east, shower chances here may increase Monday night and Tuesday, based on the current projected path. Thereafter, looking more and more like high pressure will then become the dominant feature across the PacNW Wednesday of next week until possibly the end of the month. Check out the modeled 10-day temperature trend. We may have a few days of highs in the low 80's at the end of next week and into the following weekend.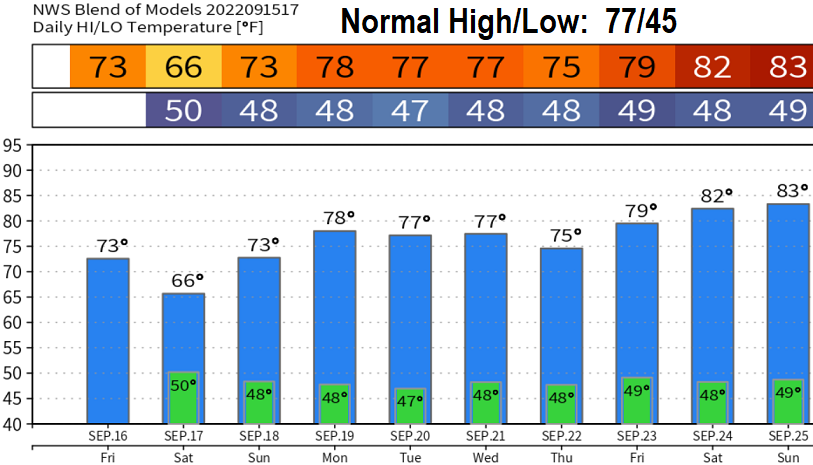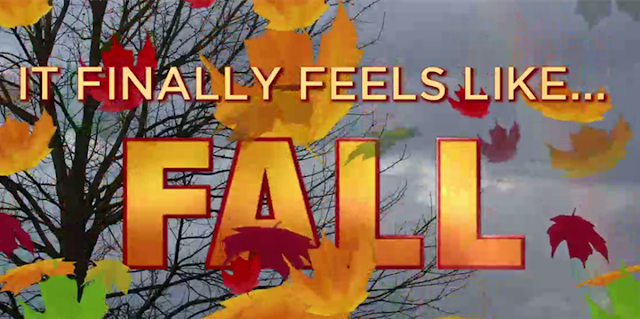 Enjoying the cool crisp mornings? Interesting weather pattern coming up for Friday through Sunday. To rain or not to rain is the difficult question to answer. This is because the low pressure system that will approach Oregon early Friday is going to be cut-off from the jet stream (in meteorology, we call this a "cut-off low pressure system"). These systems sort of have a mind of their own, wobble around, and make for complicated forecasts.

Currently, there's two possible solutions:

1. The storm system comes in from the west and brings us our first widespread rain of the season, or,

2. The system wobbles offshore and moves south, pushing into northern or central California. Then moves inland and spins around to the north into Oregon next Tuesday or Wednesday. *This is the favored track*

In any case, expect varying amounts of clouds Friday through Sunday and slightly cooler high temperatures (upper 60's on Saturday?). Some breezes, but no wind concerns.
Water year coming to an end. September 30th is the last day of the 2021-22 water year, which runs October 1st - September 30th. We've recorded 42.80" of precipitation since Oct 1, 2021. Normal water year precip is 45.43". We reset the rain gauge to 0.00" on October 1st.

Looking ahead, current model data suggests another couple of weak systems possibly coming through around Sat Sept 24 and Tue Sept 27. Right now these systems don't look like big rain makers, if they pass through as currently modeled. Stay tuned!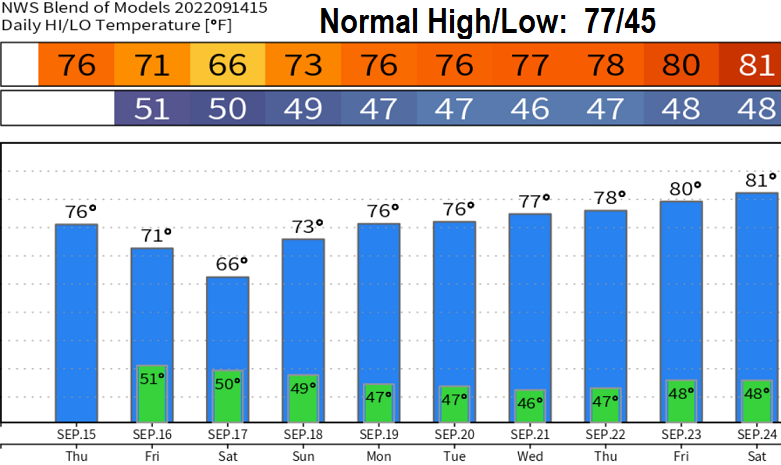 The past Friday-Saturday easterly wind event that brought smoke and ash into our area is now behind us. Smoke is gradually mixing out of our area and air quality slowly improving (now in the "moderate" category as of the time of this writing, after venturing into the "very hazardous" level on Saturday). Scroll below to see the impressive before, during, and after visible satellite imagery showing the smoke change direction and blow into our area as the winds shifted.
A Fall-like weather pattern will now kick in throughout the week and we're finally done with 90° temperatures until next year. This is many people's favorite season because the trees change color, and we're starting to see the beginnings of this now.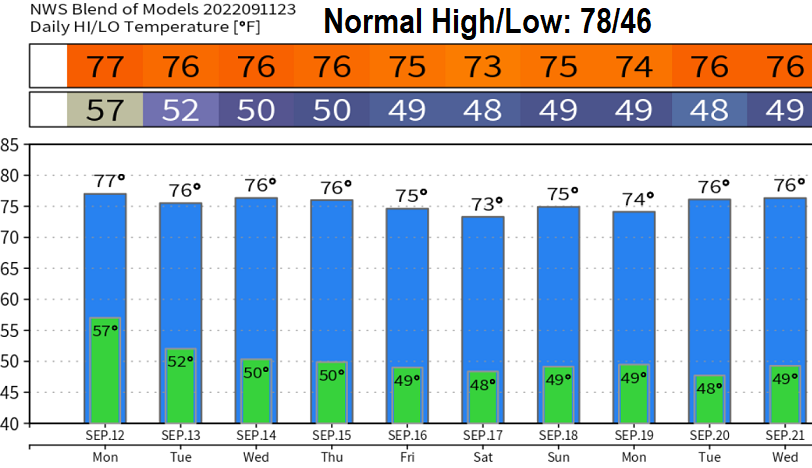 The clouds and humidity that we're currently experiencing are some of former Hurricane Kay's remnants getting drawn up into our area from the south from a low pressure system just to our northwest. Through Monday afternoon, can't rule out a light shower or a rumble of thunder. Monday will also be a transition day before the (mainly dry) low pressure system to our northwest passes through our area early on Tuesday. That's when we'll see a nice refreshing change.

Our first fall storm? Most models are showing a storm system bringing the first widespread light rain (or showers) of the season to the area on Saturday afternoon or Sunday morning. Stay tuned for updates throughout the week. Right now, it looks like 1/10"-1/4" of rainfall, maybe. Below is one of the model ensembles' prediction of rain amounts. Note that the precipitation predictions starting next weekend.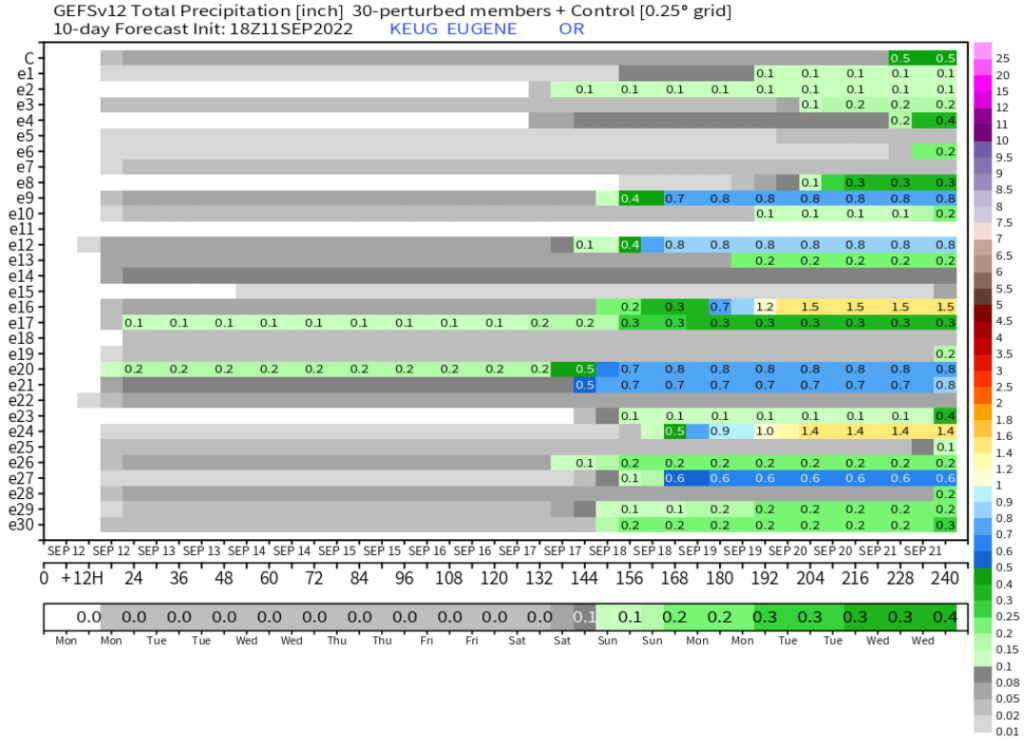 Now let's quickly talk about this past Friday-Saturday east wind event. Winds blowing from east to west kicked in over the Cascades early Friday morning and continued blowing from the east until about mid-morning on Saturday. Winds gusts in our region of the Cascades were mostly 25-35 mph, but a 42 mph gusts was recorded on Kock Mountain (east of Oakridge) at 5766' and a gust of 46 mph at Trout Creek (2268'), way east of Springfield and west of Blue River. Those were the two highest gusts in our region. The Cedar Creek Fire intensified with these winds and at one point caused Oakridge and Westfir to be issued a Level 1 Leave Now Evacuation Order (which is no longer in effect inside the city limits. However, as predicted, the strongest winds did occur north of Lane County where gusts as high as 61 mph were observed near the Mt. Hood region. You can always check out the current fires here: Current Fire Map from InciWeb - Cottage Grove Weather (grove411.com) or here: Current Fire Map from NWCC - Cottage Grove Weather (grove411.com)
Below is the visible satellite image right as the the wind event was kicking in. Watch closely and you'll see the smoke blowing a little bit to the east then switch direction and blow towards the west. Note the relatively small amount of smoke at this time from the Cedar Creek Fire.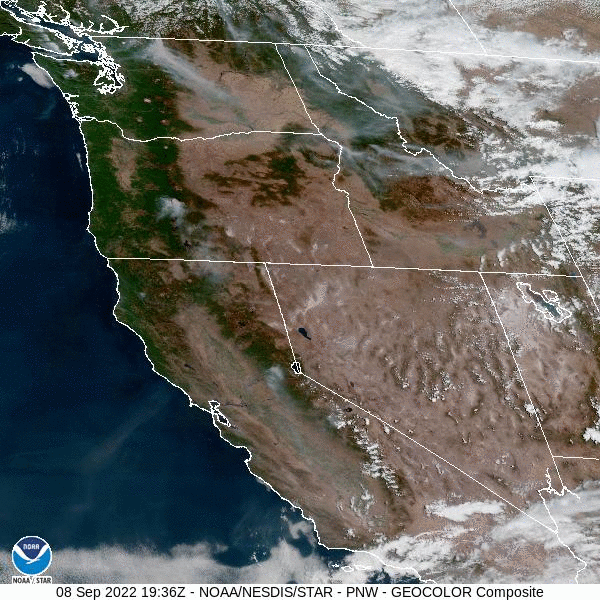 Below is the visible satellite image while the wind event was well underway on Friday evening. The blackout line moving from east to west is the sunset. Notice all the smoke from the Cedar Creak Fire blowing westward into our entire area.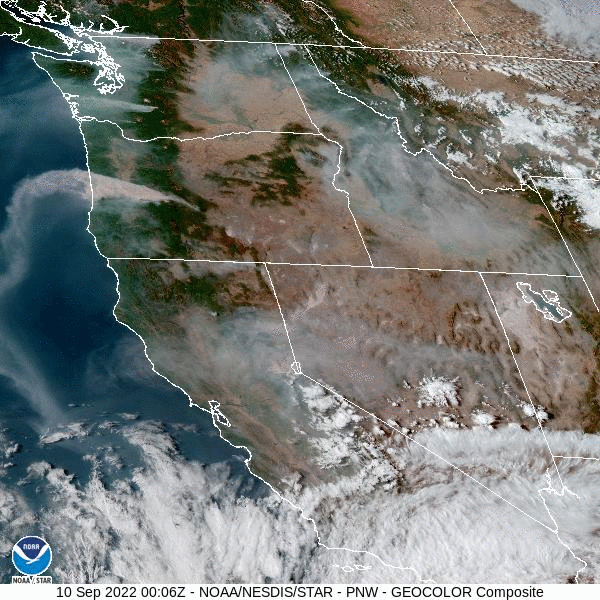 Below is the visible satellite imagery on Saturday morning. Note how the smoke is starting to blow back to an easterly direction (blow from west to east). Note the significant difference in smoke when compared to Friday's image. The wind event caused the fire to rapidly expand. The black line you see is the sun rising.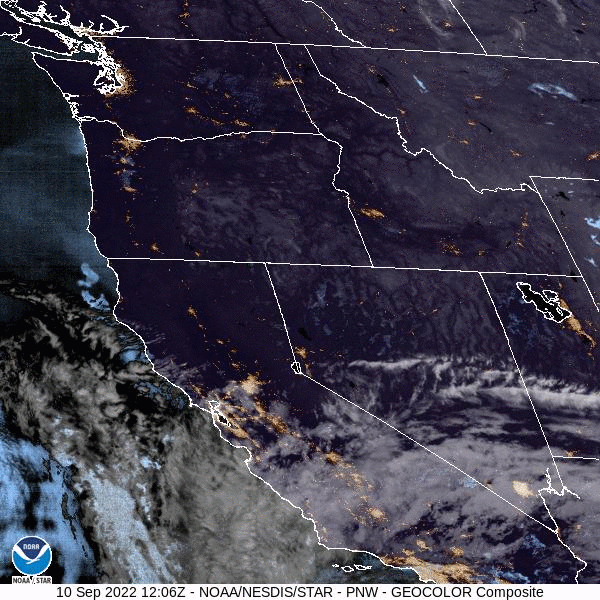 Wind Event Update (8:30am Friday):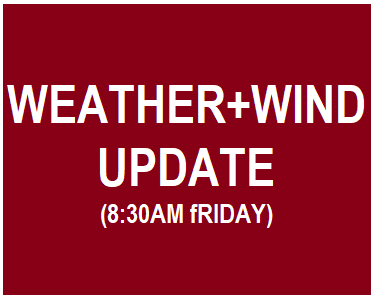 Strongest winds are expected NORTH of Lane County where 50-55 mph gusts will be common near the Cascade ridges. Here in Lane County, winds near the crests can gust up to 40-45 mph. This is NOT as strong of an event as 2020.
Timing: Strongest winds will be from 2:00pm to 8:00am Saturday (18 hours). Late Saturday morning and early afternoon, winds rapidly decrease and even shift direction at some point Sat afternoon or evening. So we just got to get to 8:00am Saturday and then we can begin to relax as the worst of the winds will then be behind us.
Smoke / Air Quality: Winds lowing from the east is transporting smoke from the Cedar Creek Fire (east of Oakridge) into our area. The smoke is mostly 2000-5000' above us, but could mix down to ground level. If this occurs, air quality could worsen into the moderate or unhealthy levels. This will NOT be like 2020.
Fire Danger: Red Flag Warning to 11:00pm Saturday. Fire Danger is Extreme (highest level).
Temperatures: Highs mid 90's to near 100 today and Saturday. Smoke may filter out enough sunlight which would cause highs to be a little cooler. Saturday is expected to be the hottest day. Sunday, mid 80's to near 90, then a BIG cool down next week with 70's by Wednesday! Also, no more 90 degree heat after Sunday until next year!!!
Rain: Our first fall-like storm system is expected to arrive next Friday (Sept 16). The first light rain of the season should also occur with this system.
Power Outages: Power companies have said that they may turn the power out in certain areas if conditions warrant. Be mindful of this. Cottage Grove has not been specifically mentioned, but the surrounding foothill areas have.
Check out grove411.com (grovewx.com) and click on the menu for fire and emergency preparedness information.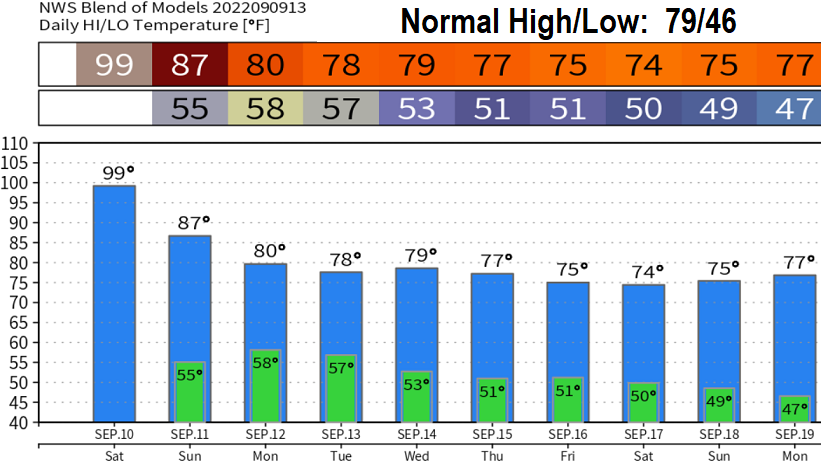 12:00pm Thursday: Concerned about the Fri/Sat wind event? Let's put things into perspective. No need to panic. This wind event is NOT as strong as the one that occurred in 2020.
The National Weather Service has issued a Red Flag Warning for all of Oregon from the Cascades WEST to the coast for just a 36-hour period of 11am Friday to 11pm Saturday (see image below).
Red Flag Warning's are usually issued: during dry weather, when EASTERLY winds are expected to cause very low humidity, and when the combination of dry conditions + easterly winds can increase the fire danger and allow for rapid fire spread IF a fire were to occur.
STRONGEST WINDS are expected to be NORTH of Lane County, in the Cascades (see image below). Also, strongest winds look to occur 6pm Friday to 6am Saturday. In Cottage Grove, it's expected to be breezy through Saturday with some wind gusts up to around 25 mph.
Although the predicted winds are stronger than what we typically see for this time of year, it's also NOT all that uncommon either. Combination of increasing contrast of colder air to the north and warmer air to the south (due to sun angle and less daylight) PLUS locations of low and/or high pressure allow stronger differences in pressure to form (pressure gradients) which results in increased wind speeds. The stronger the pressure gradient, the stronger the wind potential.
Hot Fri/Sat (95-100), then MUCH cooler Sunday (mid 80's). Looks like 75-80 all of next week with maybe some showers (will talk about this in an update on Sunday). After Saturday, I think we'll be done with 90° heat until next year.