TUESDAY UPDATE - Memorial Day Weekend: Previous forecast has changed. Light showers, breezes to 15 mph on Friday. Rain/showers and possibly windy on Saturday (gusts 20-30+ mph, 1/2" of rain). Some light showers on Sunday, then just an isolated shower on Monday. Driest days are Sunday and Monday (Monday looks driest right now). Snow levels 5000-6000'.
For June, odds continue to favor below normal rainfall and near normal temperatures. July/August, probabilities lean towards below normal rainfall and above normal temperatures (as a whole).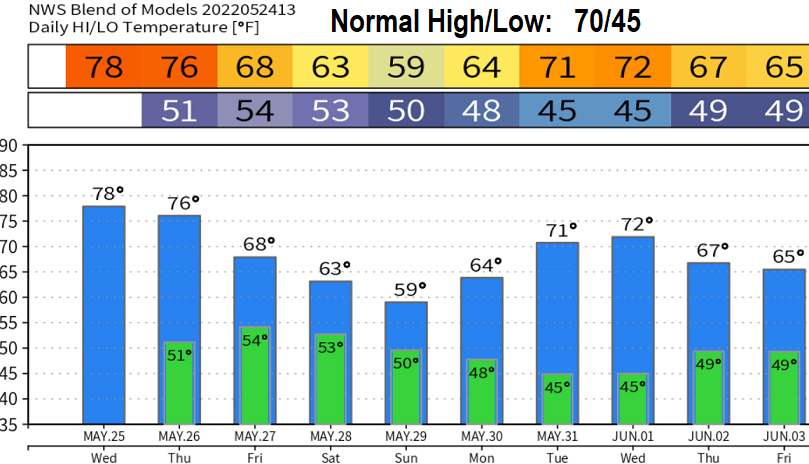 Sunday May 22: Generally dry and mild through Wednesday, maybe an isolated shower on Thursday.
Last year, Memorial Day was hot and dry with a high of 87. This year, we're going to be cool and showery at times with highs 60-65. Looks like Friday and Sunday will be the wettest with up to 1/3" of rainfall for each of those days. Driest day is expected to be Saturday with just a few showers. Monday will be the second driest with scattered showers. It'll also be breezy at times over the holiday weekend, with wind gusts up to 20 mph at times. Snow levels above 5000' all weekend (will vary 5000-6000').
Meteorological Summer begins on Wednesday June 1; Astronomical Summer (Summer Solstice) begins on June 21.
Updated outlook data for June favors near normal temperatures and below normal rainfall. For July, odds favor below normal rainfall and above normal temps. Remember, these are odds and are not set in stone.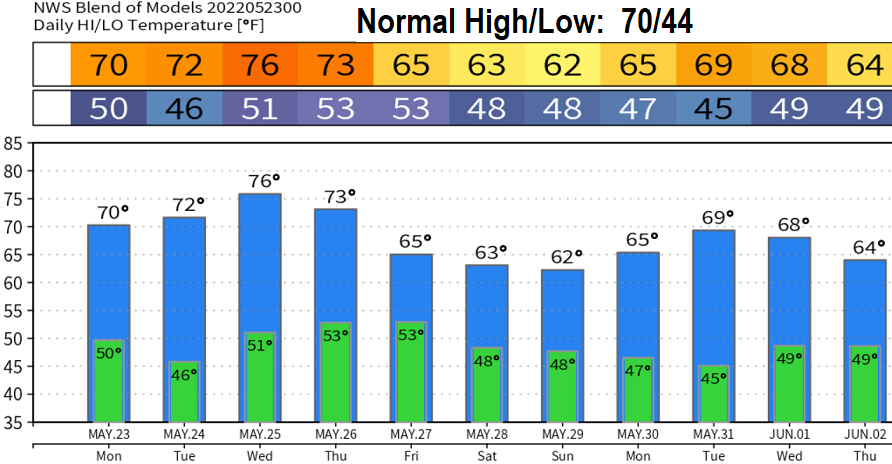 Thurs May 19: Nice & dry for the weekend ahead with plenty of sunshine! Memorial Day holiday weekend's starting to look wet, especially for the first half. This is the time of year when isolated thunderstorms become a concern with any storm systems passing through, so will keep updates going strong over the next week for those of you traveling/camping.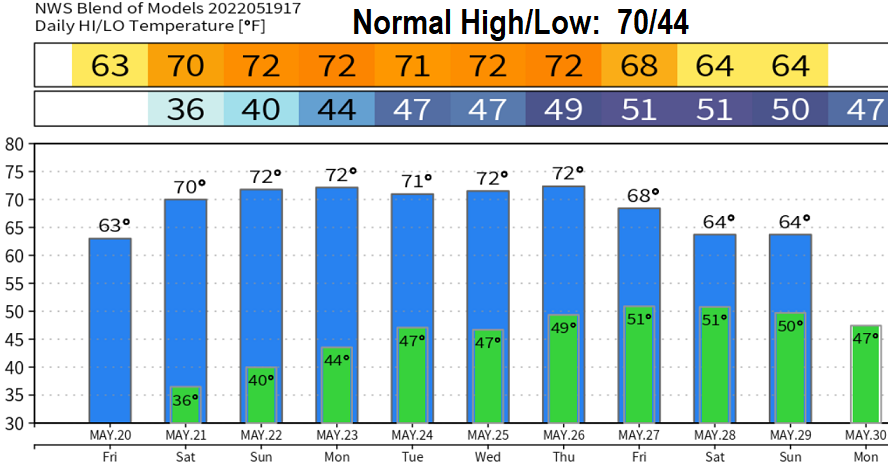 Tuesday May 17: More typical May pattern is expected over the next two weeks (more sunshine, less rain). Light rain/showers will develop after 5:00am Wednesday morning, then isolated-scattered showers on Thursday. Total rainfall Wed/Thur less than 1/4". No wind concerns (mostly 10 mph or less). Looking dry Fri-Sun for a change. It seemed every weekend over the past 45 days had rain.
We're now at 37.49"of precipitation since the start of the water year on Oct 1. Normal to date is exactly 40", so we've made incredible progress since the water faucet opened back up on April 2. Our region of the snow pack is at 146% of average!
For June, odds favor near normal temperatures and below normal rainfall (as a whole). July and August have higher probabilities for above normal temps and below normal rainfall. This doesn't mean we'll have an excessively hot summer, just that overall temps are expected to be warmer as a whole (even if just by one degree). More detailed figures in last Friday's post: https://grovewx.com/friday-the-13th/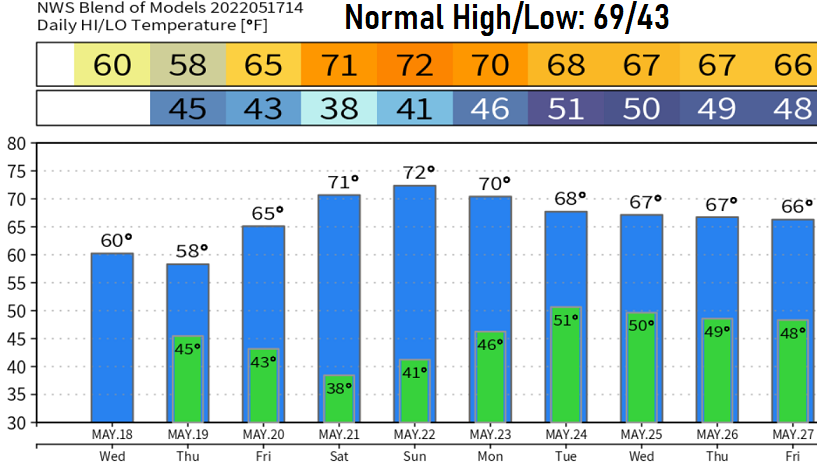 Friday May 13th: Sat/Sun not a washout! WOW: check out the images! This week's update of the Drought Monitor continues to show improvement. The past 30 days is the only time this year that we've seen improvement, since Jan-Mar was very dry with far below normal precip.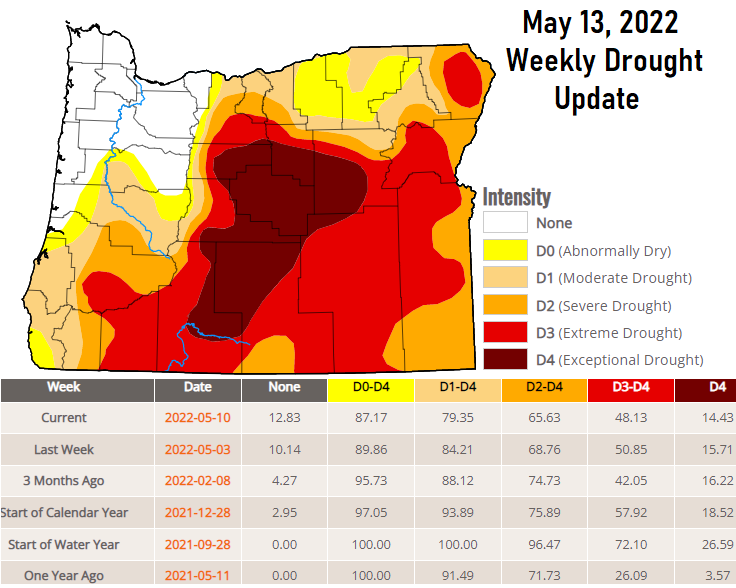 In fact, we've had more rainfall over just the past 30 days (5.23") than from the entire 90 day period of Jan-Mar (3.81"):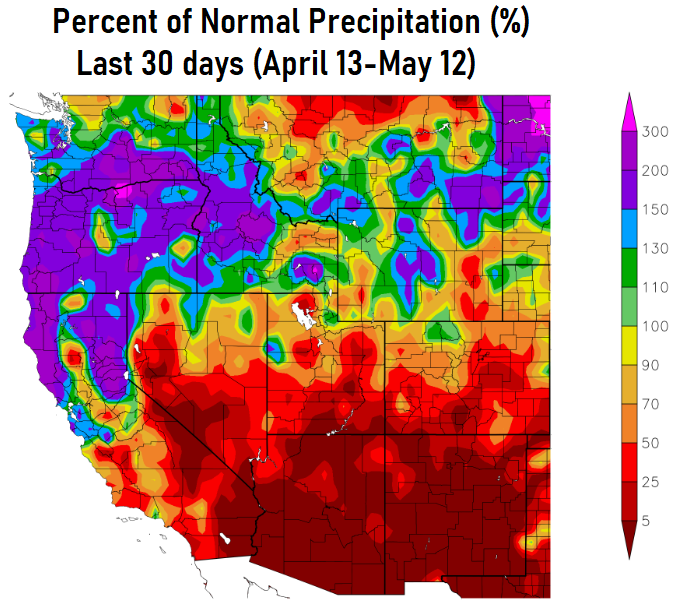 Many of you are sick of the rain, but the good side of this is that we would otherwise be walking into a potentially dangerous and early start of the fire season. Chances of a rare 3rd year of La Nina are increasing. Latest data signals are for La Nina to stick around into or through next Winter.
Rain will develop 1-4pm this afternoon and change over to showers early Saturday morning (1/2-3/4" of rainfall). Looks like just light isolated to maybe scattered showers Saturday afternoon with the evening drying out. Sunday and Monday should be mainly dry with only a small chance of an isolated light shower. Skies over the weekend will be partly to mostly cloudy. No wind concerns, breezes will stay on the light side.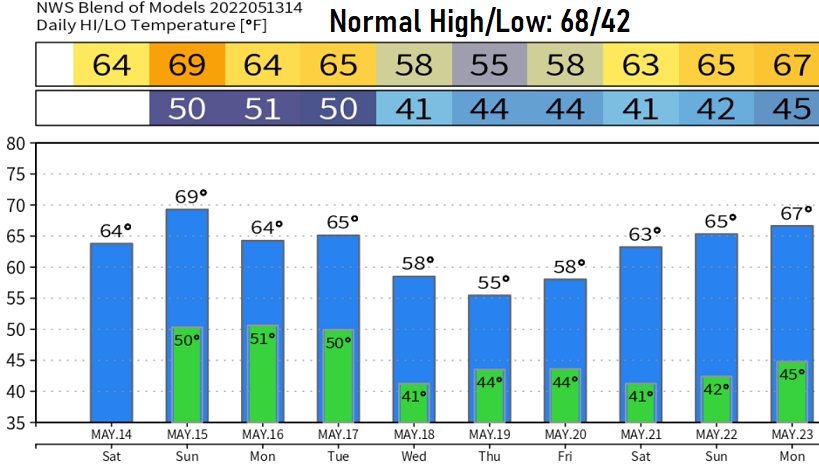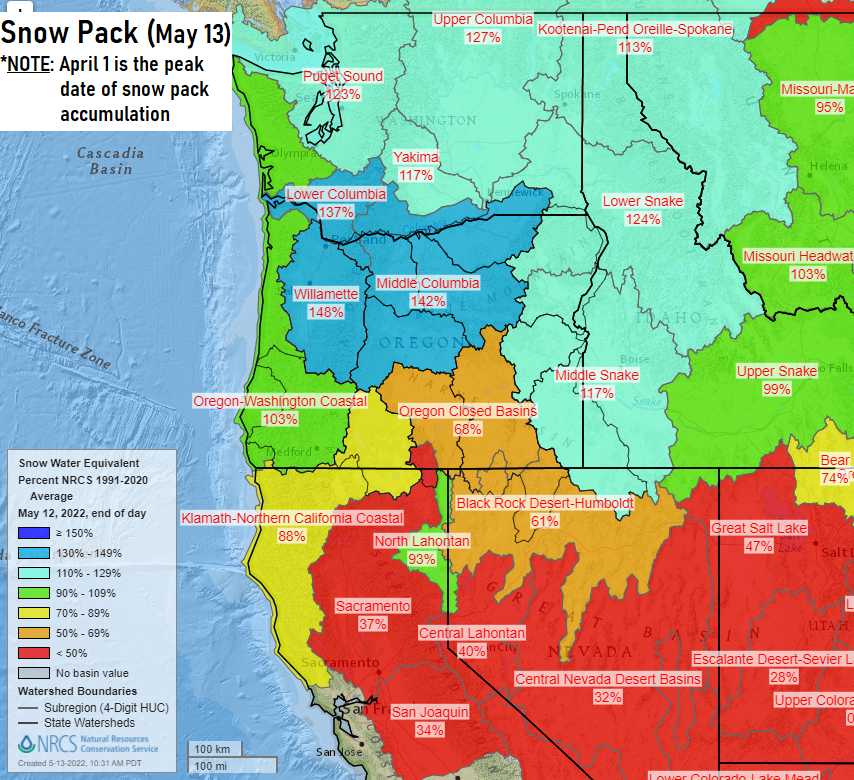 Thursday May 12: Showers will continue to about midnight, then expect just an isolated shower or two overnight. Tomorrow, Friday, "should" have a dry break during the morning which may possibly extend into the early afternoon. Total additional rainfall around 1/4". Another low pressure system will cause rain and showers to develop again between noon and 4:00pm Friday. Showers then extend into Saturday afternoon. This system has the potential to drop another 1/2-3/4" of rain. Sunday and Monday both look "iffy" with small light shower chances. I wouldn't be surprised if Sunday and Monday end up "mostly" dry. Thereafter, next solid rain chances look to be on Wednesday.
So far for May, we've recorded 3.81" of rainfall (as of 2:00pm May 12). Normal for the entire month is 2.60", so we're already following in April's footsteps with above normal precipitation. But we cannot forget that the period of January through March was so incredibly dry that we were running behind by 7" on March 31. Our region of the snow pack is currently at 139% of average (April 1 it was at 64%).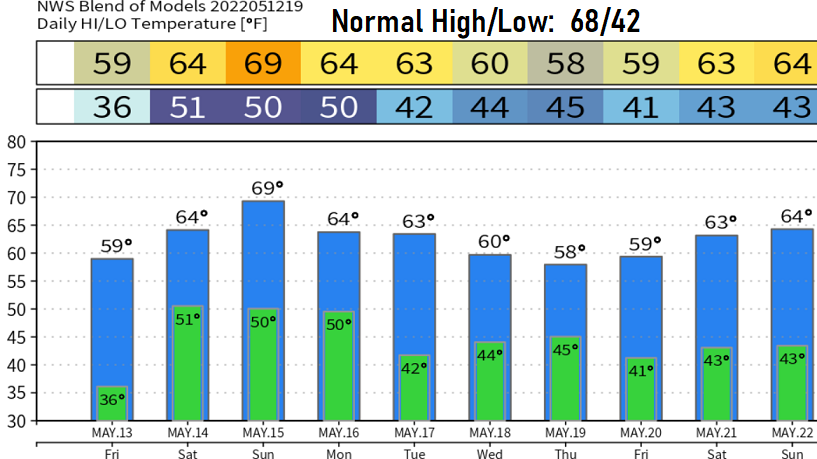 As of 11am Sunday, we've recorded 2.19" of rainfall since Thursday. This brings May's total rainfall so far to 2.85". Pretty impressive, considering the entire monthly average is 2.60".
Today and Monday will have scattered showers and isolated thunderstorms, adding about another 1/4-1/2" of rain to the bucket. Snow levels 2000-2500'. Winds will mostly stay 15mph or less, but don't be surprised if a few gusts to 20 or 25 mph sneak in.
Tuesday and Wednesday look dry at this time, then another storm moves in Thursday morning (1/2" of rain). Next weekend is looking nice and dry with a warming trend. **Note that some fresh data coming in this morning hints that a weak system may bring light showers Friday afternoon into Saturday morning.**
Normal high/low: 67/42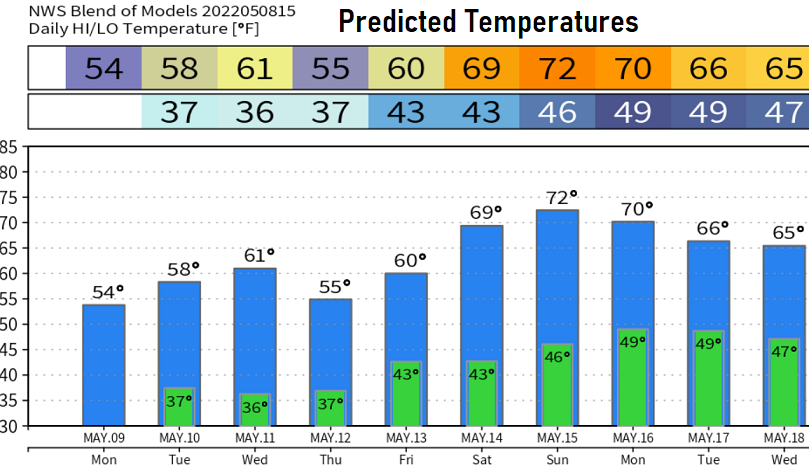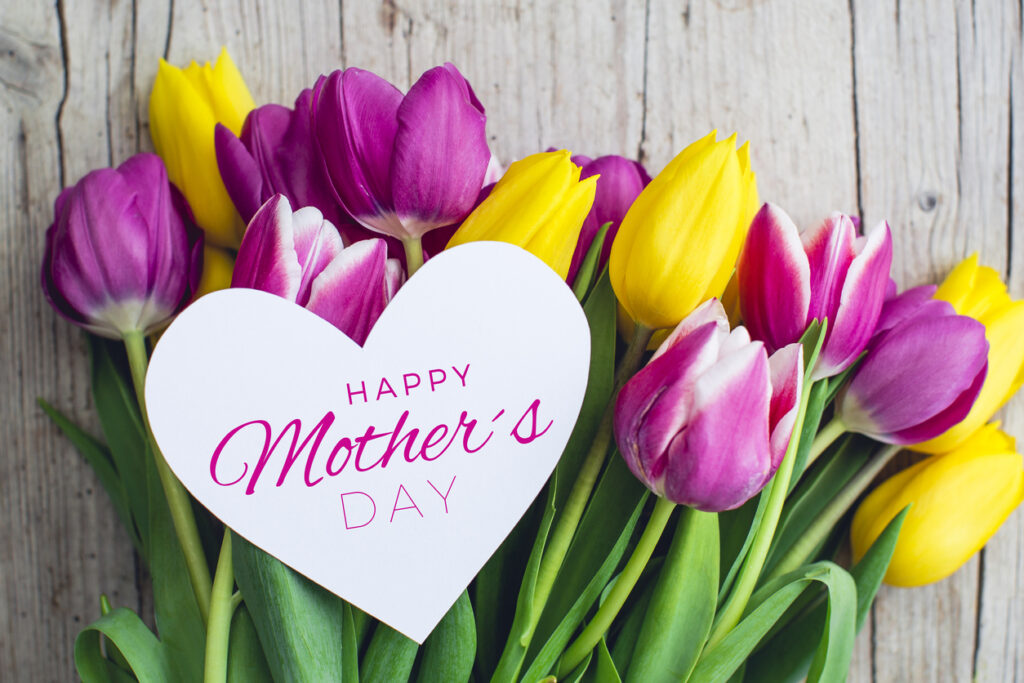 Friday May 6: As of 10am, we've recorded 1.43" of rainfall so far from the series of storm systems that will affect the area through Sunday. About another 1/2-3/4" more is expected through Sunday in the form of showers and isolated thunderstorms. There could be some dry breaks, especially on Sunday. A few showers may linger into Monday. Snow levels above 5000' today, 4000' Saturday, 2000' Sunday.
Winds today can gust up to 20-30 mph and it may remain breezy through this evening. Especially if the stronger winds above us can "mix down" to the surface. Tomorrow and Sunday up to 20 mph.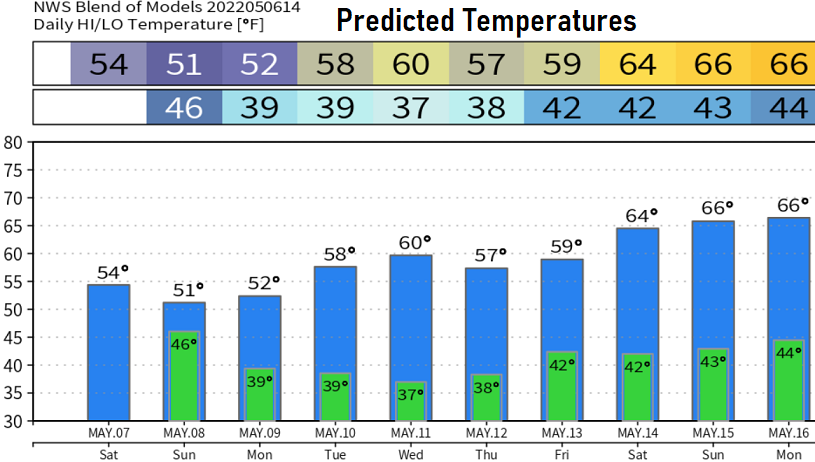 There's about a 2% improvement due to all the precipitation the state has had over the past 30 days. Yes, 2% is a small number but we got to consider without all this rain the drought would be worsening. I know lots of you are sick of the rain and want sunshine, but these late season storms are having a major impact on pushing away what would otherwise be an early start to the fire season. Our region of the snowpack, the Willamette Basin, is at 121% of average. The statewide average is at 152% (double from just 45 days ago!).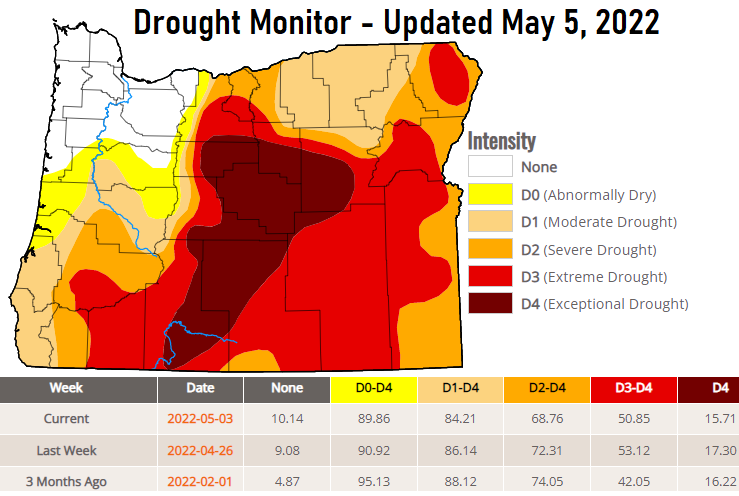 Tuesday May 4th: Mild today - high temps 70-75, much cooler tomorrow. A series of three storm systems will affect the region through Sunday. Expect a total of 1-2" of rainfall. Rain develops 3-5am Thursday with rain/showers continuing through Sunday. Rain could be heavy at times Fri+Sat. This is the time of year when isolated thunderstorms are possible as colder low pressure systems interact with more daylight and warmer surface temperatures. So don't be surprised if we get some thunder and maybe small hail Fri-Sun. Snow levels Thur-Fri above 6000', then 4000' Sat-Sun.
Winds: Winds can gust up to 25 mph Thursday and Friday. Latest data coming in hints that IF winds above us can "mix down" to the surface, gusts of 30-35 mph could be possible. Again, this is conditional on many factors.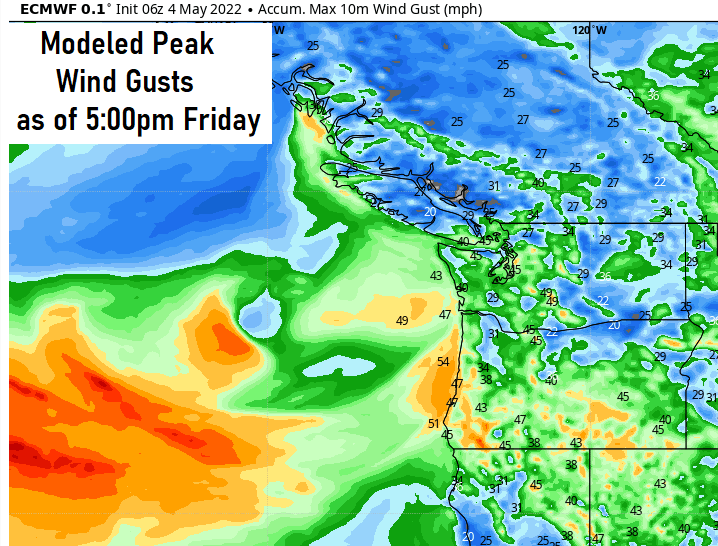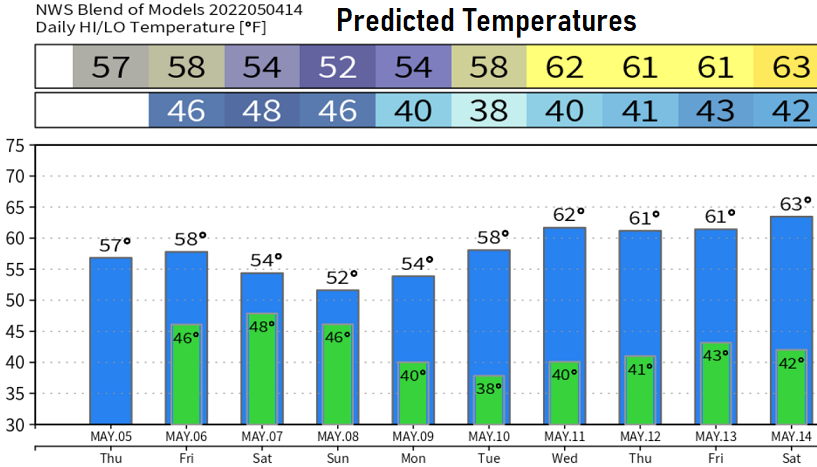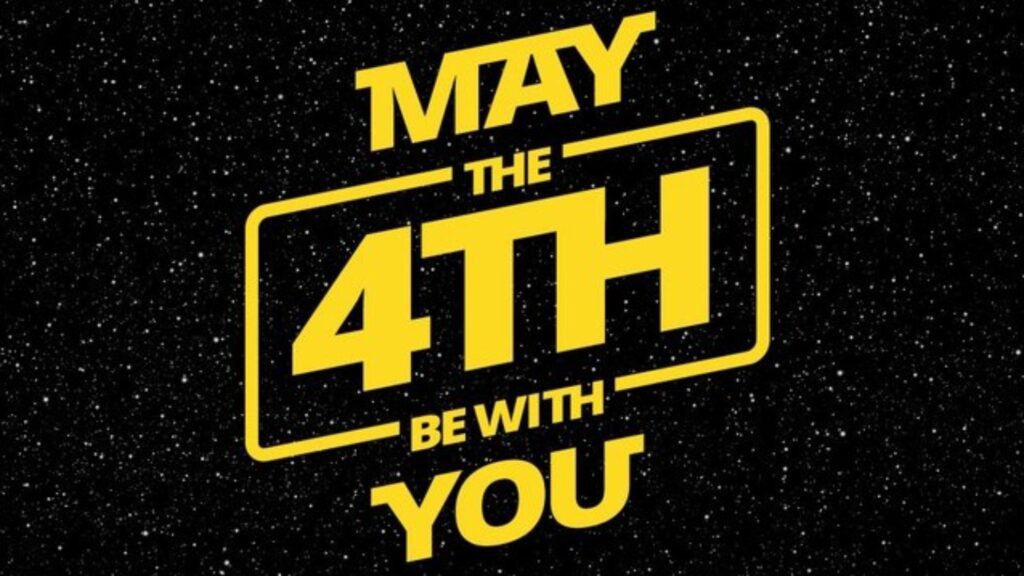 May 1: Dry and mild today. High temperatures roller coaster this week. Mid/upper 60's today, near 50 Monday...70 Thursday...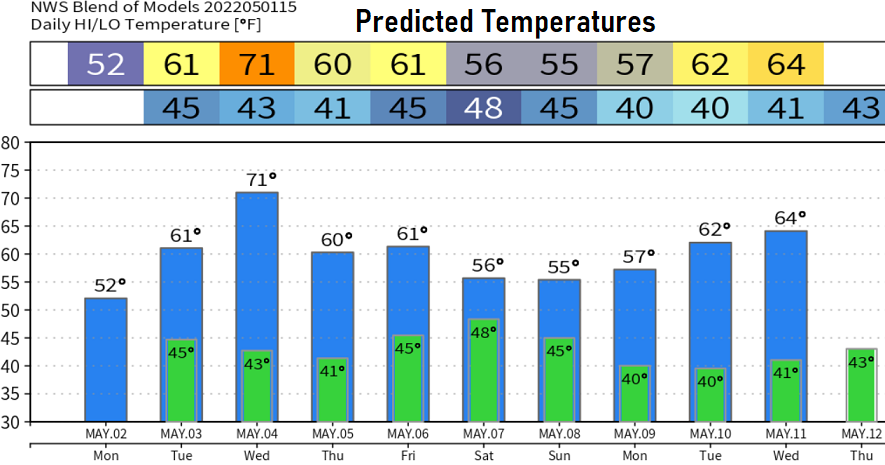 Next rain chances: Storm system moves in tonight and Monday morning. Rain will develop 1am-3am and change to showers by mid-morning. Total rainfall around 1/2". Snow level 3500'. This looks like a breezy system - winds can gust up to 20-25 mph (nothing to worry about). Showers end by 11pm Monday, then dry Tuesday through Thursday morning. Two storms Thursday afternoon through Friday (1/2-3/4"). Next weekend may have showers, especially on Saturday morning/ afternoon.
You may have heard about the Kansas tornadoes last week. Check out the drone video that one of my colleagues (Reed Timmer) took: